Ashley Empowers Future Innovators Through Educational Tours

Over 860 Students Visited Ashley Facilities Across the Country to Celebrate National Manufacturing Day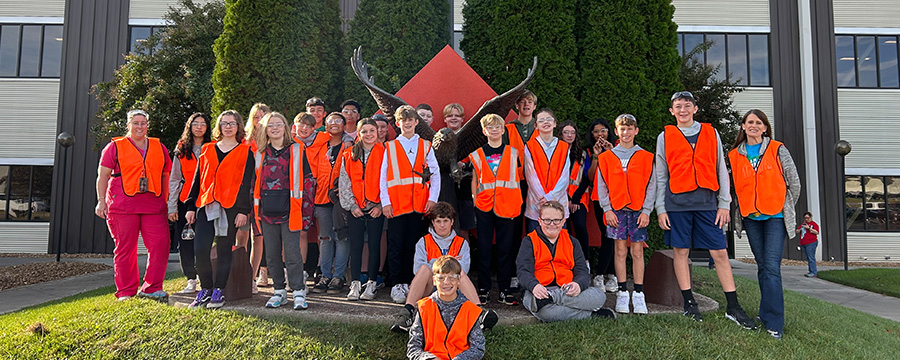 ARCADIA, Wis. – Ashley Furniture Industries, LLC (Ashley) is proud to provide tours to local students to celebrate National Manufacturing Day for the seventh year in a row. Throughout the month of October, Ashley opened its doors to over 860 middle and high school students to visit its facilities in Mississippi, North Carolina, Texas and Wisconsin. National Manufacturing Day is celebrated on the first Friday in October by manufacturers across the country.
Students had the opportunity to tour Ashley's advanced manufacturing operations, highlighting the implementation of the many technological advancements in robotics and automation. While touring they heard various manufacturing employees speak on their career paths, including product design, automation, fabrication, assembly, quality, and more. The students learned about the economic impact of manufacturing and the importance it has on surrounding communities and across the country.
"We appreciate Ashley's continued support of our district through the Manufacturing Day tour year after year. Students can see firsthand what manufacturing is, along with a variety of other occupations," stated Jessica Gruber, School Psychologist/ACP Coordinator at Independence School District. "They do a fantastic job providing our students with an extensive tour and meaningful learning activities, and we are very grateful for this opportunity to participate."
Participating schools included North Pontotoc Middle School and Ripley Middle School in Mississippi; Davie County Schools and Northwest Middle School–Winston Salem in North Carolina; Arcadia, Blair-Taylor, Cochrane-Fountain City, Gale-Ettrick-Trempealeau, Gilmanton Public School, Holy Family Catholic School, Independence, and Whitehall in Wisconsin; and Vanguard High School in Texas.
Ashley continuously strengthens long-time partnerships with K-12 and post-secondary schools, investing millions of dollars and resources in various initiatives. Investments are made towards STEM (Science, Technology Engineering and Math)-based learning opportunities, scholarships, instructor-based training, robotics programs, and exposure to technical trades and career opportunities. Ashley understands the importance of educating and training the current and future workforce as manufacturing continues to advance and the global economy evolves, ensuring our country's success.
--
Ashley Furniture Industries, LLC (Ashley) feels that every person deserves more value for their money. Established in 1945, Ashley is the largest manufacturer of home furnishings in the world, and was named one of America's Most Trustworthy Companies by Newsweek in 2023. From design through fulfillment, Ashley is committed to delivering the world's best home furnishing values, selection and service, and earning the loyalty and trust of its customers every day. Visit Ashley online at www.ashleyglobal.com and "like" Ashley Furniture Industries on Facebook.
# # #