Ashley Charitable Foundation Continues to Enhance Education Opportunities in Mississippi

Foundation Donates $500,000 to Itawamba Community College to Further Program Offerings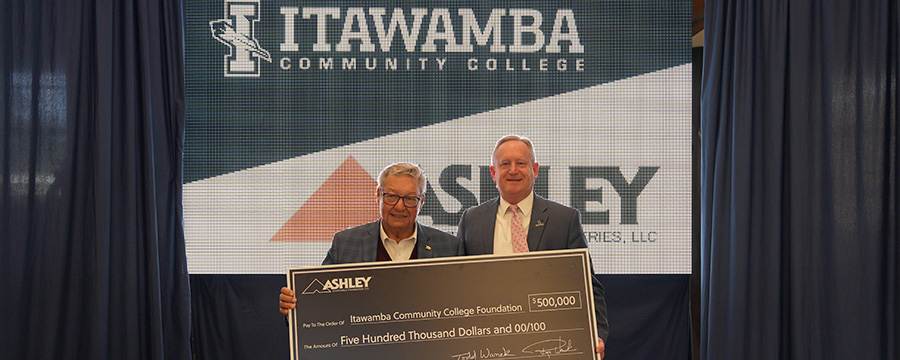 ECRU, Miss. – Ashley Charitable Foundation (ACF), a non-profit organization founded by Ashley Furniture Industries, LLC committed to supporting education and workforce development, has recently awarded a substantial $500,000 donation to Itawamba Community College (ICC) in Tupelo, Mississippi. The donation was presented with the distinguished presence Dr. Jay Allen, President of Itawamba Community College, the presentation included a special video submission by the Governor of Mississippi, Tate Reeves, which was showcased at the event. This contribution marks ACF's continued dedication to partnering with higher education institutions to drive growth in the workforce.
ICC offers a diverse range of educational programs, providing students with various opportunities to excel. Programs such as Information Systems Technology, Robotics and Automation, Welding and Cutting through the School of Career Education, as well as offerings through the School of STEM (Science, Technology, Engineering, and Math) ensure that students receive hands-on training and expertise in high-demand fields. ICC also facilitates internships and apprenticeship opportunities with companies such as Ashley Furniture Industries, further preparing students for successful careers.
"Itawamba Community College exemplifies successful educational programs that adequately equip students to enter the workforce," stated Ron Wanek, Founder and Chairman of Ashley Furniture Industries. "We strongly believe in providing individuals with opportunities in the areas of STEM, and our partnership with Itawamba aligns perfectly with this vision."
ACF has been a proud supporter of STEM Initiatives in the state of Mississippi, actively contributing to organizations such as SkillsUSA, Technology Student Association, and VEX Robotics. By championing these initiatives, ACF aims to nurture and inspire future leaders in the areas of STEM education. With this donation, ACF has donated over $1 million to support the Mississippi community since 2013.
Ashley Furniture Industries has maintained a strong presence in Mississippi since 1994, operating facilities in Ecru, Ripley, Verona, and Saltillo. Over the years, the Ecru facility has grown to become the largest upholstery plant in the country, while the Saltillo operations have achieved the title of the largest mattress plant in the United States.
--
Ashley Charitable Foundation (ACF) is a non-profit organization founded by Ashley Furniture Industries, LLC. The foundation is committed to supporting various charitable causes, including education, health and wellness, and community development initiatives. ACF aims to make a positive impact on the community by providing financial support, volunteerism, and other resources to organizations that share its values. The foundation is dedicated to creating a better future for individuals and families in need, and to improving the quality of life in the communities it serves.
# # #