Ashley Provided Local Students with School Supplies, in Partnership with Back 2 School America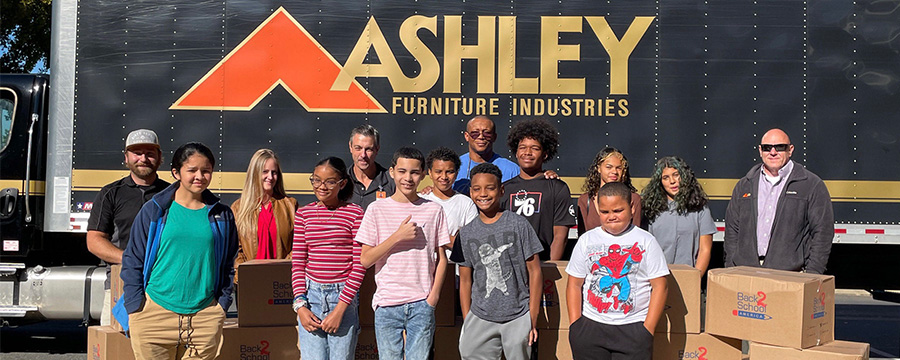 LEESPORT, Penn. – On September 15, Ashley Furniture Industries, LLC (Ashley) surprised students from the Reading School District, ranging from Pre-K to 8th Grade, with 156 new school supply kits. The donation of supplies, valued at nearly $4,000, was made possible in partnership with Back 2 School America.
Each school supply kit contains roughly 30 different items including: folders, pencils, scissors, notebooks, erasers, and other grade-specific school supplies. Along with the supplies was a note of inspiration from Ashley. Employees from Ashley's Leesport facility joined the school's staff to present the supply kits to students.
"We are proud to join forces with Back 2 School America, a wonderful organization that shares Ashley's vision of supporting the next generation of leaders and innovators," stated Joseph Murphy, Sr. Director of Operations, Ashley Furniture Industries, LLC. "By donating school supplies, we show our appreciation and commitment to the community. We hope that these kits will help students start the new school year with confidence and enthusiasm."
Back 2 School America is a non-profit organization whose mission is to enrich the lives of students across the U.S. through educational opportunities. The goal is to fill the current gap in schools and provide students with supplies crucial to their success in the classroom.
"Back 2 School America is proud to once again partner with Ashley to provide Back-2-School kits to children from low-income families, to make sure they start out the school year on the right foot with the vital tools they need to succeed," stated Matthew Kurtzman, CEO, Back 2 School America. "Ashley's contribution will help provide future generations with the education they need to thrive."
--
Ashley Furniture Industries, LLC (Ashley) feels that every person deserves more value for their money. Established in 1945, Ashley is the largest manufacturer of home furnishings in the world, and was named one of America's Most Trustworthy Companies by Newsweek in 2023. From design through fulfillment, Ashley is committed to delivering the world's best home furnishing values, selection and service, and earning the loyalty and trust of its customers every day. Visit Ashley online at www.ashleyglobal.com and "like" Ashley Furniture Industries on Facebook.

Back 2 School America (B2SA) launched in the summer of 2018 to address the national epidemic of low-income families that struggle to provide even basic school supplies to their children.
B2SA is an offshoot of Back 2 School Illinois (B2SI), a nonprofit that was formed back in 2010 and has successfully been providing Illinois families with Back 2 School kits, filled with the core supplies they need to succeed in the classroom. Since inception over 10 million school supplies have been distributed to at-risk kids. To learn more: https://www.b2sa.org/free-school-supplies.
# # #