Red River Home Opens New Ashley Outlet Store in Texarkana, Texas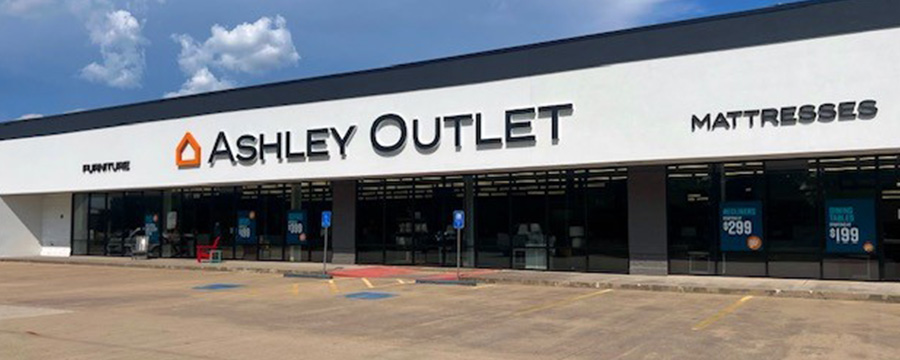 TEXARKANA, Texas - On August 17, 2023, JP&A Holdings, LLC, DBA Red River Home, in Texarkana, Texas celebrated the Grand Opening and Ribbon Cutting of its 12,000 sq. ft. Ashley Outlet showroom located at 510 Walton Drive in Texarkana, TX. Special guests, including Ashley representatives and Chamber of Commerce members joined the Red River Home team at the event. Ashley Outlet guests enjoyed grand opening savings, special gifts with purchase and the chance to win a $510 shopping spree.
Red River Home owns four additional Ashley retail locations and Ashley Outlets in the East Texas region. This is the 6th Ashley Outlet in the state of Texas. The Texarkana store will employ approximately ten people.
Ashley Outlet is a new store concept focusing on guest convenience and providing comfortable and quality products. With hundreds of home furnishing products, many of them being 'grab and go' so guests can take it home the same day, Ashley Outlet provides an easy shopping experience from start to finish.
"We are so excited to have launched the new Ashley Outlet store concept here in Texarkana", stated Paul Wilson, Owner and Partner, Red River Home. "This new store allows us to be closer to our customers and provide a world-class experience to our guests. This is the 20th year for Ashley Furniture in Texarkana. Our community has been a huge part of our success, and we look forward to the next 20 years."
The new Ashley Outlet showroom design features products by category. Whether guests are shopping for Recliners, Dining, Bedroom, Outdoor, Home Office, Mattress, or accessories, they will be able to easily navigate the store and quickly find what they're looking for.
Ashley Outlet hours are Monday through Saturday 10 a.m. – 7 p.m., and Sunday 1 p.m. – 5 p.m. Follow Ashley Outlet Texarkana on Facebook @ashleyoutlettexarkana to stay up to date with products, promotions, and events.
---
Red River Home is celebrating 45 years in business this year. From one first small store in Hope, AR to 8 retails locations and a regional distribution center, in 4 cities, we are proud of our heritage and passionate about our future. Our core focus is to enrich lives with furniture for every home. That includes our commitment to Hope to Dream in partnership with Ashley. We are guided by the core values of Customer 1st, Integrity, Positive Attitude, and a Growth Mindset. We look forward to contributing to the growth in our retail categories, in our communities and in the homes of our guests and team members for years to come.
Ashley Outlet is committed to creating a simple shopping experience by bringing guests comfortable products at a value they can trust. Ashley Outlet provides the looks they'll love at prices they'll love even more- all with a seamless shopping experience from start to finish. Visit Ashley Outlet online at www.ashleyoutlet.com, and follow Ashley Outlet on Instagram.
# # #