Providence Enterprises Re-Opens New Ashley Store in Kingsport, TN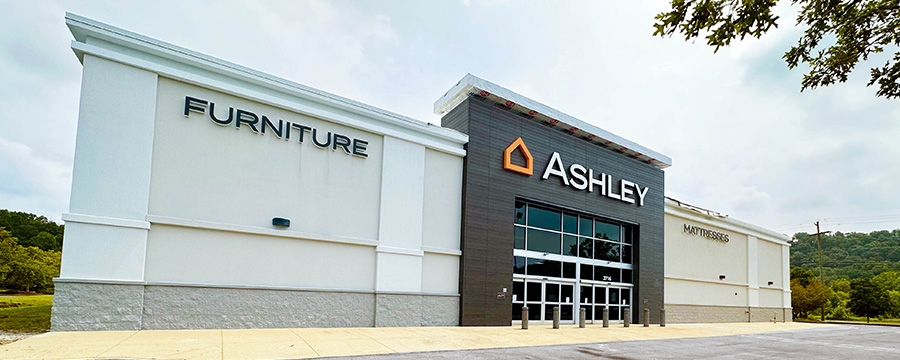 KINGSPORT, Tenn. - On Friday, August 25, 2023, Providence Enterprises, LLC celebrated the Grand Re-Opening and Ribbon Cutting of its new 27,000 sq. ft. Ashley showroom located at 2716 E Stone Dr S, Kingsport TN. City of Kingsport Mayor Pat Shull, Chamber of Commerce members and Kingsport residents joined Providence Enterprises and employees at the event. This is a new location for the Ashley store, previously located in the East Stone Commons shopping center since 2012.
"We brought Ashley to Kingsport 11 years ago and it's been a wonderful market for us. We have a great relationship with the city and surrounding areas," stated Bob Young, owner of Providence Enterprises. "Blessed with a relocation and property acquisition opportunity, we have even higher expectations for our new location in Kingsport Pavilion. We are also very excited to bring Ashley's fresh and modern showroom design to East Tennessee."
Bob Young owns 11 additional Ashley stores in the surrounding region. The Kingsport store will continue to employ 13 people.
The store's interior architectural design is bright and open, staying true to the Ashley 7.0 model, and features skylights, high ceilings, and a brand-new selection of merchandise. The showroom features complete lifestyle vignettes, down to the final detail of lighting, rugs and wall art. Product categories include bedroom, dining room, upholstery, leather, occasional tables, home office, youth bedroom, recliners, mattresses and accessories. Technology enhances the environment, incorporating various elements to improve the customer shopping experience.

The new store's hours are Monday through Thursday, 10:00 a.m. - 7:00 p.m., Friday and Saturday 10:00 a.m. - 8:00 p.m. and Sunday 12:00 p.m. - 6:00 p.m. Follow Providence Enterprises dba Ashley on Facebook and LinkedIn to stay up to date with promotions and events.
---
Providence Enterprises is locally owned and operated, serving the community by helping guests design their dream home. Following Providence Enterprises' vision to "Be Prosperous and Giving," beds are donated to local children in need through the Hope to Dream organization. Providence Enterprises will also be celebrating the openings of two additional stores in Kentucky and Ohio later this year.

Ashley is committed to being your trusted partner and style leader for the home. This commitment has made Ashley the #1 furniture and mattress store in North America and one of the world's best-selling home furnishing brands with more than 1,125 locations in 67 countries.
Start designing your dream home today. Visit Ashley online at www.ashley.com. Connect on social media through Instagram, Facebook, YouTube and TikTok, and check out our design-focused boards on Pinterest.
# # #