A Year in Review of the Multi-State K-12 STEM Learning Initiative Established by Ashley and Ronald & Joyce Wanek Foundation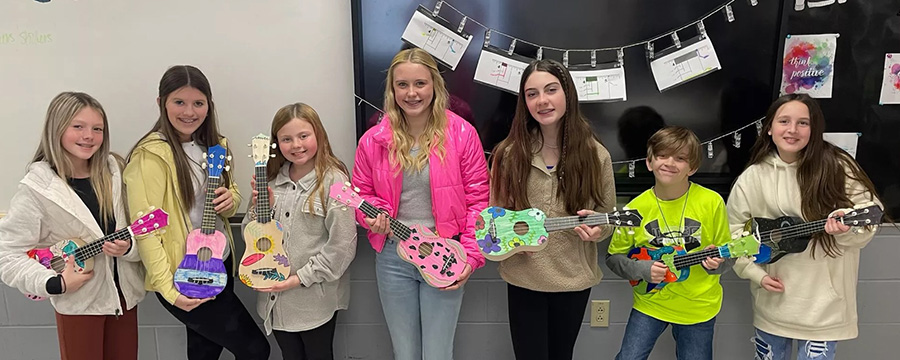 ARCADIA, Wis. – In June 2022, Ashley Furniture Industries, LLC (Ashley) and the Ronald & Joyce Wanek Foundation (Foundation) each partnered with The STEM Academy, Inc. (STEM 101) to develop unique courses and learning units to expose thousands of students to technical trades and the associated career opportunities with hands-on classroom projects. The initial funding of these projects totaled more than $850,000 from Ashley and the Foundation.
The program launched with 3,582 students participating from school districts in Wisconsin, Minnesota, Mississippi, North Carolina, in the classroom and/or summer class offerings. Each participating school received seven units per student, which included Measurement, Build Your Own Speaker, Design and Monitor a Building System, Electrical Circuits, Build Your Own Ukulele, Monitor Your Vital Signs, and Build and Test Air Rockets. Following the program, STEM 101 conducted a survey with the students and found the desire to pursue STEM (science, technology, engineering and math) careers was 65% or greater, which is higher than the national average of 23%.
With this educational initiative exceeding expectations, Ashley and the Foundation are continuing this great work in the 2023-2024 school year to inspire today's youth to embrace STEM. Through the partnership with STEM 101, Ashley and the Foundation are contributing another investment of over $1.3 million that will positively impact more students than the previous school year.
"Improving the quality of our nation's future skilled workforce is a core belief of Ashley," stated Ron Wanek, Founder and Chairman of Ashley Furniture Industries, LLC. "STEM 101 provides an exceptional opportunity for hands-on learning that reinforces STEM education in schools and enlightens students about potential career paths."
Ashley and STEM 101 also partnered on an activation space at the annual Ashley for the Arts music and arts festival, held in Arcadia, Wis. in August. The "STEM Shed" hosted several companies, including Ashley, that held three-to-five-minute STEM experiences for children between the ages of six to sixteen throughout the weekend festivities.
In addition to the STEM 101 initiative, Ashley has developed several partnerships with K-12 and post-secondary schools in support of STEM learning opportunities. Ashley and the Foundation have donated millions of dollars in funds and in-kind services to provide students with exposure to technical trades and career opportunities, instructor training, and robotics programs.
--
Ashley Furniture Industries, LLC (Ashley) feels that every person deserves more value for their money. Established in 1945, Ashley is the largest manufacturer of home furnishings in the world, and was named one of America's Most Trustworthy Companies by Newsweek in 2023. From design through fulfillment, Ashley is committed to delivering the world's best home furnishing values, selection and service, and earning the loyalty and trust of its customers every day. Visit Ashley online at www.ashleyglobal.com and "like" Ashley Furniture Industries on Facebook.
ABOUT STEM 101
The STEM Academy, Inc. (STEM 101) is a 501c(3) non-profit organization dedicated to advancing economic development by improving STEM literacy for all students. No matter where children live, they should have access to quality learning environments. A child's zip code should not determine their opportunities. STEM 101 provides 21st century STEM career minded curriculum, physical resources and professional development to inspire, engage, and prepare students for the jobs of tomorrow. The team at STEM 101 has successfully implemented and supports K-12 STEM programs across the USA, India, and Bermuda. More information can be found at www.stem101.org and "like" STEM 101 on Facebook.