The Ronald and Joyce Wanek Foundation Donates $50,000 to Helping a Hero for Wounded Veterans

Ashley Furniture and Helping a Hero Celebrate a Decade of Partnership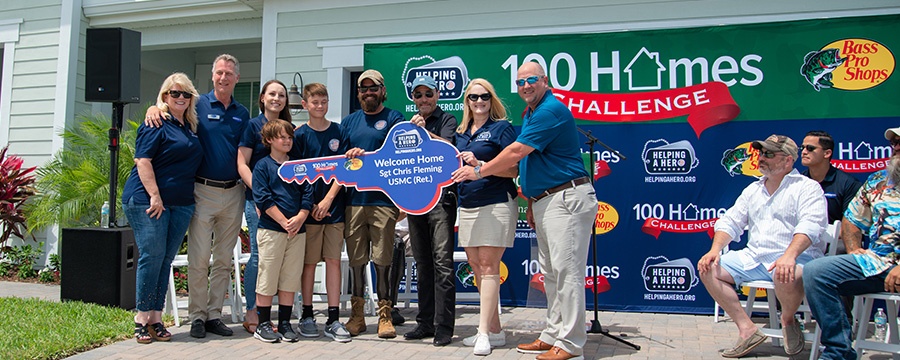 ARCADIA, Wis. – Recently, the Ronald & Joyce Wanek Foundation donated $50,000 to Helping a Hero, a non-profit organization that builds adapted homes for veterans who have been severely injured in combat. Helping a Hero has helped hundreds of veterans and their families in over 26 states. This donation will be matched by Bass Pro Shops to help support veterans in need of an adapted home due to their injuries, as a part of Helping a Hero's 100 Homes Challenge. Through the 100 Homes Challenge, over 13 homes have been built and a total of 32 homes are in varying stages of construction.
"Helping a Hero is so grateful to the Ronald and Joyce Wanek Foundation for its generous donation to further our mission to build specially adapted homes for our catastrophically injured servicemembers who served in the Global War on Terror," said Meredith Iler, Founder and National Chair, Helping a Hero Home Program. "Helping a Hero welcomes the Ronald and Joyce Wanek Foundation to our esteemed list of patriots who have joined with Johnny Morris and Bass Pro Shops in the 100 Homes Challenge."
The donation from the Ronald and Joyce Wanek Foundation and Bass Pro Shops will make a significant impact in the lives of wounded veterans and their families, and the organizations are proud to support those who have served our country.
This year, Ashley Furniture Industries, LLC (Ashley) is also celebrating a decade of partnership with Helping a Hero to ensure our nation's wounded veterans have a home and furniture that provides freedom within their homes. Over the past ten years, Ashley has helped furnish homes for severely wounded veterans and works with them to hand select furniture that accommodates their needs. Ashley works closely with Helping a Hero to learn about the veterans' physical needs and furniture preferences to select the product for their homes.
"Ashley has an unwavering commitment to support our nation's heroes," stated Shari Wagner, Donations Manager, Ashley Furniture Industries. "Through our ongoing partnership with Helping a Hero, we are proud to provide specially adapted homes for our deserving veterans. We believe that it is our collective responsibility to show our gratitude to those who have served our country with honor and distinction."
Additionally, Ashley retail licensees from Kentucky, Texas, Alabama, North Carolina, Florida and in other cities across the U.S. have been proud supporters of Helping a Hero throughout the years, offering many of the same services in their respected areas.
--
Ashley Furniture Industries, LLC (Ashley) feels that every person deserves more value for their money. Established in 1945, Ashley is the largest manufacturer of home furnishings in the world, and was named one of America's Most Trustworthy Companies by Newsweek in 2023. From design through fulfillment, Ashley is committed to delivering the world's best home furnishing values, selection and service, and earning the loyalty and trust of its customers every day. Visit Ashley online at www.ashleyglobal.com and "like" Ashley Furniture Industries on Facebook.
ABOUT HELPING A HERO:
Texas-based Helping a Hero is one of the top three national charities building adapted homes for our most severely injured heroes from The Global War on Terror. In addition to providing specially adapted homes for qualifying service members, Helping a Hero provides programs such as our Helping a Hero Outdoors, marriage retreats, caregiver retreats, recreational activities, and emergency needs support. Home recipients include Post 9-11 veterans whose permanent injuries from combat have left them paraplegics, quadriplegics, amputees, blind, with severe burns and traumatic brain injuries.

JOHNNY MORRIS 100 HOMES CHALLENGE:
Johnny Morris, founder and CEO of Bass Pro Shops and noted conservationist, launched the 100 Homes Challenge and committed to fund 25% of the cost of the next 100 Helping a Hero homes. Helping a Hero invites the public to join the Johnny Morris 100 Homes Challenge by making a donation, however large or small, to insure our most severely wounded warriors receive an adapted home to restore their freedom and independence inside their home.
Helping A Hero is accepting applications from eligible wounded warriors needing a specially adapted home to become part of the 100 Homes Challenge. We also invite the public to Nominate a Hero. Both the home application and the Nominate a Hero form are available on our website at www.helpingahero.org.
# # #