Ronald & Joyce Wanek Sponsor Local Wisconsin Students to Attend National Flight Academy in Pensacola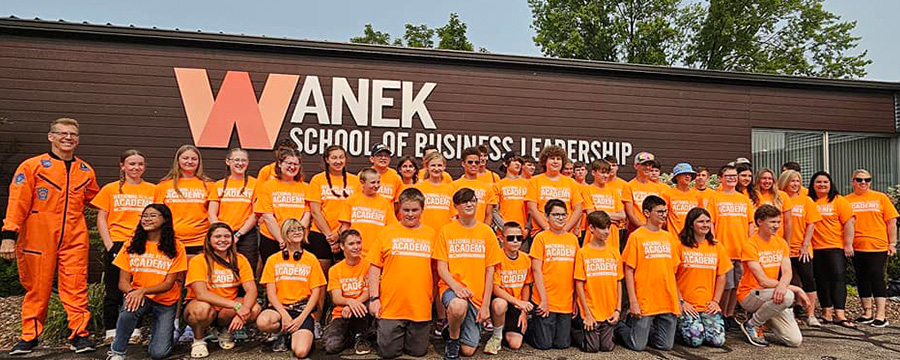 PENSACOLA, Fla. – On July 17th, 49 Wisconsin students from various school districts embarked on an exciting journey to attend the National Flight Academy (NFA). The week-long program focused on STEM (Science, Technology, Engineering, Mathematics) initiatives and provided students with firsthand aviation experiences. The Ronald & Joyce Wanek Foundation sponsored the local middle and high school students to attend the program, including the cost of tuition and travel, totaling $75,000. School districts included: Arcadia, Black River Falls, Blair-Taylor, Cochrane-Fountain City, Eleva Strum, Fall Creek, Sparta, Gilmanton, Holmen, Holy Family, Independence, St. Paul's Onalaska, St. John's Evangelical Church and Whitehall school districts.
During the program, the students acted as Naval Aviators aboard a modern aircraft carrier, planning and conducting humanitarian-based missions while living on the "AMBITION CVT-11," a simulated aircraft carrier. The week-long AMBITION "deployment" immersed students in simulation and immersion centers to promote concepts in aviation, air traffic control, and aviation maintenance. The students were challenged to test mental agility, goal completion, teamwork, and communication skills. To celebrate the students' achievements, they were invited to attend a graduation ceremony hosted by Lieutenant General Duane Thiessen, USMC (Retired), President, and CEO of the Naval Aviation Museum Foundation.
"The Ronald and Joyce Wanek Foundation's sponsorship of the National Flight Academy aims to inspire and educate the next generation about careers in science, technology, engineering, and math," stated Tom Lyga, Sr. Manager of Leadership Development, Ashley Furniture. "The flight academy provides practical applications of these subjects that help students connect their education to exciting and fulfilling careers. The hope is that students will pursue careers within the STEM fields."
The National Flight Academy aims to motivate students seeking opportunities in STEM and provides challenging experiences and learning-based opportunities that inspire students beyond the course of their stay. A former NFA attendee and current Ashley intern, Ethan Burton, shared his experience and how it shaped his career path: "Following my time in the flight academy, I decided to study Mechanical Engineering and am currently an intern at Ashley in Automation Engineering. I am truly grateful for my time at the flight academy as, without it, who knows what direction I would have taken my education and career."
The Ronald & Joyce Wanek Foundation has contributed millions of dollars towards education, including STEM and advanced manufacturing initiatives, and has sponsored over 170 students to the National Flight Academy since 2017. Their efforts facilitate several partnerships that benefit K-12 and post-secondary schools and their educational opportunities.
Ashley Furniture Industries, LLC (Ashley) feels that every person deserves more value for their money. Established in 1945, Ashley is the largest manufacturer of home furnishings in the world and was named one of America's Most Trustworthy Companies by Newsweek in 2023. From design through fulfillment, Ashley is committed to delivering the world's best home furnishing values, selection and service, and earning the loyalty and trust of its customers every day. Visit Ashley online at www.ashleyglobal.com and "like" Ashley Furniture rel="noopener noreferrer" Industries on Facebook.