Grand Brands Opens Three New Ashley Outlet Stores in Hampton Roads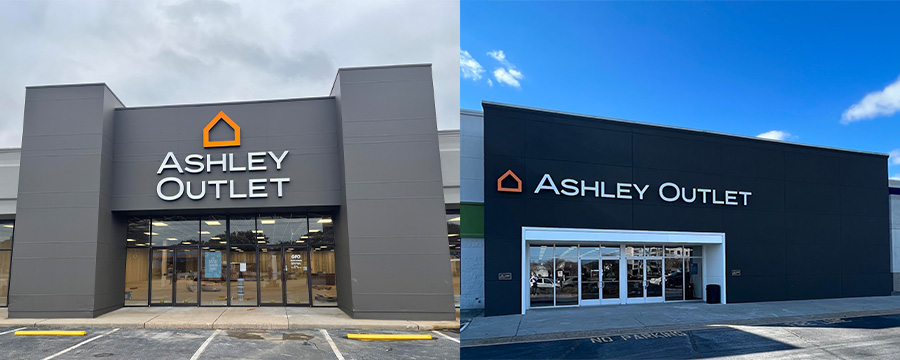 VIRGINIA BEACH, Va. - Recently, Grand Brands celebrated the Grand Openings of three new Ashley Outlet showrooms, with a combined total of over 60,000 sq. ft., located across the Hampton Roads area, including Virginia Beach, Chesapeake, and Newport News.
Grand Brands owns a total of six Ashley retail locations and Ashley Outlets in Hampton Roads. The three new Ashley Outlets in the region will employ approximately 25 people and are continuing to hire.
Ashley Outlet is a new store concept focusing on guest convenience and providing comfortable and quality products at a great value. With hundreds of home furnishing products, Ashley Outlet provides an easy shopping experience from start to finish.
"We are thrilled to bring the number one selling home furnishings brand closer to our region's customers. We look forward to offering a wider variety of home furnishings to this market at exceptional values as well as continuing to earn our customers' loyalty," stated Craig and Matt Stein, owners of Grand Brands. "Ashley is a brand name that people have come to trust, and this trust has led to its growth into the number one selling furniture and mattress store in North America. We are honored to bring three new Ashley Outlets to Hampton Roads."
The new Ashley Outlet showroom design features products by category. Whether guests are shopping for Recliners, Dining, Bedroom, Outdoor, Home Office, Mattress, or accessories, they will be able to easily navigate the store and quickly find what they're looking for.
Ashley Outlet hours are Monday through Thursday, 11:00 a.m. - 7:30 p.m., Friday and Saturday 11:00 a.m. - 8:00 p.m. and Sunday 11:00 a.m. - 7:00 p.m. Follow Ashley Outlet Hampton Roads on Facebook and Instagram to stay up to date with products, promotions, and events.
---
Grand Brands is a 75-year-old company that includes five Grand Furniture and Grand Furniture Outlet locations, and over 180,000 sq. ft. of Ashley and Ashley Outlet showroom space in Hampton Roads. Grand Brands employs over 300 people in the region.
Ashley Outlet is committed to creating a simple shopping experience by bringing guests comfortable products at a value they can trust. Ashley Outlet provides the looks they'll love at prices they'll love even more- all with a seamless shopping experience from start to finish. Visit Ashley Outlet online at www.ashleyoutlet.com, and follow Ashley Outlet on Instagram.