Ashley Furniture Celebrates Launch of Career Pathways Program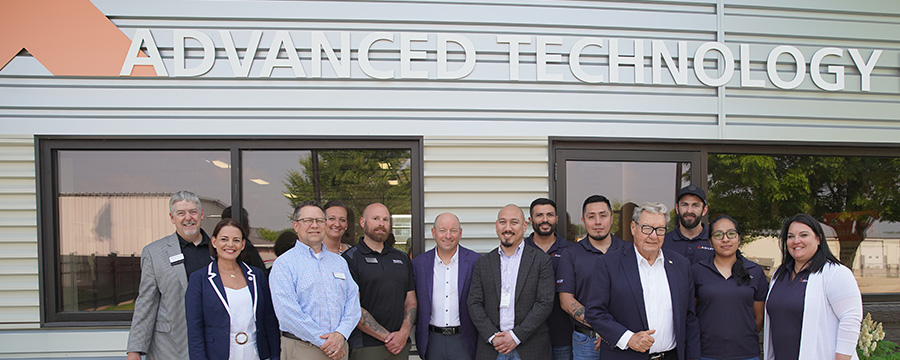 ARCADIA, Wis. – On Tuesday, June 27, Ashley Furniture Industries, LLC (Ashley) celebrated the launch of their Career Pathways Program at the company's Advanced Technology Maker Center (ATMC). The inaugural class started May 1 and will conclude in November.
The Ashley Career Pathways Program is a developmental program that targets high-potential employees and provides a structured career path into critical roles. Career advancement opportunities include Electromechanical Tech, Facility Maintenance, Mechanical Tech, and Automation Tech. The participants will choose two of the four discipline areas to rotate between for the first half of the course, then selecting one of the two to specialize in for the remainder of the program. Outside of the rotational assignments, the participants will meet regularly and participate in group professional development opportunities to provide networking and relationship building with other team members with similar career interests.
"The Ashley Career Pathways Program is driven by our dedication to employee development and personal growth," stated Anthony Ebio, Director of Talent and Succession Planning, Ashley Furniture Industries, LLC. "As an industry leader, we understand that one of our business imperatives is to unlock the potential of our employees and is shaped by our employees' desire to do more. This is a shared passion by both our Founder, Ron Wanek, and the Ashley Family that we support to meet those aspirations."
The program includes self-paced eLearning, job shadowing, technical college courses, technical mentorship, professional development, with a hybrid of classroom learning and on-the-job training. The program curriculum was made possible through partnerships with Chippewa Valley Technical College (CVTC) and Western Technical College (WTC).
"Ashley is a growth-focused company at our core," said Todd Wanek, President and CEO of Ashley Furniture Industries, LLC. "Our employees are the key to our success, and we want to provide the very best opportunities that allow them to grow their careers with Ashley."
Ashley Furniture Industries, LLC (Ashley) feels that every person deserves more value for their money. Established in 1945, Ashley is the largest manufacturer of home furnishings in the world, and was named one of America's Most Trustworthy Companies by Newsweek in 2023. From design through fulfillment, Ashley is committed to delivering the world's best home furnishing values, selection and service, and earning the loyalty and trust of its customers every day. Visit Ashley online at www.ashleyglobal.com and "like" Ashley Furniture rel="noopener noreferrer" Industries on Facebook.