Local SkillsUSA and TSA Chapters Partner with Ashley Furniture Industries to Advance Career and Technology Education Opportunities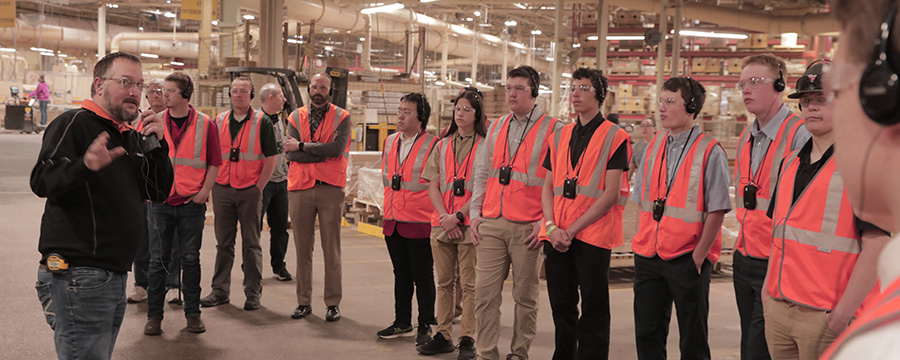 ARCADIA, Wis. –Ashley Furniture Industries, LLC (Ashley) recently awarded $158,000 in financial grants from the Ashley Charitable Foundation and The Ronald & Joyce Wanek Foundation to 18 high schools across five states, to support the growth of their SkillsUSA and/or Technology Student Association (TSA) chapters for the 2022-2023 school year. The intent of the grant is to involve more students, strengthen the experience for current members or begin a new chapter, and/or improve the communities in which students live through a technical education project. In addition to the donation, students were invited to tour the Ashley advanced manufacturing and distribution facilities to learn about the many career paths within Ashley.
SkillsUSA is a national membership association serving middle school, high school, and college students who are preparing for careers in trade, technical and skilled service occupations, as well as for further education. The organization provides opportunities for students to participate in educational programs, events and competitions that support career and technical education in the nation's classrooms.
"As a SkillsUSA advisor, this grant allowed us as advisors to focus on the true framework of SkillsUSA: teaching students to understand the importance of Leadership, Service, Planning, Organization and Management," stated Phil Harris, SkillsUSA West Campus Advisor, Berks Career and Technology Center. "Due to this grant, students were able to participate in state level competition within their specific career fields. For many students, this may have been their first time traveling with peers or working as a team on a competition stage and it was made possible from Ashley and the foundations' support. The success of this grant will bring lifetime memories to those students who participated."
TSA is another national membership organization for middle and high school students that allows students to participate in competitive events, learn, and apply skills in the areas of science, technology, engineering, and mathematics (STEM). TSA's mission is to enhance personal development, leadership, and career opportunities in STEM through activities, competitions, and related programs.
"TSA allows me to use the skills I've acquired in school and apply them at the competition level to give me opportunities to excel in the real world," stated Luke Henry, New Albany School of Career & Technical Education TSA Member and Digital Media II student. "This donation from Ashley will allow myself and my peers to increase our opportunities at the competition level while decreasing the financial burden."
Schools that were awarded a financial grant include:
Mississippi: Itawamba County Schools, Lee County Schools, South Tippah School District, Tupelo Schools, New Albany School District, and Pontotoc County Schools
North Carolina: Davie County Schools
Pennsylvania: Berks Career & Technology Center and Schuylkill Valley School District
Texas: Vanguard High School and West Mesquite High School
Wisconsin: Alma Center Lincoln, Black River Falls, Blair-Taylor, Cochrane-Fountain City, Durand-Arkansaw, Gale-Ettrick-Trempealeau, Holmen School Districts
Ashley and Ron and Joyce Wanek have been proud supporters of SkillsUSA since the 2018-2019 school year and have provided over $346,600 in chapter scholarships to support 25 schools and is thrilled to support TSA for the 2022-2023 school year. Ashley has a strong belief in improving the quality of our nation's future skilled workforce, which has included the development of partnerships with K-12 as well as post-secondary schools, providing students with exposure to technical trades and career opportunities, instructor training, scholarships, and robotics programs.
Learn more about SkillsUSA and TSA, watch https://youtu.be/J5GN1w8dw4g
--
Ashley Furniture Industries, LLC (Ashley) feels that every person deserves more value for their money. Established in 1945, Ashley is the largest manufacturer of home furnishings in the world, and was named one of America's Most Trustworthy Companies by Newsweek in 2023. From design through fulfillment, Ashley is committed to delivering the world's best home furnishing values, selection and service, and earning the loyalty and trust of its customers every day. Visit Ashley online at www.ashleyglobal.com and "like" Ashley Furniture Industries on Facebook.
SkillsUSA is a nonprofit partnership of education and industry to strengthen our nation's skilled workforce. Driven by employer demand, SkillsUSA helps students develop necessary personal and workplace skills along with technical skills grounded in academics. This SkillsUSA Framework empowers every student to succeed at work and in life, while helping to close the "skills gap" in which millions of positions go unfilled. Through SkillsUSA's championships program and curricula, employers have long ensured schools are teaching relevant technical skills, and with SkillsUSA's new credentialing process, they can now assess how ready potential employees are for the job. SkillsUSA has more than 360,000 annual members nationwide in high schools, colleges and middle schools, covering over 130 trade, technical and skilled service occupations, and is recognized by the U.S. departments of Education and Labor as integral to career and technical education. For more information: www.skillsusa.org

Technology Student Association (TSA) is a national career and technical student organization (CTSO) of students engaged in science, technology, engineering, and mathematics (STEM). TSA's intracurricular program includes competitions and leadership activities. As a student organization of 250,000 middle and high school technology and engineering students, TSA provides its members the opportunity to explore a wide variety of STEM career interest areas. All TSA competitions—more than 70 middle and high school events combined— are correlated with national STEM standards to enhance STEM curriculum. Since 1978, more than four million students have participated in TSA. Visit TSAweb.org for more information.
# # #