Ashley and Ronald & Joyce Wanek Partner with the City of Altura to Open Altura Memorial Park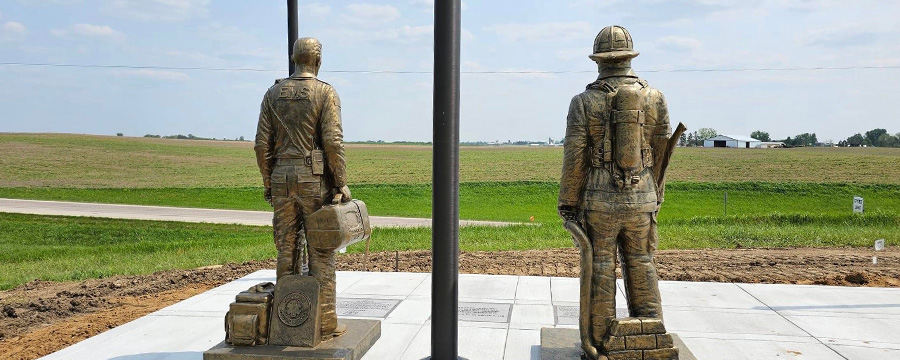 ARCADIA, Wis. - Ashley Furniture Industries, LLC (Ashley) and the Ronald & Joyce Wanek Foundation have made a monetary donation and donation of time partnering with the City of Altura to create Altura Memorial Park. The objective of the park is to commemorate those who have made the ultimate sacrifice through military service and as a first responder. On June 24, 2023, at 10 a.m., the City of Altura will celebrate a ribbon cutting ceremony of Altura Memorial Park along with members of the local community, government officials, and military representatives.
"A Memorial Park is a symbol of gratitude, appreciation, and respect towards the brave men and women who have served our country," stated Mayor John Mask. "It stands as a reminder of the sacrifices these individuals have made to protect our freedoms and serves as a place of reflection and remembrance for our entire community. As the Mayor of Altura, I am honored to have the opportunity to recognize and pay tribute to the veterans from our city by dedicating a park in their honor."
"The members of the Lewiston American Legion are proud of the community of Altura for creating a Veterans Memorial. A Veterans Memorial is a cause for both Celebration and Respect", stated David J. Baer, Commander, American Legion Post 90 (Jackson - O'Meara). "We Celebrate the fact that American Men and Women are willing to step forth and commit themselves to the defense of this great nation. We Respect the Men and Women of the United States that gave their lives on behalf of America and its ideals. May this country ever be the 'Shining City on the Hill' it was intended to be by our founders."
"We are very excited to have this Memorial Park close to our post in St. Charles," stated Dale Fabian, Post Commander, St. Charles VFW Post 5603. "It will be a place to honor local veterans and heroes."
Visitors to the park will be welcomed by a five-foot granite stone marker shaped like the state of Minnesota at the park's entry. The 3,080 sq. ft. park will feature a 200 ft. walk including a 12 ft. long wall listing veterans' names guarded by male and female soldier statues; over 55 granite plaques; various statues and monuments representing the different branches of the U.S. Military including: Army, Marine, Navy, Air Force, Space Force and Coast Guard, and of all our nation's conflicts; a Goldstar Mothers memorial; and monuments recognizing First Responders including firefighters and EMTs. The park also remembers some of Altura's own that served in the military and shares the history of the city.
---
Ashley Furniture Industries, LLC (Ashley) feels that every person deserves more value for their money. Established in 1945, Ashley is the largest manufacturer of home furnishings in the world, and was named one of America's Most Trustworthy Companies by Newsweek in 2023. From design through fulfillment, Ashley is committed to delivering the world's best home furnishing values, selection and service, and earning the loyalty and trust of its customers every day. Visit Ashley online at www.ashleyfurnitureindustriesllc.com and "like" Ashley Furniture Industries on Facebook.
###