Ashley for the Arts Gears Up for Another Year of Live Music, Art, Family Fun and More!

Featuring Headliners OneRepublic, REO Speedwagon, Jake Owen and Tyler Hubbard of Florida Georgia Line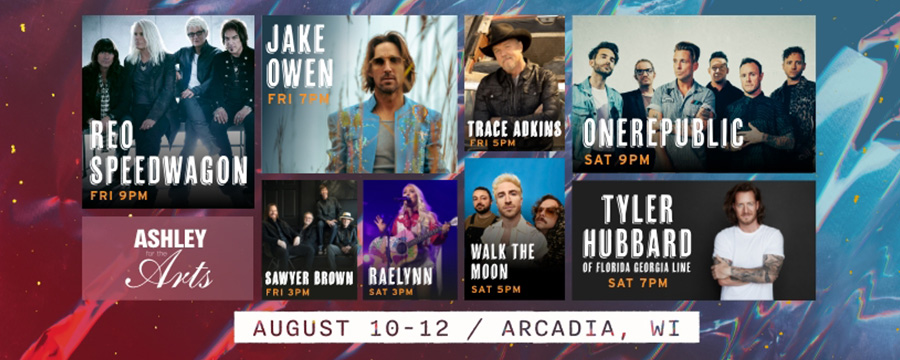 ARCADIA, Wis. - Ashley for the Arts, the annual three-day music and arts festival, is set to take place August 10, 11, and 12 at Memorial Park in Arcadia, Wisconsin. This event raises money in support of art programs, schools, and local non-profits. Ashley for the Arts prides themselves on being an affordable music festival with access to multi-genre live music, art, and fun for the whole family to enjoy. In 2022, the non-profit organization raised nearly $650,000 for more than 70 participating non-profit organizations, including 33 area schools.
Music and art lovers alike will gather this August in the picturesque, 54-acre Memorial Park for a fun filled weekend thanks to host sponsor, Ashley Furniture Industries, LLC. The event will feature eight main stage shows including performances from some of the music industry's biggest names including: OneRepublic, REO Speedwagon, Jake Owen, Tyler Hubbard of Florida Georgia Line, Trace Adkins, WALK THE MOON, Raelynn, and Sawyer Brown.
Alongside the Main stage performances, a talented selection of musical performers on the Soldier's Walk and Pavilion stages will fill the park with music all day including: Big Oil, Boogie and the Yo-Yoz, Buck Wild, Crooked Willow, Divas Through the Decades, Ember, Gary's Ridgeland Dutchmen, Harlow, Johnny Holm Band, Josieellen, Last Call, Poppa Bear Norton, Rhythm Playboys, Something Familiar, The Executives, The Memories, The Mondays, TIGERA, and Wonderstate. The Amphitheater family stage will host the Dollipops, Duelly Noted, an Extreme Juggling Show, and the Rochester Caledonian Pipe Band. Plus, ten area schools will be featured throughout the weekend to showcase the region's student vocal and instrumental talent.
In addition to the music acts, Ashley for the Arts hosts an Art and Craft Fair comprised of nearly 100 local artists, an air park with bouncy houses and obstacle courses as well as the Timberworks Lumberjack show! Other off-stage entertainment offerings include hot air balloon displays, fireworks, a petting zoo, bingo, axe throwing, street performers, yard games, balloon artists, Wheel of Death, Painting in the Park with Cheers Pablo and an interactive art space where you and the family can try your hand at spin art, flowerpot decorating, and more.
Ashley for the Arts is home to many talented artists, but if all the entertainment doesn't pique your interest, the mouthwatering rows of food vendors will! Fill up on Arcadia's signature charcoal chicken, grilled in North America's largest indoor chicken pit. Other festival favorites include gyros, mini donuts, wood-fired pizza, tacos, barbeque, locally made ice cream, and a Wisconsin classic - beer battered cheese curds.
The weekend kicks off with Thursday evening's event that promotes Pursuit of a Cure, raising money to advance medical research and help offset medical costs that cancer patients incur. The festival will host their second annual Pursuit of a Cure Glow Run with a glow foam party at the finish line. Glow sticks and neon colors will fill the park alongside performances by Blondie Blue, The Whitesidewalls Rock 'N' Roll Revue and Restless Road. Additional activities taking place include the Pursuit of a Cure Basket Raffle, an inflatable air park, and food vendors. To round out Thursday night, the sky will light up with an iconic firework display.
Weekend tickets are available online starting at $35 plus fees (ashleyforthearts.com/tickets), price increases June 1st. Tickets will also be available at the gate. Event parking is free and includes free bus shuttles to and from the grounds. Gates open at 4:00 p.m. on Thursday and 10:00 a.m. Friday and Saturday. Download the Ashley for the Arts app or visit the website for additional event details.
---
Ashley for the Arts is a nonprofit initiative that provides the entire family with world class entertainment, art, exercise and family fun for a remarkably low cost. The organization is one of Wisconsin's largest charity events, donating over $3 Million since its inception to more than 70 nonprofit organizations, including participating schools, children's charities, and medical research. This music and arts festival was conceptualized and established by Ashley Furniture Industries in 2009 and takes place in Arcadia, Wisconsin's Memorial Park.
For more information on Ashley for the Arts, visit www.AshleyfortheArts.com. "Like" Ashley for the Arts on Facebook and follow us Instagram @AshleyfortheArts.