Three Western Wisconsin VEX Robotics Teams Competed at the 2023 World Championship


Ashley and the Ronald & Joyce Wanek Foundation Donated $19,500 Towards the Teams' Expenses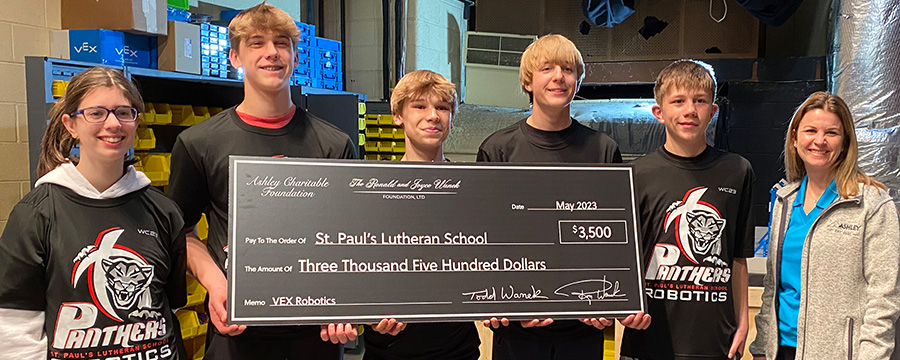 ARCADIA, Wis. – Ashley Furniture Industries, LLC (Ashley), the Ashley Charitable Foundation and the Ronald & Joyce Wanek Foundation recently made a donation of $19,500 in addition to resources to the Westby Area School District, the Whitehall School District, and St. Paul's Lutheran School VEX Robotics teams to compete in the 2023 Worlds Championship in Dallas, Texas held April 25-May 4, 2023. The championship includes over 3,000 of the top teams from around the globe. VEX promotes student interest in STEM (Science, Technology, Engineering, Mathematics) subject areas and encourages them to pursue STEM-related careers through year-round tournaments.

"The championship gave a great demonstration about how much can be accomplished with a large group in such a short amount of time," stated Eric Evenstad, Westby Coach. "Our group of kids is extremely thankful for all the support that they have received from Ashley. They wrapped up the event with a feeling of excitement for what is next to come."

The Westby Norse Force Robotics competed in the VIQC MS Spirit Division and had two students finish in third place in the divisional finals. Whitehall had two teams compete, one in the VIQC ES Division and one in the VRC MS Skills Division. The Decoders achieved their highest average match points of the season, and the Survivors achieved a season high score. St. Paul's Lutheran competed in the VIQC MS Technology Division and were high climbers during the early stages of the competition.

"They had strong communication and worked hard on practicing and strategizing with alliance partners," stated Benjamin Bain, St. Paul's Lutheran Coach. "It was amazing to partner with three international teams and have the chance to communicate with them throughout the competition."

Additionally, over the course of the past school year, funds were awarded to schools based on their overall strategies for incorporating VEX Robotics equipment and curriculum into K-12 classrooms or extra-curricular competition programs. For the 2022-2023 school year, Ashley and the Ronald & Joyce Wanek Foundation awarded over $393,000 to further robotics education among schools in North Carolina, Mississippi, Texas, and Wisconsin.

Since 2017, Ashley and Ron & Joyce Wanek have supported VEX Robotics efforts among K-12 and post-secondary education with more than $684,000. These funds provide more STEM-based learning opportunities, scholarships, exposure to career opportunities, training, and robotics programs. Ashley believes that advancements in manufacturing, including training and educating our current and next generation of leaders for the workforce are crucial to our country's success.
Ashley Furniture Industries, LLC (Ashley) feels that every person deserves more value for their money. Established in 1945, Ashley is the largest manufacturer of home furnishings in the world, and was named one of America's Most Trusted Companies by Newsweek in 2023. From design through fulfillment, Ashley is committed to delivering the world's best home furnishing values, selection and service, and earning the loyalty and trust of its customers every day. Visit Ashley online at www.ashleyglobal.com and "like" Ashley Furniture Industries on Facebook.

VEX Robotics is a leading provider of educational and competitive robotics products to schools, universities, and robotics teams around the world. The VEX 123, GO, IQ, V5, V5 Workcell, and VEXcode VR product lines span from elementary school all the way through college with accessible, scalable, and affordable robotics solutions. Beyond science and engineering principles, a VEX Robotics project encourages teamwork, leadership, and problem solving among groups. It allows educators to easily customize projects to meet the level of student's abilities as they inspire and prepare the STEM problem-solvers of tomorrow.