US FURNITURE Opens New Ashley Furniture HomeStore in Morocco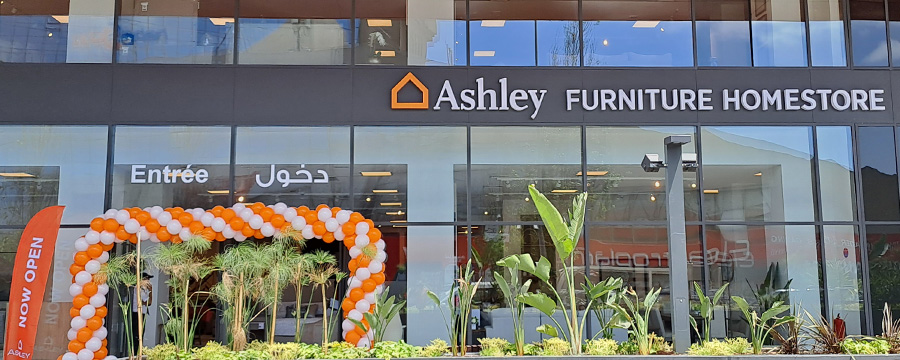 CASABLANCA, Morocco – On May 6, 2023, US FURNITURE celebrated the Soft Opening of its new 2,000 sq. m. Ashley Furniture HomeStore showroom located in the Marjane Californie Mall. This location is the first Ashley Furniture HomeStore in the country of Morocco.
The new store is owned and operated by Kitea, and the store will employ approximately 20 people. Ashley Furniture HomeStore, one of the world's best-selling home furnishing brands, has more than 1,125 locations worldwide.
"We are thrilled to bring the number one selling furniture store brand closer to our region's customers," stated Khalid Belhabib. "We look forward to offering a wide variety of home furnishings to this market at exceptional values as well as providing the best customer service in the industry."
The showroom features complete lifestyle vignettes, down to the final detail of lighting, rugs and wall art. Product categories include bedroom, dining room, upholstery, leather, occasional tables, home office, youth bedroom, recliners, mattresses and accessories. Technology enhances the environment, incorporating various elements to improve the customer shopping experience.
Ashley Furniture HomeStore hours are Monday through Sunday 9 a.m. to 10 p.m. Follow Ashley Morocco on Facebook to stay up to date with products, promotions and events.
---
Ashley Furniture HomeStore is committed to being your trusted partner and style leader for the home. This commitment has made Ashley Furniture HomeStore the #1 furniture and mattress store in North America and one of the world's best-selling home furnishing brands with more than 1,125 locations in 67 countries.
Start designing your dream home today. Visit Ashley Furniture HomeStore online at www.ashley.com or www.ashley.biz. Connect on social media through Instagram, Facebook, YouTube and TikTok, and check out our design-focused boards on Pinterest.
Ashley Furniture Industries, LLC feels that every person deserves more value for their money. Established in 1945, Ashley is the largest manufacturer of home furnishings in the world, and was named one of America's Most Trusted Companies by Newsweek in 2023. From design through fulfillment, Ashley is committed to delivering the world's best home furnishing values, selection and service, and earning the loyalty and trust of its customers every day. Visit Ashley online at www.ashleyglobal.com or Ashley.biz and "like" Ashley Furniture Industries on Facebook.