Ashley Distribution Services Honored with American Trucking Association's President's Trophy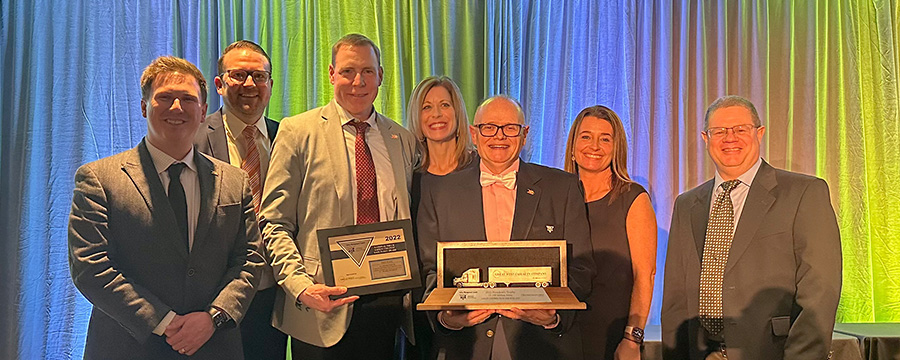 ARCADIA, Wis. – Ashley Distribution Services (ADS) received the prestigious President's Trophy through the American Trucking Association (ATA) in the Between 25-100 Million Miles category and the 1st place Fleet Safety Award in the Over 10 Million Miles category last night at the ATA Safety Management Council's Safety, Security & Human Resources National Conference & Exhibition awards banquet.
The ATA President's Trophy is the highest safety award available to motor carriers in the United States and is presented annually to only three motor carriers, one in each of the three categories: Over 100 Million Miles, 25 to 100 Million Miles and Under 25 Million Miles. Each company is judged on safety record, programs and community outreach activities by top motor carrier safety professionals as well as commercial vehicle enforcement personnel.
The Fleet Safety Award is determined by a company's highway safety record. Carriers with the best records are awarded in the three categories: Over 10 Million Miles, 5-10 Million Miles and Under 5 Million Miles. ADS has been recognized with the Fleet Safety Award multiple years through ATA and was also named in the Top 100 Private Carriers by Transport Topics in 2021.
"We are extremely proud that year over year we are recognized for our Ambassadors' safe driving and contributions to the trucking industry," said John Leighty, Executive Vice President of Distribution and Transportation. "We refer to our drivers as Ambassadors because they are the face of our brand and have the final touch with every customer. These awards would not be possible without the hard work and dedication of the entire Ashley Distribution team."
"The vision for any Safety Director is for their organization to strive to receive an award at this level from a national trade organization such as the American Trucking Association," said Steve Ralston, Director of Transportation Safety & Compliance. "Receiving the President's Trophy displays Ashley Distribution Services' dedication to operating safely on our roadways. This can only be achieved by how our Ambassadors operate, drive safely and do their part by representing the trucking industry."
Ashley Distribution Services, LTD (ADS) was established in 1974 by Ashley Furniture Industries, LLC and today is one of the industry's largest motor carriers. ADS delivers Ashley Furniture to Ashley retail stores and customers throughout the U.S. With a growing fleet, ADS continues to expand beyond delivering furniture. Visit ADS online at www.ashleydistributionservices.com.
Ashley Furniture Industries, LLC (Ashley) feels that every person deserves more value for their money. Established in 1945, Ashley is the largest manufacturer of home furnishings in the world, and was named one of America's Best Employers by Forbes in 2021. From design through fulfillment, Ashley is committed to delivering the world's best home furnishing values, selection and service, and earning the loyalty and trust of its customers every day. Visit Ashley rel="noopener noreferrer" online at www.ashleyfurnitureindustriesllc.com and "like" rel="noopener noreferrer" Ashley Furniture Industries on Facebook.