The Ashley Companies Releases Third Corporate Social Responsibility Report

Company commits to supporting communities, advancing medical research, enhancing education, conservation efforts & more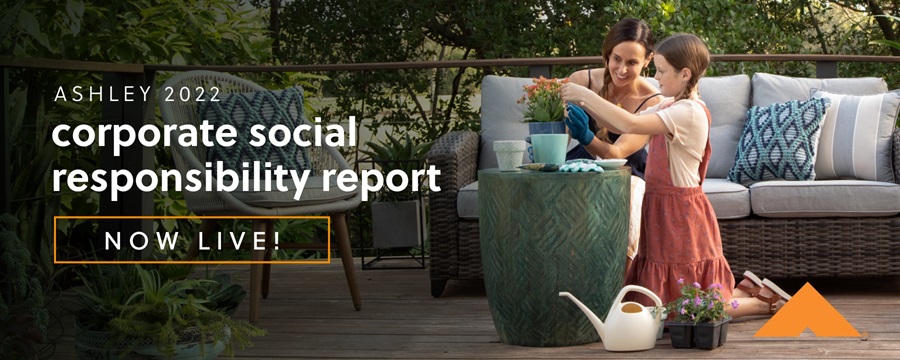 Tampa, Fla. - The Ashley companies (Ashley), which deliver more than 30 million pieces of furniture annually, is dedicated to keeping "home" at the forefront of everything they do. Earlier this month, Ashley released its third annual Corporate Social Responsibility (CSR) Report to highlight the continued support for their surrounding communities and employees, and their strategy to make global improvements throughout the course of 2022. The Ashley companies are comprised of Ashley Furniture Industries, the largest manufacturer of home furnishings in the world, Ashley Global Retail, the #1 furniture and mattress retail brand in North America, and Ashley Distribution Services, one of the industry's largest motor carriers.
The Ashley companies are committed to caring for their communities, protecting the environment, investing in medical innovation, educating future generations, and serving valued customers and teammates. Highlights from the 2022 report in these categories include:
Community:
Through the partnership with Wreaths Across America, Ashley delivered 46,701 wreaths to 58 different cemeteries across the country including Arlington National Ceremony.
Over 16,900 beds were donated to children in need through Ashley's support of Hope to Dream.
Ashley's Angels expanded efforts to Florida and in total served 1,252 children in North Carolina, Mississippi, Pennsylvania, and Wisconsin.
Over $145,000 worth of furniture was donated to seven different organizations across the country.
Nearly $1.7 million was donated to STEM Education initiatives including STEM 101 – K-12 Learning Initiative, FIRST Robotics, VEX Robotics, SkillsUSA, Cardinal Manufacturing and Scholarships.
Ashley for the Arts raised nearly $650,000 to support over 70 non-profit organizations.
Environmental Stewardship:
Ashley's global solar panel installations can generate approximately 25 million KWH per year.
Ashley recycled (in tons) 75,516 of wood, 13,968 of cardboard, 4,116 of poly-foam, 1,296 of metal, 744 of plastic, 540 of mattresses and coil springs.
More than 80 trees were planted in partnership with local schools in Wisconsin.
One Ashley:
Since the launch, over 80 mid-level leaders have completed Ashley Leading Edge leadership program and more than 200 frontline leaders have benefitted from Ashley Leadership Foundations.
Over $154,000 in donations generated through employee-led Dollar a Week program to benefit various non-profit organizations.
In tandem with this year's report, Ashley established Beyond Home Promise, a multifaceted effort to expand on the company's commitment to its purpose, "To inspire the love of home and enrich the lives of those around us." Ashley's Beyond Home Promise supports social responsibility across the brand's pillars of honoring Military and First Responders, supporting advancing medical research, striving to protect the planet, and uplifting communities. Throughout the year, the retail brand plans to expand and spotlight key initiatives they support, solicit donations for the causes and spread awareness to consumers.
"Our passion for designing, manufacturing, and selling furniture has propelled us from day one. But it's bigger than just the products we sell—it's how we operate and conduct business responsibly. We do this by supporting our communities, protecting our environment, and investing in our corporate culture," said Todd Wanek, President and CEO, Ashley Furniture Industries. "We continue to share that passion with you through our annual Corporate Social Responsibility Report. Our positive impact is felt around the globe, and we want to continue making a difference for the future."
Read the full CSR report to learn how Ashley is making an impact: https://www.ashleyfurniture.com/about-us/corporate-social-responsibility/report/
---
Ashley Global Retail, LLC, which operates retail stores under both "Ashley" and "Ashley Homestores" brands, is committed to being your trusted partner and style leader for the home. This commitment has made Ashley the #1 furniture and mattress retail brand in North America and one of the world's best-selling home furnishing brands with more than 1,125 locations in 67 countries.
Start designing your dream home today. Visit Ashley online at www.ashley.com "Like" Ashley on Facebook, follow on Twitter, Instagram and TikTok, or see our design-focused boards on Pinterest.
Ashley Furniture Industries, LLC feels that every person deserves more value for their money. Established in 1945, Ashley is the largest manufacturer of home furnishings in the world, and was named one of America's Best Employers by Forbes in 2021. From design through fulfillment, Ashley is committed to delivering the world's best home furnishing values, selection and service, and earning the loyalty and trust of its customers every day. Visit Ashley online at www.ashleyfurnitureindustriesllc.com and "like" Ashley Furniture Industries on Facebook.
Ashley Distribution Services, LTD was established in 1974 by Ashley Furniture Industries, LLC and today is one of the industry's largest motor carriers. ADS delivers Ashley Furniture to Ashley retail stores and customers throughout the U.S. With a growing fleet, ADS continues to expand beyond delivering furniture. Visit ADS online at www.ashleydistributionservices.com.
###