Ashley Furnishes First-Ever Rooftop at PGA Tour's Valspar Championship and Donates Over $40,000 Worth of Product to Habitat For Humanity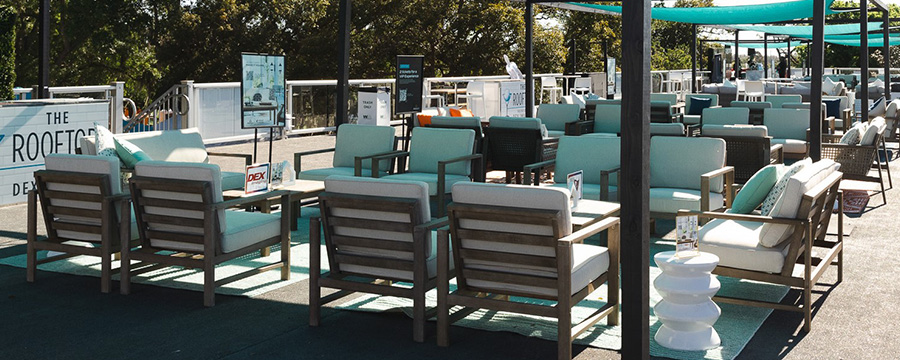 Tampa, Fla. – Ashley, the #1 furniture and mattress store in North America, donated over $40,000 worth of outdoor furniture to Habitat for Humanity following the PGA TOUR's Valspar Championship, which Ashley sponsored. The donation included 15 furniture sets and will benefit Habitat for Humanity of Pinellas and West Pasco Counties. Habitat for Humanity will be able to sell the donated pieces in their ReStore, where all profits directly impact funding for their home building program for low-income families in the local community.
"On behalf of Habitat for Humanity and the families we serve, thank you to Ashley for this generous donation," said Mike Sutton, President and CEO of Habitat for Humanity of Pinellas and West Pasco Counties. "Since 2014, our affiliate has partnered with the Valspar Championship, and it is only fitting that officials from the Tournament paired our two organizations together. Corporate partnerships like this directly impact and empower local families to achieve affordable homeownership through the Habitat program, and we are grateful for the support."
"Enriching the lives of those around us and uplifting our community is at the core of Ashley's Beyond Home Promise," said Kelly Davis, Vice President of Marketing, Ashley. "After every event, we find a local non-profit who could benefit from our donation. Being able to participate in such a great event for the Tampa Bay community and continue to inspire the love of home to those who need it most through our product donations, is a win-win for us."
All ticket proceeds for the Valspar Championship benefit local area charities through tournament host organization Copperhead Charities, where Habitat for Humanity is one of the recipients. Since the tournament's inception in 1977, the event has raised over $50 million for charities, primarily in the Tampa Bay area.
Through Ashley's sponsorship, the Valspar Championship rooftop lounge was transformed into an elevated seating area for spectators to enjoy the golf tournament. Ashley's goal was to inspire consumers to bring the a taste of the outdoors to their own homes and entertain in their own spaces with Ashley's outdoor furniture. On the green, Ashley had an immersive brand experience including a putting green, curated photo moment, and branded golf accessories.
--
About Ashley
Ashley is committed to being your trusted partner and style leader for the home. This commitment has made Ashley the #1 furniture and mattress retailer in North America and one of the world's best-selling furniture store brands with more than 1,125 locations in 67 countries.
Start designing your dream home today. Visit Ashley online atwww.ashley.com. Connect on social media through Instagram, Facebook, YouTube and TikTok, and check out our design-focused boards on Pinterest.
About Habitat for Humanity of Pinellas County and West Pasco Counties
Driven by the vision that everyone needs a decent place to live, Habitat for Humanity of Pinellas and West Pasco Counties has served 800 homeowner partners since 1985. Volunteers and the future homeowners construct the homes, which are sold at no profit and financed with a zero-interest loan. Habitat homeowner candidates earn 30 to 80 percent of area median income. Candidates must demonstrate need for adequate shelter; ability to pay back a zero-interest loan and willingness to partner with Habitat to complete a robust homebuyer education curriculum and invest 350 to 450 "sweat equity" hours. Mortgage monies are used to build even more homes, making each donation to Habitat a perpetual legacy to the community. Habitat believes that homeownership contributes to family stability, leading, in turn, to community stability. Additionally, the affiliate raises funds through their ReStores; home improvement outlets where donated household and building items are sold to the public. For more information about Habitat for Humanity of Pinellas and West Pasco Counties, call (727) 536-4755 or visit www.habitatpwp.org