Ashley Donates Over $15,000 Worth of Home Furnishings to American Cancer Society's Richard M. Schulze Family Foundation Hope Lodge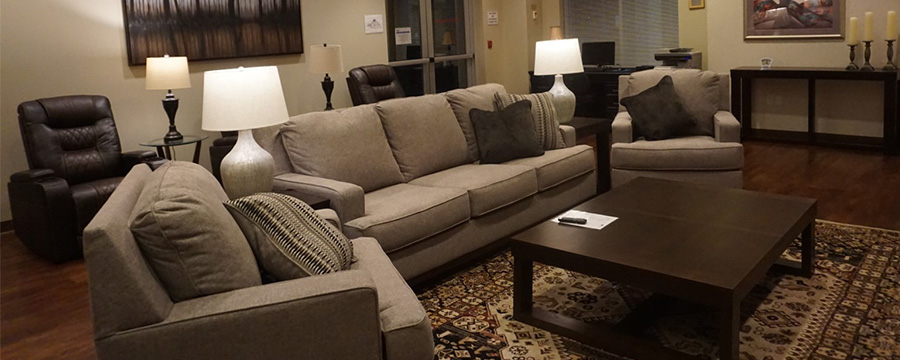 TAMPA, Fla. – Ashley, the largest retail furniture store brand in North America and one of the world's best-selling home furnishing brands, donated over $15,000 of brand-new furniture to the American Cancer Society's Hope Lodge in Tampa, Florida. The Hope Lodge provides free, temporary housing to cancer patients and their families who must travel away from home for treatment.
Ashley's in-house interior design team worked to transform the space to feel refreshed, while keeping the same traditional look and feel of the Hope Lodge that visitors know and love. The family room received all new recliners, deep seating sofa with ottoman and accent chairs, desk chair, media entertainment stand and console. The entrance area includes 8 new accent chairs, coffee tables, and bench seating where guests of the Hope Lodge can wait for their guests or rideshare comfortably. The new furniture will provide a welcoming and comfortable environment for patients and their families during their stay at the Tampa Hope Lodge.
"Hope Lodge guests do not just find a place to stay – they find a community of support and an emotional connection with others facing the same journey," said Wendy Johnson, American Cancer Society Florida VP. "The furniture donation will not only serve as a physical landing spot for our guests and caregivers but a way to bring everyone together comfortably."
On March 1st, Tampa Hope Lodge hosted CEOs Against Cancer Florida Chapter meeting, where powerful business executives come together with the commitment to saving lives and improving the company's bottom line. In attendance, CEOs from the world's top companies unite to spread awareness of cancer, leveraging the knowledge, power and resources of the American Cancer Society. The space was newly designed just in time for the event and provided a fresh setting for attendees touring the Hope Lodge facilities.
For over 100 years, the American Cancer Society has been the leading cancer-fighting organization, with a mission to save lives, celebrate lives, and lead the fight for a world without cancer. ACS Hope Lodge facilities are in partnership with major cancer treatment centers around the world. The Hope Lodge program reduces the financial burden and makes cancer treatment more accessible to patients. Providing a home away from home to patients and caregivers, the community offers a supportive environment. The Tampa Hope Lodge was opened in 2002 and provides 40 guests rooms near their treatment center.
---
About Ashley
Ashley is committed to being your trusted partner and style leader for the home. This commitment has made Ashley the #1 furniture and mattress store in North America and one of the world's best-selling home furnishing brands with more than 1,125 locations in 67 countries.
Start designing your dream home today. Visit Ashley online atwww.ashley.com. Connect on social media through Instagram, Facebook, YouTube and TikTok, and check out our design-focused boards on Pinterest.
About the American Cancer Society
The American Cancer Society is a leading cancer-fighting organization with a vision to end cancer as we know it, for everyone. For more than 100 years, we have been improving the lives of people with cancer and their families as the only organization combating cancer through advocacy, research, and patient support. We are committed to ensuring everyone has an opportunity to prevent, detect, treat, and survive cancer. To learn more, visit cancer.org or call our 24/7 helpline at 1-800-227-2345. Connect with us on Facebook, Twitter, and Instagram.
###