Ashley Furniture HomeStore Opens New Store in Guayaquil, Ecuador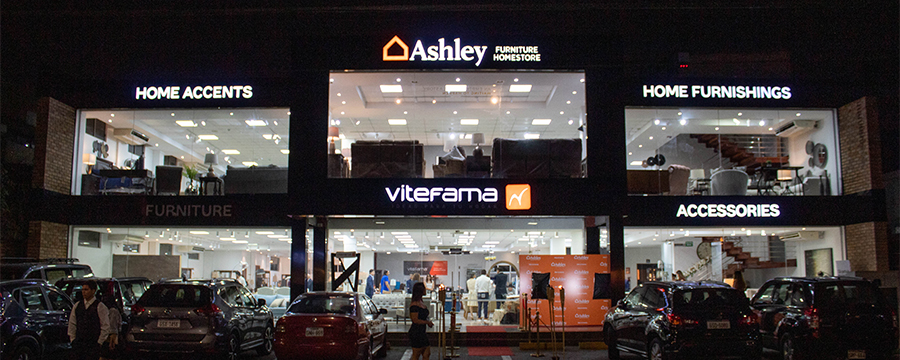 GUAYAQUIL, [Ecuador] - On November 16th, Ashley Furniture HomeStore opened its newest location in the largest populated city in Ecuador, Guayaquil. The new location celebrated the Grand Opening and Ribbon Cutting of the 5,380 sq. ft. showroom located on Circunvalacion Sur 2-11 y Todos los Santos. Community members joined Ashley Furniture HomeStore Licensee and employees at the event.
The new store is owned and operated by Italo Castro, who runs a family-owned business with 34 years of experience in retail operations. This is the family's second Ashley Furniture HomeStore in the southern half of Ecuador, their first operation is in Cuenca. The Guayaquil location will employ approximately seven people. Ashley Furniture HomeStore, the largest retail furniture store brand in North America and one of the world's best-selling furniture store brands, has more than 1,100 locations worldwide.
Italo Castro stated, "We are honored to bring Ashley Furniture HomeStore to Guayaquil. This new store allows us to be closer to our customers and provide a world class experience to our guests. Ashley HomeStore is a brand name that people have come to trust. This trust has led to its growth into the #1 selling furniture store brand in the world."
The store's interior architectural design includes two modern floors, illuminated environments and unique finishes. The showroom features complete lifestyle vignettes, down to the final detail of lighting, rugs and wall art. Product categories include bedroom, dining room, upholstery, leather, occasional tables, home office, youth bedroom, recliners, mattresses, and accessories. Technology enhances the environment, incorporating various elements to improve the customer shopping experience.
Grand Opening special offers included a 35% discount on all products. Ashley Furniture HomeStore hours are Monday through Saturday (10:00 a.m. to 7:30 p.m.) and Sunday (10:00 a.m. to 7:00 p.m.). Follow Ashley.furniture.guayaquil on Instagram and Ashley Furniture HomeStore Guayaquil on Facebook to stay up to date with products, promotions and events.
---
Ashley Furniture HomeStore is committed to being your trusted partner and style leader for the home. This commitment has made Ashley Furniture HomeStore the largest retail furniture store brand in North America and one of the world's best-selling furniture store brands with more than 1,100 locations in 65 countries.
Start designing your dream home today. Visit Ashley Furniture HomeStore online at www.ashley.com. Visit Ashley online at www.ashley.com. "Like" Ashley on Facebook, follow us on Twitter and Instagram , or see our design-focused boards on Pinterest.
# # #