Ashley Furniture Supports 21st Century Learning with $280,000 Robotics Donation for K-12 Students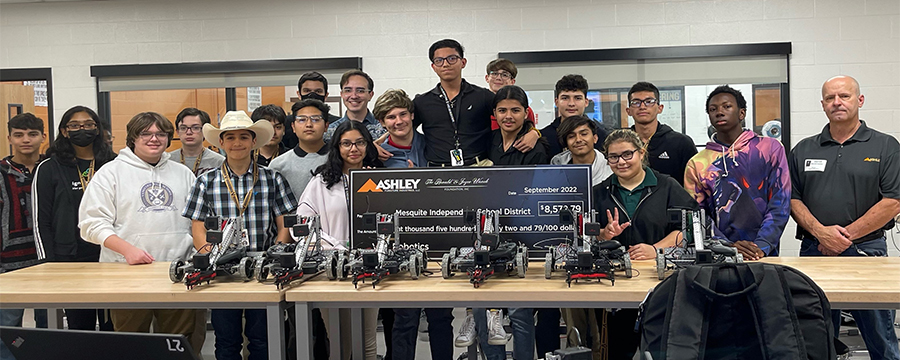 ARCADIA, Wis. – Ashley Furniture Industries, LLC (Ashley) and the Ron & Joyce Wanek Foundation awarded more than $280,000 to implement and enhance robotics education this school year at schools located near Ashley's advanced manufacturing facilities in North Carolina, Mississippi, Texas, and Wisconsin.
These funds will allow schools to purchase VEX Robotics equipment to support STEM (Science, Technology, Engineering, and Math) education with innovative, age-appropriate equipment. VEX Robotics is a leading provider of educational and competitive robotics products to schools around the world. With multiple lines of equipment for different grade levels, the platform provides a streamlined approach to offer robotics education throughout an entire school district. VEX Robotics equipment can also be utilized for extracurricular competition programs where students are tasked with designing and building a robot to play with other teams in a game-based engineering challenge.
According to the VEX Robotics website, "By familiarizing students with programming, sensors, and automation, they hone critical computational thinking skills needed to succeed in both the 21st century's workforce and in everyday life. Beyond science and engineering principles, VEX Robotics solutions encourage creativity, teamwork, leadership, passion, and problem-solving among groups."
Funds were awarded to applying schools based on their overall strategy for incorporating VEX Robotics equipment and curriculum into K-12 classrooms or extra-curricular competition programs. Since 2017, Ashley and the Ron & Joyce Wanek Foundation have supported this program with more than $664,000.
April Hobson, the Director of New Albany School of Career & Technical Education stated, "Advanced manufacturing and information technology are two of our region's largest career sectors. It is important that we give our students the tools needed so they can remain in our state and contribute to both the workforce and the economy. The skills that our students learn using this equipment offer a strong foundation for post-secondary educational and career opportunities."
Ashley actively participates in and supports numerous K-12 and post-secondary education partnerships across the country. Combined efforts have included investing in STEM-based learning opportunities, scholarships, providing students with exposure to technical trades and career opportunities, instructor training, and robotics programs. Ashley believes, that as manufacturing continues to advance and the global economy evolves, training and educating our current and future workforce will be a crucial part of our country's success.
Schools receiving funds near Ashley's Wisconsin facility include Aquinas Catholic Schools, Arcadia School District, Black River Falls School District, Blair-Taylor School District, Christ-St. John's Lutheran School, Cochrane-Fountain City School District, Eleva-Strum School District, Gale-Ettrick-Trempealeau School District, Gilmanton Area School District, Holy Family Catholic School, Independence School District, School District of Mondovi, Mt. Calvary-Grace Lutheran School, Saints Peter and Paul Catholic School, School District of Alma Center-Humbird-Merrillan, School District of Arcadia, School District of Black River Falls, St. Paul's Lutheran School, Whitehall School District, School District of Onalaska, Riverway Learning Community, St. John's Lutheran Church and School (of Sparta, Caledonia, and Dakota), and Winona Area Public Schools.
Benefiting schools in Mississippi include Blue Mountain Elementary School, Tippah County Tech Center, Ripley High School, Ripley Middle School, Ripley Elementary, New Albany School of Career & Technical Education, Dorsey Attendance Center, Fairview Attendance Center, Itawamba Attendance Center, Mantachie Elementary School, Tremont Attendance Center.
Additional benefitting schools include Van Guard High School in Texas and Davie County High School in North Carolina.
---
Ashley Furniture Industries, LLC (Ashley) feels that every person deserves more value for their money. Established in 1945, Ashley is the largest manufacturer of home furnishings in the world, and was named one of America's Best Employers by Forbes in 2021. From design through fulfillment, Ashley is committed to delivering the world's best home furnishing values, selection and service, and earning the loyalty and trust of its customers every day. Visit Ashley online at www.ashleyglobal.com and "like" Ashley Furniture Industries on Facebook.
# # #