Ashley Furniture Donates Trees in Partnership with Arcadia School District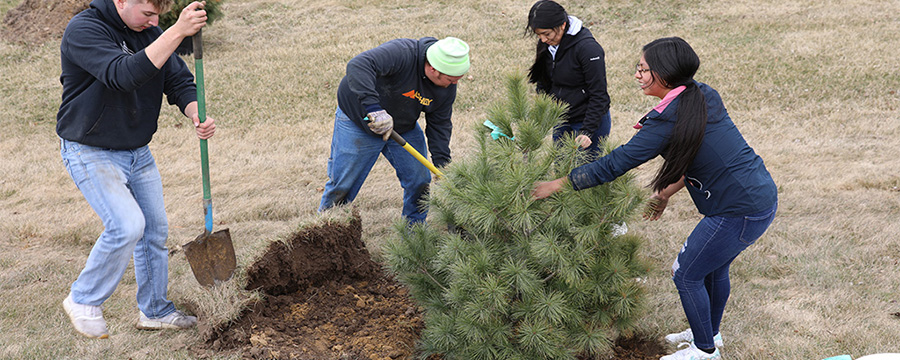 ARCADIA, Wis. – Ashley Furniture Industries, LLC (Ashley) recently partnered with the School District of Arcadia to plant nearly 80 trees on the school grounds. Nearly 100 area students participated in a tree planting or landscaping workshop hosted by Ashley employees. They were taught the importance of trees in the community and how they add value to their property in not only value, but beautification, and the benefits provided to the environment. Ashley employees explained how to plant, planting depth and steps to use during planting to make sure the tree will survive.
The tree donation was comprised of 80 trees in a variety of species, including: Arborvitaes, Crabapples, Maples, Japanese Tree Lilacs and White Pines. In addition to the 80 trees planted on the school grounds and 31 planted on the Ashley campus, 51 additional trees were planted throughout the city of Arcadia with help from the students. Greenhouse students also had to the opportunity to assist with the preparation of flower beds, fertilizing and planting around the Ashley campus.
The company donated additional trees to the Eleva-Strum School District to provide young students with the resources to build a better environment.
"By enhancing the habitat today, we ensure our future generations will be able to appreciate it tomorrow," said Ron Wanek, Founder & Chairman, Ashley Furniture Industries. "I enjoy providing young people with the tools to build a better environment and to teach them about the importance of planting trees – they clean our air, protect our drinking water, create healthy communities, and feed the human soul."
In 2021, Ashley received the Wisconsin Manufacturers & Commerce Business Friend of the Environment Award as a Large Company for Environmental Innovation for their efforts in environmental stewardship.
---
Ashley Furniture Industries, LLC (Ashley) feels that every person deserves more value for their money. Established in 1945, Ashley is the largest manufacturer of home furnishings in the world, and was named one of America's Best Employers by Forbes in 2021. From design through fulfillment, Ashley is committed to delivering the world's best home furnishing values, selection and service, and earning the loyalty and trust of its customers every day. Visit Ashley online at www.ashleyfurnitureindustriesllc.com and "like" Ashley Furniture Industries on Facebook.
# # #