Ashley Furniture Industries Supports Local Competitive Robotics Teams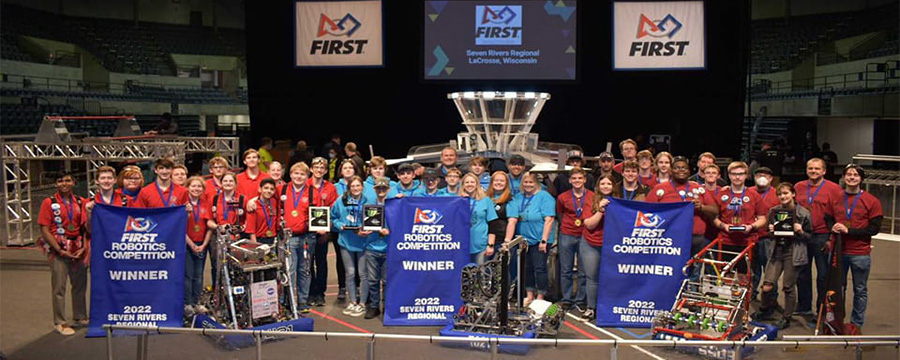 ARCADIA, Wis. – Ashley Furniture Industries, LLC (Ashley) has supported many area student robotics programs this year to accompany STEM (Science, Technology, Engineering and Math) education programs and build students' interest in these areas.
FIRST (For Inspiration and Recognition of Science and Technology) Robotics is an international, volunteer-driven program that encourages students to be leaders in science and technology while aiming to inspire young minds in the areas of STEM.
Trempealeau County Robotics (TC Robotics) is a diverse FIRST Robotics team made up of high school students from Trempealeau County school districts. The team is mentored by Ashley employees including engineers. The team practices in Ashley's state-of-the-art automation facility where students have the opportunity to use advanced tools such as a Haas CNC mill, CNC water jet, and SolidWorks. Students are learning and applying the fundamentals of engineering including electronics, drafting and programming during their six-week build season. High school team members also can build connections within the company and learn industry-ready skills which could result in valuable internships and career opportunities at the company during and after high school.
With guidance and leadership from industry experts, the team brought their finished robot to the Seven Rivers Regional Competition in La Crosse, Wis., where they ended day one undefeated. Day two, the team dominated in qualifications and were an alliance captain for the finals matches. The team and their alliance placed first, earning their way to the World Championship in Houston, Texas. Not only did the team earn the Champion title, they were also awarded the Innovation Control Award, celebrating an innovative control system or application of control components – electrical, mechanical or software – to provide unique machine functions.
Ashley and the Ron and Joyce Wanek Foundation also financially supported other area high school FIRST Robotics teams for their 2022 season including: Westby, Sparta, Holmen, Onalaska Luther, La Crescent, and Aquinas. Westby's team accompanied TC Robotics in the World Championship.
This spring, area middle and high school students also participated in VEX Robotics competitions across the state. Ashley Furniture has been a proud partner of K-12 VEX Robotics programs in school districts across Western Wisconsin since 2017. Many local teams qualified for the Wisconsin VEX IQ State Championship hosted at the Milwaukee School of Engineering and represented the region well. Two Western Wisconsin schools had middle school VEX Robotics teams qualify for the World Championship including Cochrane-Fountain City and St. Paul Lutheran Schools in Onalaska. These teams travelled to Dallas, Texas, where they competed alongside over 800 teams with representation from every U.S. state and 44 countries.
As manufacturing continues to advance, support of educating our current and next generation of leaders has become more crucial. Ashley and the Wanek family have made several contributions in the area of education. In addition to the support of STEM initiatives, millions of dollars in funds and in-kind services have been provided to assist local schools and universities, and more than 2,000 scholarships during the past ten years to help offset the escalating costs of higher education.
--
Ashley Furniture Industries, LLC (Ashley) feels that every person deserves more value for their money. Established in 1945, Ashley is the largest manufacturer of home furnishings in the world and was named one of America's Best Employers by Forbes in 2021. From design through fulfillment, Ashley is committed to delivering the world's best home furnishing values, selection and service, and earning the loyalty and trust of its customers every day. Visit Ashley online at www.ashleyfurnitureindustriesllc.com and "like" Ashley Furniture Industries on Facebook.
# # #