Hope to Dream Partners with HaitiChildren and Feed the Hungry to Donate 110 New Mattresses to Orphanage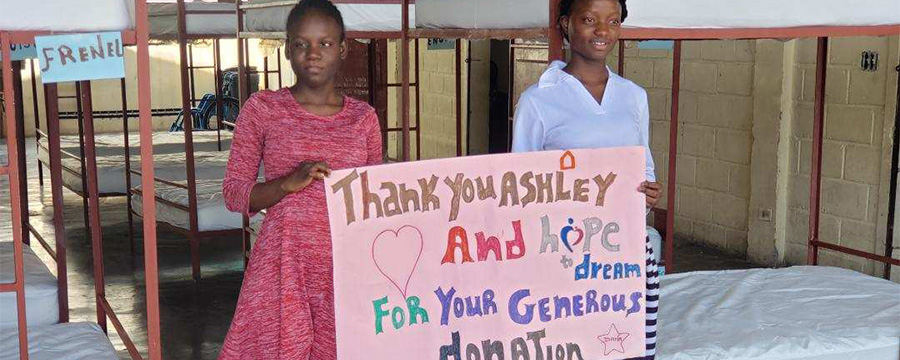 TAMPA, Fla. – On Sunday, June 12th, Ashley, the largest retail furniture store brand in North America, and nonprofit organization, Hope to Dream partnered with HaitiChildren and Feed the Hungry, to provide 110 children a new mattress. The donation event took place at the HaitiChildren Orphanage in Arcahaie, Haiti. Feed the Hungry coordinated the transportation and delivery of the new mattresses with a shipping container for the donated product along with extra food and supplies.
HaitiChildren provides care and education to abandoned, orphaned, and disabled children in Haiti and most importantly, a loving environment that builds character and integrity. HaitiChildren Village, located in Arcahaie, is a 60,000 sq. ft. facility comprised of three residential care buildings, two school buildings, a community center church, a children's rehabilitation center, two clinics, soccer field, farm, three greenhouses, employee residence, recreation hall and two water therapy pools.
"HaitiChildren is an oasis of love and security for some of the most underserved children in Haiti. When we received word that Ashley's Hope to Dream program had donated enough mattresses for all of the special needs and orphaned kids that call HaitiChildren Village home, we jumped at the chance to help support them." said Stefan Radelich, President of Feed the Hungry. "With all the chaos, unrest and uncertainty that this island nation has gone through in the past year, knowing these children can rest in comfort and peace on their own mattress each night fills our hearts with joy."
"It's tough to describe how much it means to our children to receive their first-ever mattresses and what impact it will have on improving their overall health. Many of our children are disabled and spend much of their time in bed, so a comfortable and supportive mattress is imperative to improving their overall health and comfort," stated Frank Taylor, Deputy Executive Director of HaitiChildren. "Our partnership with Ashley, Hope to Dream and GBS Enterprise is something that we will treasure forever. We couldn't be more grateful for the faithful support and love they have shown our children!"
The donation included brand-new Ashley Sleep full size mattresses and mattress protectors from GBS Enterprise. Since 2010, Hope to Dream has donated over 125,000 beds to underserved children across North America.
"A bed is a luxury in the slums of Haïti; None of our children had ever touched the softness of a bed before they were rescued by HaitiChildren," stated Susie Krabacher, Founder and CEO of HaitiChildren. "Ashley and Hope to Dream just made 110 orphans feel like royalty by giving them a brand-new bed."
"We are humbled to be given this opportunity to serve the children in Haiti with brand new Ashley mattress and mattress protectors from GBS Enterprise. With their new mattresses, these children will not only sleep better but will help improved their overall well-being," said Ruthie Bautista, Vice President of Hope to Dream. "We appreciate everyone's support to make this special surprise bed reveal come into fruition. This is a day of celebration for these children knowing that they will have restful sleep with their clean and comfortable mattress."
To help support this incredibly important mission of HaitiChildren, please visit www.haitichildren.org or e-mail contactus@haitichildren.org.
---
Hope to Dream - Ashley believes that every child deserves a good night's sleep. Founded in 2010 on that guiding principle, Ashley's Hope to Dream program provides beds to children in need across North America. A portion of the proceeds for every mattress purchased at a participating Ashley store helps pay for a bed for an underserved child. Since its inception, more than 125,000 children have received a brand-new bed. Those wishing to nominate a child can visit www.Ahopetodream.com or request an electronic application by e-mailing Admin@Ahopetodream.com. In-store applications are also available at participating locations.
# # #