Ashley Furniture Partners with RISE Indoor Sports in Bermuda Run, NC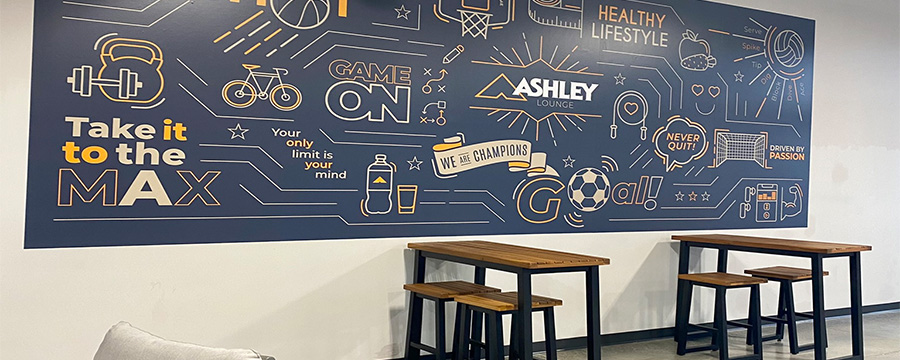 ADVANCE, N.C. – Ashley Furniture Industries, LLC (Ashley) recently formed a 5-year partnership with RISE Indoor Sports (RISE), an indoor sports complex featuring basketball, volleyball, pickleball courts, indoor turf fields, a competitive weightlifting training center, and fitness area in Bermuda Run, NC.
As a long-standing member of the Davie County community, Ashley is excited to partner with RISE, and provide over $65,000 worth of Ashley product to furnish the Game Day Lounge, VIP Deck, and Lobby Area. Athletes and visitors from around the country will be able to utilize these spaces and sample Ashley product.
"When you build a facility of this size dedicated to sports, family, health and wellness you certainly have to include the basics into the plan. Wood courts, indoor turf, weights, fitness equipment, goals and nets make up the bulk of what we needed to make RISE take off. But one continued need was certain after all of this was furniture" said Lane Newsome, General Manager of RISE. "Knowing Ashley's enormous presence here, we turned to them for an answer to the help we needed. Strong service to one's community is certainly one of the many common characteristics that you could use to describe both partners. Ashley was willing to step up and assist with the design and deliver various furniture products that you can comfortably enjoy at RISE any day of the week."
RISE opened in 2021, roughly six miles from Ashley's advanced manufacturing and distribution facility in Advance, NC. This indoor-sports complex is 123,000 sq. ft. and offers a variety of sporting events and wellness programs year-round. Both organizations believe in meeting the physical, mental, cultural, and social needs of the community, while enhancing the overall quality of life. This partnership has allowed for Ashley to provide their employees discounted fitness memberships, to help encourage healthy living.
Ashley will also have a recruiting presence at the RISE events, and be able to meet people from the community, and provide information on the careers and benefits available within the company.
"We are very excited about our partnership with RISE. We are happy to be involved in and support the community where our employees live and spend their time", said Julie Davis, Human Resources Director, Ashley Furniture Industries. "As we continue to recruit new talent here in Advance, we are proud to be able to share information with our new associates about RISE and what it offers the community".
--
Ashley Furniture Industries, LLC (Ashley) feels that every person deserves more value for their money. Established in 1945, Ashley is the largest manufacturer of home furnishings in the world, and was named one of America's Best Employers by Forbes in 2021. From design through fulfillment, Ashley is committed to delivering the world's best home furnishing values, selection and service, and earning the loyalty and trust of its customers every day. Visit Ashley online at www.ashleyfurnitureindustriesllc.com and "like" Ashley Furniture Industries on Facebook.
RISE Indoor Sports (RISE) offers diverse year- round health and wellness programs and competitive opportunities through sport for the citizens we serve. The benefits of these services are especially designed to meet the physical, mental, cultural, and social needs of our community, while enhancing the overall quality of life. With over 123,000 square feet of regulation courts, fields, and amenities, we're dedicated to providing best-in-class health, wellness, and performance year-round. Visit RISE Indoor Sports online at https://www.riseindoorsports.com/ .
# # #