Ashley Furniture Sponsors STEM Summer Camps, Creates a Hole-In-One Experience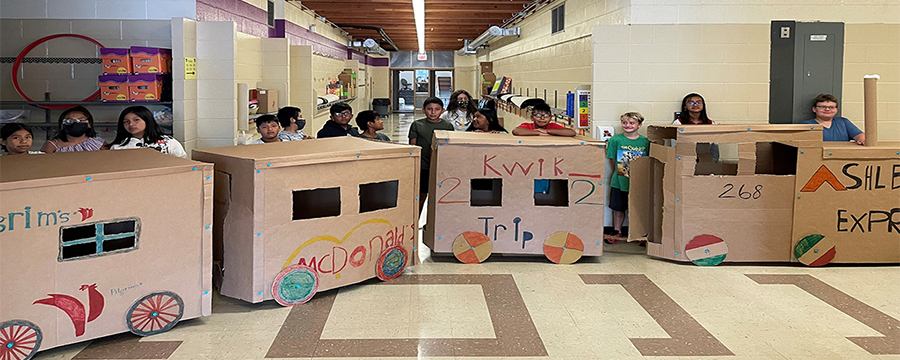 ARCADIA, Wis. - The words 'inspiration, imagination and creativity' have been key elements for every invention and innovation throughout the world. And just as important, is the information learned when a desired outcome is not achieved or if a concept fails.
Ashley Furniture Industries (Ashley) partnered with educators in states across the country, where they manufacture furniture, to provide this opportunity to more than 700 elementary and middle school students. Allowing them to design, engineer and build a final product that would require planning, collaboration, teamwork, and student reflection.
Using a hands-on approach, students in elementary school were able to design and construct train sets while middle school students created miniature golf courses – all focused around the use of corrugate (cardboard) materials.
"This camp was excellent," said Jessica Huyett, Site Coordinator at COGNTION (makerspace learning center) in North Carolina. "What many students want to do is make something that they can be proud of. What we saw from the students was that they were not only motivated, but they also took ownership for what they were creating."
In partnership with Ashley, Fox Valley Technical College, in Wisconsin, provided both the concept of the two projects and the professional development for the educators to teach the students.
Ashley's financial contribution of $30,000 provided all of the materials needed for the students to have a successful camp experience. Items included corrugate materials, adhesive, green grass carpet and a tool kit called "Makedo". This exciting new tool kit is designed to help children build anything they can imagine throughout their cardboard construction process.
Students also utilized the "Engineering Design Process" which allowed for improvements to be made to each train set or miniature golf course. Additional activities throughout the camps included drawing a blueprint, developing a scaled model, creating a materials list and pricing out the materials.
"Since this effort began in 2017, this year has definitely been one of the most fun camp experiences," explained Kristopher Gengler, Education Foundation Manager, Ashley Furniture Industries. "Seeing the ideas, the plans, the level of excitement by both students and teachers and then the final product that was created in a team effort are what makes these camps successful."
Ashley and the Wanek Family continue to support education to help secure our country's position as a world-leader in technology and advanced manufacturing. They have developed a number of partnerships with K-12, as well as post-secondary schools over the past five years.
---
Ashley Furniture Industries (Ashley) feels that every person deserves more value for their money. Established in 1945, Ashley is the largest manufacturer of home furnishings in the world and was named one of America's Best Employers by Forbes in 2021. From design through fulfillment, Ashley is committed to delivering the world's best home furnishing values, selection and service, and earning the loyalty and trust of its customers every day. Visit Ashley online at www.ashleyfurnitureindustriesllc.com and "like" Ashley Furniture Industries on Facebook.
# # #