Ashley for the Arts to Award Bob Kierlin and Mary Burrichter the 2021 "Patron of the Arts"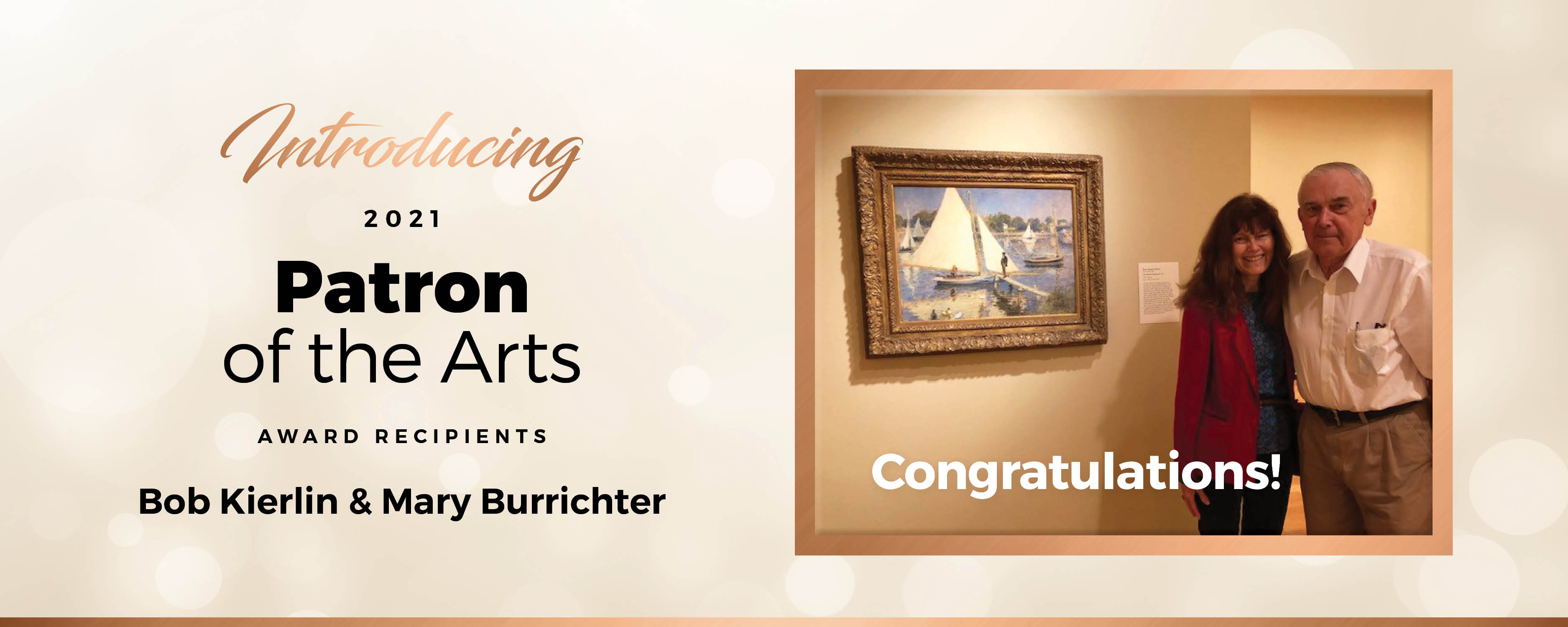 Arcadia, Wis. (July 27, 2021) – Ashley for the Arts will recognize Bob Kierlin and Mary Burrichter with their prestigious "Patron of the Arts" award on Friday, August 13th, on the main stage, before Kip Moore's performance at 8:00 PM. The Patron of the Arts award was created to recognize an individual(s) or organization who have demonstrated extraordinary support for the arts.
Bob and Mary have made significant philanthropic contributions in the arts area. In 2005, they co-founded the Minnesota Marine Art Museum in Winona, Minnesota. The Burrichter/Kierlin collection is on loan to the museum and includes works by Claude Monet, Vincent van Gogh, Pablo Picasso, Mary Cassatt and Robert Duncanson. Also included are works by local artists Leo and Marilyn Smith. Perhaps most famous in the collection is the 1851 oil painting by Emanuel Leutze of "Washington Crossing the Delaware".
When asked about how the couple began their passion for fine art, Burrichter explained "we had a house with a large, white wall. We purchased a marine painting for that space and we were hooked! We have loved the hunt and discovery of fine art ever since." The Minnesota Marine Art Museum was created from this passion for art. "We have always enjoyed paintings with water. You will see each painting has an element of water in it to tie back to the theme of the museum." This jewel box of a museum, with its six galleries, has provided the city of Winona and the entire area the joy and discovery of fine art. It has become a destination point for travelers.
"I want to do something worthwhile for the people in this area, because I love the area," Kierlin said. "I work to see that other people have the same opportunities I had. Now, I'm working to foster economic development in this area, which has been very important to me."
Born and raised in Winona, Bob Kierlin, attended Winona Cotter High School and graduated from the University of Minnesota-Minneapolis. He and four friends founded the Fastenal Company in Winona, an organization they built from a small-town fastener retailer into a multibillion-dollar global business. Today, it is one of the largest industrial distributors in North America.
Kierlin served as the Fastenal's chief executive officer, and its president. He also served as a Minnesota state senator from 1999 to 2006 and has served as a board member of multiple businesses and a member and leader of numerous community and educational boards and organizations.
Former city Finance Director for Winona, Mary Burrichter has been a member of various non-profit boards and currently sits on the Board of Directors for the Minnesota Beethoven Festival, held annually in Winona. This classical music event has featured musicians such as violist Joshua Bell, flutist Sir James Galway and cellist Yo-Yo Ma.
---
Ashley for the Arts is a non-profit initiative that provides the entire family with world class entertainment, art, exercise and family fun for a remarkably low cost. The organization is one of Wisconsin's largest charity events, donating over $2.4 Million since its inception to more than 60 non-profit organizations, including participating schools, children's charities, and medical research. This music and arts festival was conceptualized and established by Ashley Furniture Industries, Inc. (Ashley) in 2009 and takes place in Arcadia, Wisconsin's Memorial Park.
For more information on Ashley for the Arts, visit www.AshleyfortheArts.com. "Like" Ashley for the Arts on Facebook and follow us on Twitter @AshleyfortheArt and Instagram @AshleyfortheArts.
Ashley Furniture Industries, LLC (Ashley) feels that every person deserves more value for their money. Established in 1945, Ashley is the largest manufacturer of home furnishings in the world, and was named one of America's Best Employers by Forbes in 2021. From design through fulfillment, Ashley is committed to delivering the world's best home furnishing values, selection and service, and earning the loyalty and trust of its customers every day. Visit Ashley online at www.ashleyfurnitureindustriesllc.com or www.Ashley.Biz and "like" Ashley Furniture Industries on Facebook.
###