Ashley Furniture Hosts Ribbon Cutting Ceremony at New Upholstery Manufacturing Site in Chippewa Falls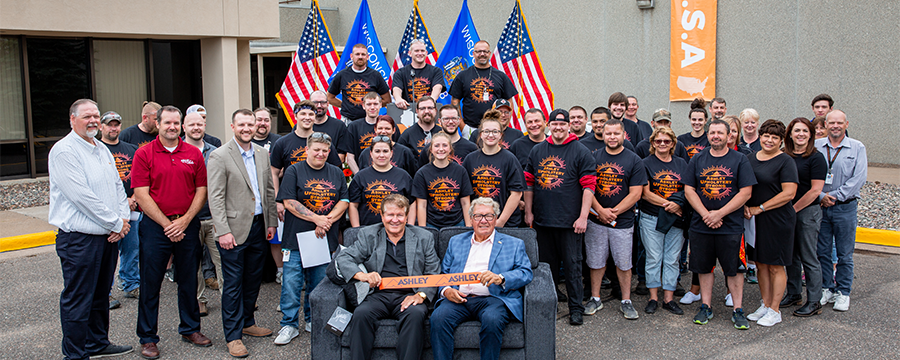 CHIPPEWA FALLS, Wis. – Ashley Furniture Industries (Ashley), the largest manufacturer of furniture in the world, hosted a ribbon cutting ceremony on Thursday, July 8, at their new Chippewa Falls manufacturing facility. The general public and members of the area business community were invited to the event where Ashley leaders and the Chippewa Falls mayor spoke prior to the official ceremonial ribbon cutting.
"This history, specifically the manufacturing history, of Chippewa Falls makes this location a natural fit for the growth of Ashley Furniture," said Ron Wanek, Founder and Chairman, Ashley Furniture Industries. "We are excited for the future of Ashley Furniture and the future of Ashley in Chippewa Falls."
Ashley announced plans in June to open a new facility in the community, located at 925 First Avenue. The 127,000 sq. ft. facility serves as an upholstery furniture manufacturing site. The multi-million-dollar investment will create more than 200 new manufacturing and office support jobs for the area.
This new location expands the company's already established national network of 12 production facilities servicing the U.S. The Chippewa Falls site will work in coordination with Ashley's Arcadia, Wis., advanced manufacturing and distribution facility, located 60 miles to the South. The company's multi-million-dollar investment will be put toward updating the facility along with machinery and equipment costs.
"The City of Chippewa Falls and the Chippewa Valley is extremely excited and thankful for Ashley to come to the community," said City of Chippewa Falls Mayor Gregory Hoffman. "We are excited for what is to come; this is a win-win for Ashley and Chippewa Falls."
Established in 1945, Ashley designs, manufactures and distributes home furnishings through retail, e-commerce and wholesale markets. The family-owned company is headquartered in Arcadia, Wis., and sells furniture in more than 20,000 storefronts in 155 countries around the globe. Earlier this year, the company announced their plan to invest over $1 Billion into the organization over 18 months to ensure their future is bright.
Upcoming Recruiting Opportunities
On Friday, July 9, Ashley is hosting an onsite job fair at the Chippewa Falls facility from 10 a.m. to 4 p.m. Ashley Furniture will be onsite with their recruitment booth in an exhibition hall at the Northern Wisconsin State Fair in Chippewa Falls, July 7-11. Additionally, Ashley will be attending Country Jam USA in Eau Claire, Wis., July 15-17. If interested applicants cannot make upcoming events, walk-in applicants are welcome weekly, Monday-Friday, 8 a.m. to 5 p.m. onsite at the Chippewa Falls location. To learn more about Ashley Furniture Industries and view Chippewa Falls job openings, visit Ashley.com/ChippewaFalls.