Ron Wanek Inducted into Tampa Bay Business Hall of Fame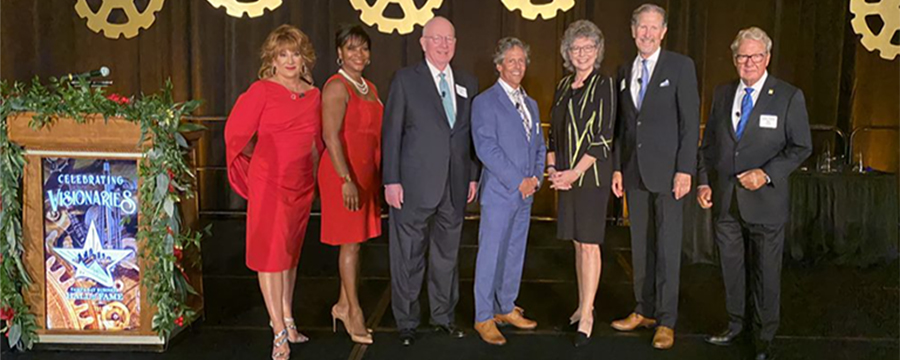 TAMPA, FL – Founder and Chairman of Ashley Furniture, Ron Wanek, was inducted into the Tampa Bay Business Hall of Fame last week at the Tampa Convention Center. The annual event is hosted by the Florida Council on Economic Education (FCEE). The Tampa Bay Business Hall of Fame was created to honor the men and women who have made outstanding contributions to free enterprise, have demonstrated business excellence, and are inspiring leadership and social responsibility.
"I am humbled to receive this great honor from the FCEE. Their mission to prepare Florida's young people for personal and financial success and to help them become productive members of the workforce, responsible consumers and wise investors resonates so closely with my personal mission," said Ron Wanek, Founder and Chairman, Ashley Furniture Industries. "It is our duty to help students gain exposure to the workforce, learn how to be successful, what different careers have to offer and the skills needed."
In 1970, Ron founded Arcadia Furniture, a 35,000 sq. ft. occasional table manufacturer with 35 employees. Since then, he transformed the small company into an international manufacturing and retailing giant known as Ashley Furniture. Guided by his determination, vision and expertise, the company now has over 30,000,000 sq. ft. and more than 35,000 employees worldwide. Not a small feat, this transformation happened by continuously innovating the business, adding new product categories, expanding the company's footprint and entering the retail industry with Ashley Furniture HomeStores. Today, Ron Wanek and Ashley Furniture are iconic names in the furniture industry, serving as an example to the world that the American Dream is alive and well.
Ron has made it his life's mission to mentor and inspire this generation and those that come after it. Outside of the business, Ron is highly regarded for his philanthropic initiatives. In 1998, Ron and his wife Joyce started the Ronald & Joyce Wanek Foundation supporting a multitude of their favorite causes, including the furniture industry, children in need, medical research, education and the arts, and honoring our armed forces.
Ashley and the Wanek Family continue to support education to help secure our country's position as a world-leader in technology and advanced manufacturing. They have developed a number of partnerships with K-12, as well as post-secondary schools over the past five years.
Since 2014, Ron and the Wanek Family have donated over $1 Million dollars towards several local organizations in the state of Florida, including the Florida Orchestra, Naval Aviation Museum, and numerous medical research facilities.
Proceeds from this event benefit the FCEE and go directly into funding economic and financial literacy education for K-12 students across the state. More information on this event can be found at www.fcee.org/tbhof.
View Ron Wanek's inductee video: https://www.youtube.com/watch?v=6OZCO8P-pn8.
Enclosed photos
TBHOFInduction: Ron Wanek accepting his Hall of Fame award from Co-Chairmen and Selection Committee for the Tampa Bay Hall of Fame – (left) Oscar Horton, Sunstate Trucking & (right) Greg Celestan, Celestar Corporation.
TBHOFInductees: Class of 2020 & 2021 (left to right) Colleen Chappell, Chappell Roberts, Sonji Coney, Coney Funeral Home, Jack Harrell, Harrell's, Dwayne Hawkins (in Memoriam), Crown Automotive Group, Pam Iorio, Big Brothers Big Sisters of America, Tom Wallace, Florida Funders & Ron Wanek, Ashley HomeStore.
---
Ashley Furniture Industries feels that every person deserves more value for their money. Established in 1945, Ashley is the largest manufacturer of home furnishings in the world, and was named one of America's Best Employers by Forbes in 2021. From design through fulfillment, Ashley is committed to delivering the world's best home furnishing values, selection and service, and earning the loyalty and trust of its customers every day. Visit Ashley online at www.ashleyfurnitureindustriesllc.com and "like" Ashley Furniture Industries on Facebook.
Ashley HomeStore is committed to being your trusted partner and style leader for the home. This commitment has made Ashley HomeStore the largest retail furniture store brand in North America and one of the world's best-selling furniture store brands with more than 1,050 locations in 60 countries.
Start designing your dream home today. Visit Ashley HomeStore online at www.ashleyhomestore.com. "Like" Ashley HomeStore on Facebook, follow us on Twitter and Instagram , or see our design-focused boards on Pinterest.
The mission of the FCEE is to prepare Florida's young people for personal and financial success through education programs in economics, the free enterprise system, and personal financial literacy so that they become productive members of the workforce, responsible consumers, and wise investors. The FCEE is a 501 (c)(3) non-profit organization in its 45thyear of incorporation and is funded by private corporations and individuals through the state. The Florida Council is an affiliate of the Council for Economic Education.
# # #