Ashley HomeStore Hosts Feeding America Event Donating Meals to Over 1,200 Community Members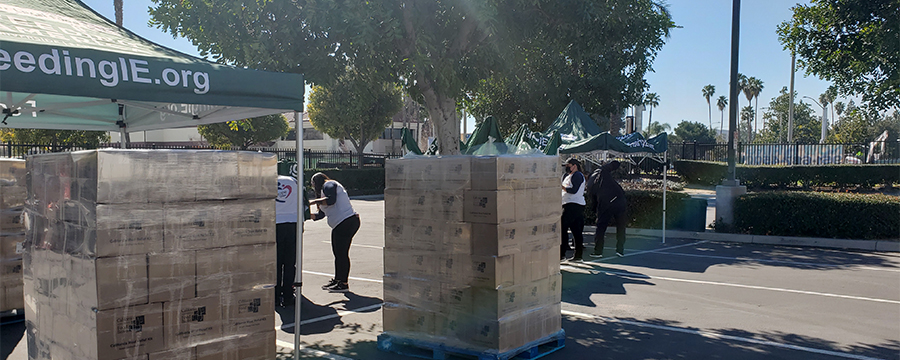 COLTON, Calif. – Furniture retailer Ashley HomeStore (Ashley) partnered with Feeding America to provide groceries to over 1,200 community members in need. The company recently hosted a meal distribution event at their Colton, California, Stoneledge Distribution Center to ensure neighbors in need have required food and resources to thrive. Each family received a $25 grocery gift card, a box of shelf-stable items, and a box of dairy, produce, and protein. To maintain a safe environment for volunteers and the receiving families, donations were facilitated as a drive through event.
Feeding America is the nation's largest hunger-relief organization with a nationwide network of 200 food banks and 60,000 food pantries. As COVID-19 continues to impact the many communities we call home, there is a growing need for the services Feeding America provides.
"Ashley HomeStore is thrilled to partner with Feeding America to help others in a time of great need," stated Todd Wanek, President and CEO, Ashley Furniture Industries. "COVID-19 has had a major impact on families around the world, and it truly hits home when we see the impact firsthand in our own communities. We hope this contribution provides relief of financial burden for everyday necessities for the receiving families."
The company also shared information with recipients regarding their Hope to Dream program which provides beds for children in need. The program has donated over 110,000 beds across the country over the last ten years. Participating Ashley HomeStores donate a portion of funds from each mattress sale to Hope to Dream to provide children with a twin mattress, bedframe, bedding and a pillow to call their own.
"Our Ashley team is humbled to serve our surrounding community with Feeding America and Hope to Dream at our Colton facility," said Kurt Haines, President, Stoneledge Furniture. "As a company, we strive to inspire the love of home and enrich the lives of those around us. In addition to providing meals, we believe every child deserves a good night's sleep; our Hope to Dream program is accepting applications for children in our communities who do not have a bed of their own."
After the coronavirus pandemic hit the U.S. in the first half of 2020, Ashley HomeStores around the country donated over $448,000 to Feeding America, providing more than 4.4 Million meals nationwide.
To join our mission in feeding America, please visit www.feedingamerica.org/ashleyhomestore.
---
Ashley HomeStore is committed to being your trusted partner and style leader for the home. This commitment has made Ashley HomeStore the largest retail furniture store brand in North America and one of the world's best-selling furniture store brands with more than 1,050 locations in 60 countries.
Start designing your dream home today. Visit Ashley HomeStore online at www.ashleyhomestore.com. "Like" Ashley HomeStore on Facebook, follow us on Twitter and Instagram , or see our design-focused boards on Pinterest.
Ashley Furniture Industries feels that every person deserves more value for their money. Established in 1945, Ashley is the largest manufacturer of home furnishings in the world, and was named one of America's Best Employers by Forbes in 2021. From design through fulfillment, Ashley is committed to delivering the world's best home furnishing values, selection and service, and earning the loyalty and trust of its customers every day. Visit Ashley online at www.ashleyfurnitureindustriesllc.com and "like" Ashley Furniture Industries on Facebook.
# # #