Ashley HomeStore Supports Tampa Bay Super Bowl LV Host Committee's Lasting Impact in Community

Furniture donation to Metropolitan Ministries Stable Families Project as part of the Forever 55 Legacy Program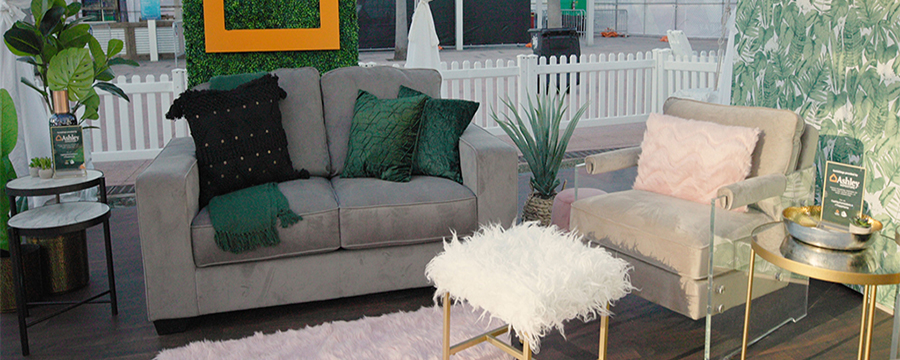 TAMPA, Fla. – In support of the Tampa Bay Super Bowl LV Host Committee's social legacy initiative, Forever 55, and Metropolitan Ministries' Stable Families Project, Ashley HomeStore has donated over $55,000 worth of home furnishings. The donated items included sofas, accent chairs, cocktail tables, and decor accessories. This donation will be used to help furnish the homes of Forever 55 families transitioning from homelessness to self-sufficiency.
"For families transitioning out of homelessness, the gift of furniture not only eases a financial burden, but it's also a dream come true," said Tim Marks, President and CEO of Metropolitan Ministries. "Moreover, it goes beyond the furniture and becomes about their dignity. I have seen families drop to their knees full of tears and gratitude upon seeing their furnished apartments, and we couldn't be more grateful to Ashley HomeStore for this meaningful donation."
The Tampa Bay Buccaneers record-breaking hometown Super Bowl LV win is not the only legacy that has graced Tampa Bay. Forever 55 is the Host Committee's primary social legacy initiative representing the everlasting impression that Super Bowl LV has on the Tampa Bay community. The initiative focuses on six key pillars that best reflect our community's needs: Early Childhood Education, Food Insecurity, Families, Health and Wellness, Sustainability, and Systemic Justice.
"Thanks to our great partners at Ashley HomeStore, there is another remarkable impact story in our Forever 55 legacy," said Tampa Bay Super Bowl LV Host Committee COO Claire Lessinger. "A few weeks ago, we were able to hand the keys to a fully furnished apartment to a single mom from Metropolitan Ministries. Knowing more families will benefit and experience similar joy and self-pride as a result of Ashley HomeStore's donation is what we hoped to achieve by launching the Stable Families Project."
"The Forever 55 initiative is creating a positive and lasting impact on our community. Ashley HomeStore is humbled to partner with the Tampa Bay Super Bowl LV Host Committee and Metropolitan Ministries to provide local families with fully furnished homes," said Todd Wanek, President and CEO, Ashley Furniture Industries.
Ashley HomeStore is proud to call Tampa home to its Corporate Retail Headquarters, located in Ybor City. Supporting the communities in which the company serves is at the center of the company's purpose statement, "to inspire the love of home and enrich the lives of those around us."
---
Ashley HomeStore is committed to being your trusted partner and style leader for the home. This commitment has made Ashley HomeStore the largest retail furniture store brand in North America and one of the world's best-selling furniture store brands with more than 1,050 locations in 60 countries.
Start designing your dream home today. Visit Ashley HomeStore online at www.ashleyhomestore.com. "Like" Ashley HomeStore on Facebook, follow us on Twitter and Instagram or see our design-focused boards on Pinterest.
About Tampa Bay Super Bowl LV Host Committee
"Forward. Forever. Together." The Tampa Bay Super Bowl LV Host Committee, a private, nonprofit 501 (c)(6), represents local community leaders in business, tourism, sports, entertainment, and government and serves as the direct liaison to the National Football League for the region's collective hosting effort. The Tampa Bay Super Bowl LV Host Committee's focus is on raising the bar for the fan experience in the Tampa Bay region during Super Bowl week, creating a lasting legacy through our Host Committee's primary social legacy project, "Forever 55," showcasing the destination's recent progress and exciting future, all while delivering a fifth world-class Super Bowl. For news and event information, follow us on social at @TampaBayLV or visit TampaBayLV.com.
About Metropolitan Ministries
Founded in 1972, Metropolitan Ministries is a nonprofit, nondenominational, faith-based organization that provides comprehensive care for at-risk and homeless families in the Tampa Bay region. Through services that alleviate suffering, promote dignity and instill self-sufficiency, the Ministries strives to offer the power of love, heal broken lives, and help build a strong, caring community. Metropolitan Ministries' main campus is located at 2002 N. Florida Ave., Tampa, FL 33602, and the Pasco campus is located at 3214 US HWY 19, Holiday, FL 34691. metromin.org
###