Ashley HomeStore Receives 2021 Beacon Award from Riverside County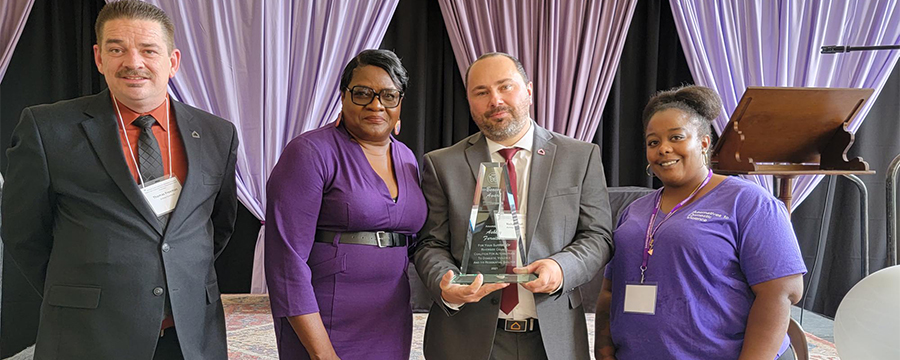 COLTON, Calif. – The Riverside County Coalition for Alternatives to Domestic Violence (ADV), a private, nonprofit organization serving all of western Riverside County, California, recently awarded Ashley HomeStore the 2021 Beacon Award. The award ceremony took place in early October at the Shelter, following the ribbon cutting of the Shelter's new playground. Additionally, Ashley was recognized by Riverside County Board of Supervisors.
"We are humbled to accept the Beacon Award from Riverside County Coalition for Domestic Violence and Alternatives to Domestic Violence," said Richard Hall, Regional Director, Ashley HomeStore. "Our hearts go out to victims of domestic violence, and we are proud to support this organization that helps so many going through a tough time. We hope our efforts help increase awareness of this issue in our communities and help to provide a safe place for those affected."
Ashley HomeStore has supported ADV for multiple years. The most recent involvement included a donation of bunkbeds and mattresses for the shelter. Additionally, the Ashley HomeStore - Murrieta team donated clothes, food, supplies for daily life, and volunteered their time to help keep the facility clean.
Alternatives to Domestic Violence has been providing services to victims of domestic violence and their families in Western Riverside County, California, since 1978. Services offered include a 24-hour crisis line, emergency and transitional housing, outreach services to victims of domestic violence, individual and group counseling, life skills and job training, child development services, child and teen counseling and a range of training programs for legal professionals, first responders and employers in the identification of and response to domestic violence. To learn more, visit www.alternativestodv.org.
Enclosed Photo: Thomas Freeman (Ashley HomeStore Manager, Murrieta), Garry Ann Brown (Operations Director, ADV), Matresa Lee (Program Manager, ADV), Richard Hall (Regional Director, Ashley HomeStore)
---
Ashley Furniture HomeStore is committed to being your trusted partner and style leader for the home. This commitment has made Ashley HomeStore the No. 1 furniture retailer in the U.S. and one of the world's best-selling furniture store brands with more than 1,050 locations in 60 countries.
Start designing your dream home today. Visit Ashley HomeStore online at www.ashleyhomestore.com. "Like" Ashley HomeStore on Facebook, follow us on Twitter and Instagram , or see our design-focused boards on Pinterest.
Ashley Furniture Industries feels that every person deserves more value for their money. Established in 1945, Ashley is the largest manufacturer of home furnishings in the world, and was named one of America's Best Employers by Forbes in 2021. From design through fulfillment, Ashley is committed to delivering the world's best home furnishing values, selection and service, and earning the loyalty and trust of its customers every day. Visit Ashley online at www.ashleyfurnitureindustriesllc.com or Ashley.biz and "like" Ashley Furniture Industries on Facebook.
###