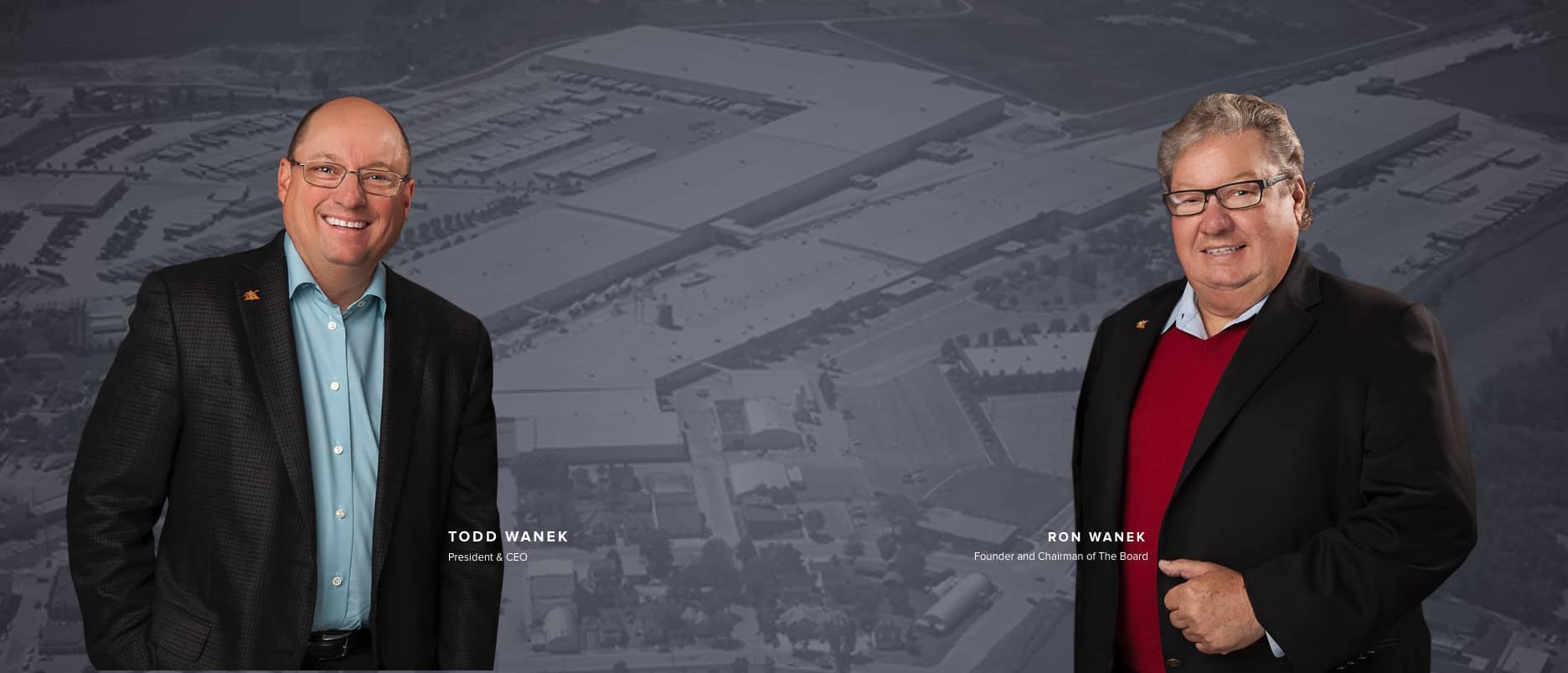 Leadership
The Leaders Of Ashley Furniture Industries
---

Todd Wanek
President & CEO
The seeds of Todd Wanek's passion for furniture were planted in the mid-1980s.During high school and college, Todd worked in all aspects of the business including shipping, production line, machine maintenance, product design and engineering, finance, and global sourcing.
Shortly after graduating from the University of Wisconsin-Stout, with a Bachelor's Degree in Industrial Technologies, he moved to Asia to serve as the general manager of Ashley Furniture Industries Taiwan. He continued to live and work in Asia from 1989- 1993, establishing and managing Ashley Furniture Industries business development in China, Malaysia, Thailand, Taiwan, and Indonesia.
Todd returned to the U.S.in 1994, spearheading the purchase of an upholstered furniture manufacturing operation in Ecru, MS. At that time he assumed responsibility for Ashley Furniture Industries upholstery production as well as the company's growing international operations. Two years later, Todd Wanek was promoted to Ashley Furniture Industries President and Chief Operations Officer, assuming responsibility for all of Ashley Furniture Industries worldwide operations.
By 1999, Ashley Furniture Industries was a major player in almost every product category and one of the best marketers in the furniture industry. Just three years later, Todd succeeded his father to become Ashley Furniture Industries Chief Executive Officer, a position he holds today. Todd is widely considered the industry's foremost authority on international trade, manufacturing, marketing, and distribution.
Todd, through his leadership and vision, has been responsible for Ashley Furniture Industries sustained growth since he became CEO in 2002. Staying true to Ashley Furniture Industries vision, "We want to be the best furniture company, " Todd continues to cultivate the company's continuous improvement culture. Todd's passion for improving Ashley Furniture Industries operations, products, and services is unrelenting to this day, positioning the company for continued growth into the future.
Lead Advocate of Innovative Medical Research
Mayo Clinic
National Finalist Entrepreneur of the Year
Ernst & Young
Principal Partner Benefactor
Mayo Clinic
Supplier of the Year
Furniture Today
Distinguished Service Community
Deloitte 75
Board Of Directors
American Home Furnishings Association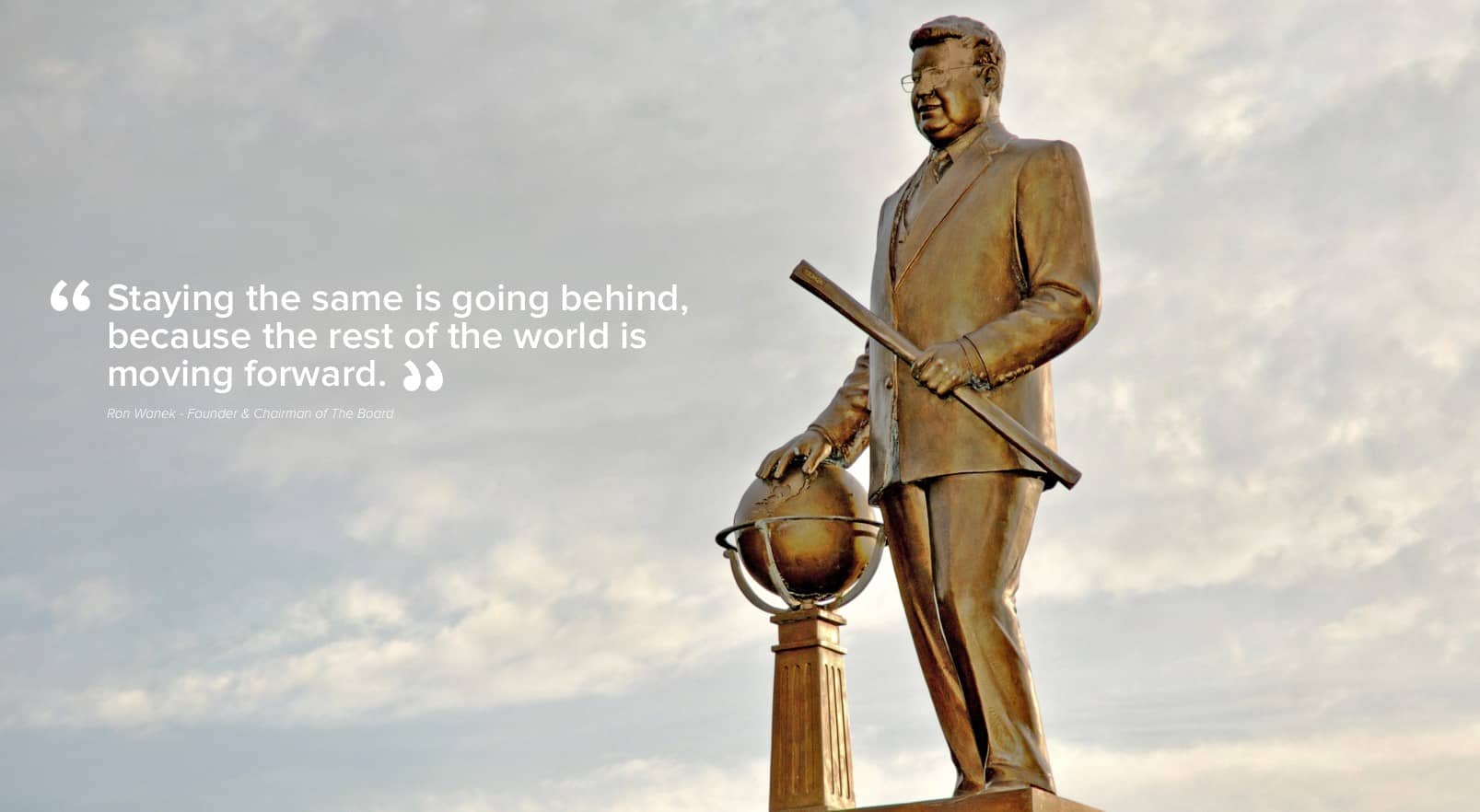 Above: Ron Wanek Statue In Memorial Park

Ron Wanek
Founder & Chairman Of The Board
As a young man, Ron Wanek's enthusiasm for furniture was inspired by his grandfather and great uncle who built furniture as a hobby.
Working for a newly formed company called Winona Industries, Ron reported to three brilliant owners who he described as perfectionists. One was an engineer, one was a marketer and innovator, and the other was an excellent administrator. Ron was fortunate to be able to work with each of them to learn virtually every aspect of the manufacturing business.
In 1963, an opportunity arose to start a new operation in Red Wing, Minnesota, and Ron became involved in the startup and management of the business, receiving excellent mentoring. It was this history that helped create Ron's foundation for his life and business career.
In 1970, Ron Wanek and a group of investors set out to make a difference in the furniture industry by forming Arcadia Furniture Corporation. This upstart furniture manufacturing company - with Ron Wanek responsible for establishing and managing operations - was in an industry dominated by large companies. In the beginning, Arcadia Furniture Corporation wasn't considered a serious contender in the U.S. furniture industry.
Over the next six years, Ron learned all facets of the furniture business, including the importance of having a strong brand name. In 1976 Arcadia Furniture Corporation and Ashley Furniture merged into one company: Ashley Furniture Industries, LLC. The new company could now fully leverage a brand name that had been in existence since 1945. Ron's determination and expertise were the driving force in laying the groundwork for one of the most incredible success stories in the history of the furniture industry.
Wisconsin's Entrepreneur of the Year Award
Ernst & Young
National Finalist Entrepreneur of the Year
Ernst & Young
Innovator of the Year
Woodworking Machinery Industry Assn.
Leadership Award
Furniture Today
Spirit of Life Award
City of Hope
Pillar of the Industry
International Home Furnishings Reps Assn.