History
Learn About Our History
---
History Timeline
Founded with the belief that furniture could be made a better way.

1945
Carlyle Weinberger founds Ashley Furniture Corporation as a sales organization with headquarters in Chicago, Illinois.

1970
Ron Wanek is appointed General Manager of Arcadia Furniture; a 35,000 sq. ft. facility with 35 employees in Arcadia, WI. The manufacturer specializes in cabinet commodes and occasional tables distributed nationally through Arcadia Furniture.

1972
Arcadia Furniture introduces Wall Systems.

1974
The furniture company develops its own transportation fleet
1976
Major ownership and management is restructured. The company rebirths product lines and retools its facilities.
1979
Todd Wanek is officially hired as an Ashley Furniture Corporation employee (#158).
1982
Major ownership and management is restructured, allowing Arcadia Furniture and Ashley Furniture Corporation to merge into one company: Ashley Furniture Industries. Corporate headquarters were moved from Chicago, IL to Arcadia, WI.

1983
A "Suggestion Program", which later is renamed the "Idea Network" - to improve efficiencies and quality, while reducing cost. Employees are rewarded for being "agents of change", which is a critical component of Ashley's continuous improvement culture.

1984
As imports take over the table business, Ashley converts to making bedroom furniture.
Ashley Furniture Industries begins overseas trading and manufacturing to strengthen its product lineup, including occasional tables with high gloss finishes.

1985
Ashley Furniture Industries introduces dining room furniture.

1986
Ashley Furniture Industries turns the furniture industry on its head with an innovative, patented product line called "Millennium". A unique proprietary polyester finishing technique which gave the wood an impeccable luster and extreme durability.

1987
Establishes plant in Whitehall, WI. This facility is equipped with state-of-the-art finishing equipment to produce Ashley Furniture Industries signature Millennium line.

1988
Ashley Furniture Industries introduces formal and casual dining rooms and mixed media furniture with various combinations of glass, marble, steel and wood.
1989
Todd Wanek moves to Asia to serve as the General Manager of Ashley Furniture Industries Taiwan. He begins establishing and managing Ashley Furniture Industries business development in China, Malaysia, Thailand, Taiwan and Indonesia.

1992
Ashley Furniture Industries intermodal rail yard is established; only one in Wisconsin and one of seven private yards in the US.

1996
Ashley Furniture Industries introduces leather upholstery.
Todd Wanek is promoted to Ashley Furniture Industries President and Chief Operations Officer.

1997
The first Ashley store opens in Anchorage, Alaska.
Ashley Furniture Industries introduces motion upholstery including recliners.
Ashley's Angels is formed by a truck driver in Mississippi. The non-profit organization provides food, clothing, and toys to underprivileged children.

1999
Ashley Furniture Industries establishes manufacturing in Kunshan, China and manufacturing and distribution in Ripley, MS.
2000
The first international Ashley store opens in Aichi, Japan
2001
Establishes operation in Colton, CA.
2002
Ashley Furniture Industries establishes powerhouse manufacturing and distribution facility in China.
Todd Wanek is promoted to Ashley Furniture Industries Chief Executive Officer.

2004
Establishes manufacturing and distribution facility in Leesport, PA.
Establishes operations in Brandon, FL.
Ashley Furniture Industries upholstered products become the best-selling in the world.

2005
Ashley Furniture Industries becomes the world's largest manufacturer of furniture.
On October 19th, Ashley reaches 200 stores.
Ashley Furniture Industries begins "Voice of the Customer" program – where management and employees work in the warehouse and on deliveries to identify opportunities for product and service improvement and quickly implement changes.

2007
Ashley passes Walmart to become the No.1 retailer of furniture and bedding in the United States.
On January 18th, Ashley reaches 300 stores.

2008
Establishes plant in Tan Uyen District, Vietnam.

2009
Ashley for the Arts is formed and holds its first event in Arcadia, WI. The non-profit holds an annual event to raise funds to support local non-profit organizations
On November 18th, Ashley reaches 400 stores.
Ashley Furniture Industries launches Ashley Sleep®

2010
Ashley launches the Hope to Dream program to provide beds to underprivileged children allowing them a good night's sleep.

2012
Establishes plant in Binh Duong City, Vietnam.
Ashley accelerates the expansion of its international retail presence.
Manufacturing and Distribution facility established in Advance, NC.

2013
Manufacturing facility established in Verona, MS.
Ashley receives its first Women's Choice Award.

2014
Ashley launches Ashley Express, its direct-to-consumer delivery program, next day delivery with sights on same day delivery.
On February 21st, Ashley reaches 500 stores.

2015
Ashley establishes eCommerce as part of the Omni-Channel initiative.
Distribution facility established in Mesquite, TX.
On December 16th, Ashley reaches 600 stores.
Ashley retail operations facility opens in Ybor City (Tampa), FL.

2016
Ashley Furniture Industries introduces outdoor furniture.
New Ashley store logo is unveiled and brand implementations begin.

2017
On January 15th, Ashley reaches 700 stores.
Ashley Furniture Industries, Inc. is named one of America's Best Large Employers.
Ashley makes major investments in technology further solidifying its place as a leader in advanced automated manufacturing.

2018
On January 23rd, Ashley reaches 800 stores.
Ashley invests heavily into direct-to-consumer delivery.

2019
Ashley opens 1,000th store.
Ashley welcomes Baby and Ready to Assemble (RTA) furniture as new product lines.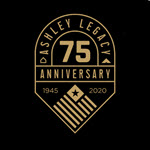 2020
Ashley Furniture Industries celebrates 75th Anniversary!