Ashley Receives Recycling Excellence Honor from Wisconsin Department of Natural Resources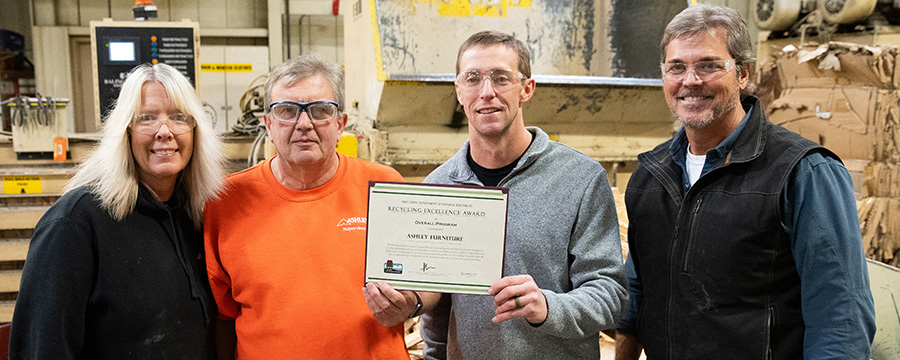 ARCADIA, Wis. – Ashley Furniture Industries, LLC (Ashley) received the prestigious 2023 Recycling Excellence Award from the Wisconsin Department of Natural Resources. The Recycling Excellence Awards celebrate outstanding recycling efforts, innovation and performance throughout Wisconsin. This honor recognizes Ashley's outstanding dedication to recycling and waste minimization services through its comprehensive recycling program.
Ashley has long focused on sustainability efforts and, in recent years, developed new strategies focused on recycling and waste management. In 2019, the company introduced a company-wide recycling tracking program implemented across all manufacturing facilities in the United States. Building on its success, the program was expanded in 2022 to include distribution centers nationwide. This tracking program has been immensely beneficial both to Ashley and the environment.
In 2022 alone, Ashley's recycling program resulted in the recycling of over 33,645 tons of material, generating over $700,000 for Wisconsin facilities specifically. Across all of Ashley's advanced manufacturing and distribution locations, 92,560 tons of material was recycled, which generated over $4.6 million in added revenue for the company in the same year. These achievements represent a significant contribution toward reducing landfill waste and transforming materials into usable products for beneficial reuse—an accomplishment of which Ashley is incredibly proud.
"While Ashley strives to be the best home furnishings company, we are equally committed to being stewards of the environment for the betterment of our facilities, employees, customers, products, and the environment," stated Andy Meinerz, Director of Environmental, Ashley Furniture Industries. "Our overall recycling program has proved to be a resounding success at our manufacturing facilities and distribution centers. As we continue to enhance and expand our recycling initiatives, we are determined to play our part in preserving the planet we call home."
Ashley remains steadfast in its commitment to environmental stewardship and will continue to implement innovative recycling practices across the entire organization.
--
Ashley Furniture Industries, LLC (Ashley) feels that every person deserves more value for their money. Established in 1945, Ashley is the largest manufacturer of home furnishings in the world, and was named one of America's Most Trustworthy Companies by Newsweek in 2023. From design through fulfillment, Ashley is committed to delivering the world's best home furnishing values, selection and service, and earning the loyalty and trust of its customers every day. Visit Ashley online at www.ashleyglobal.com and "like" Ashley Furniture Industries on Facebook.
# # #