27th annual IHFRA Furniture Industry Awards Gala celebrates "The Family of Furniture"
Cameron Wanek receives Rising Star recognition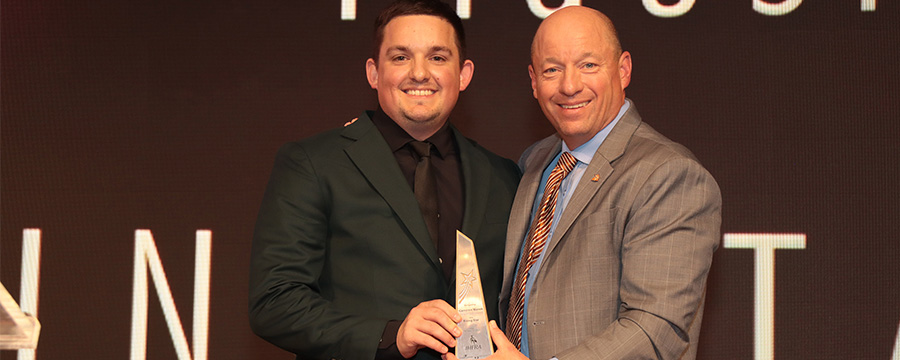 HIGH POINT, N.C. — More than 600 industry notables flocked to High Point University's Qubein Conference Center here to participate in the 27th annual Furniture Industry Awards Gala (FIAG) hosted by the International Home Furnishings Representatives Association (IHFRA) on October 13th, 2023.
The annual IHFRA event, that recognizes the best and brightest members of the home furnishings sector, honors independent sales reps, key retailers and manufacturers.
The gala, which honors both industry veterans as well as relative newcomers to the industry that are making a difference, recently moved its venue to the conference center at High Point University, saving honorees and attendees having to travel to and from Greensboro, NC, during the busy days of furniture market.
This year's honorees included Miskelly Furniture as Retailer of the Year, Planned Furniture Promotion's Roy Hester, named as IHFRA's Icon, Edward Massood of Massood Logistics as Pillar of the Industry, John F. Pinion IV, Pinion's Wonderworld, received the Distinguished Service Award, and Ted Jarnagin of T&S Sales as IHFRA's Legacy Rep.
Normally, IHFRA recognizes one relatively new sales rep as a Rising Star, but this year's candidates were so strong and compelling that the Association honored four equally talented young candidates: Kian Amini of AICO, Sydney Harris of Furnitureland South, Katie Kornold of Korngold Sales & Marketing and Cameron Wanek, Ashley Furniture Industries.
In speaking of the four Rising Star's, IHFRA's executive director Ray Allegrezza, said, "While they may be relatively new to the industry, their achievements and efforts have already matched those of some veterans of the industry."
This year's theme, 'Celebrating the family of furniture,' was underscored by the fact that every honoree is part of a family with deep roots in the home furnishings sector, Allegrezza told the audience during his opening remarks.
In keeping with the theme of family, IHFRA served a traditional Thanksgiving dinner with all the trimmings.
The gala also served as a platform to announce upcoming changes to the executive team at IHFRA. During the program it was announced that Steven Allegrezza, currently serving as IHFRA's managing director, will take the helm as Executive Director on January 1, 2024. Ray Allegrezza will remain with the group and will focus on creating content and helping with IHFRA events, including FIAG.
The event, which enjoyed record attendance this year, was largely made possible by the generous support of the following sponsors:
Diamond Level Sponsors: Ashley Furniture Industries, LLC, J. B. Hunt, AICO (Amini Innovation Corp), and Renaissance.

Platinum Sponsors:

Tempur

+ Sealy,

Massood

Logistics, High Point Exhibitions, and retail sponsors Johnny Janosik and Broad River Retail

.

Gold sponsors: ANDMORE and Planned Furniture Promotions.

Silver sponsors: Furniture/Today, City of Hope, Samson Holding,

HomeStretch

and Nourison.

Bronze sponsors: Best Home Furnishings, Jackson Furniture, Hooker Furnishings, Furnitureland South, Huntington House, DOVR, Lexington, Wells Fargo/FMG, Gulfstream Shippers Association, Miskelly Furniture, Southern Motion and

ZWovens
For more information about this year's gala or IHFRA, visit the website at www.ihfra.org.
This press release was provided by the International Home Furnishings Representatives Association