Ashley Donation Helps to Create Tranquil Space for Gundersen Tri-County Hospital and Clinic Patients & Staff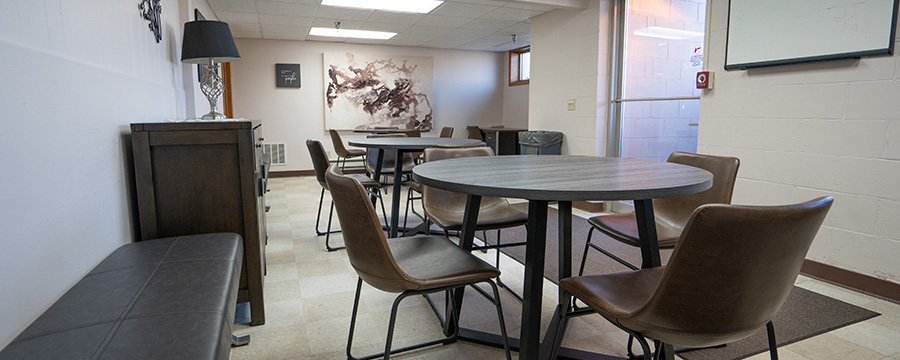 ARCADIA, Wis. – Ashley Furniture Industries, LLC (Ashley) recently donated over $28,000 in product to Gundersen Tri-County Hospital and Clinic (Gundersen) in Whitehall. The donation included a variety of seating, tables, beds, mattresses, nightstands, and decorative wall art, which will beautify the new expansion of the hospital, which opened this summer. Ashley representatives joined Gundersen, government officials, donors, and community members at an Open House and Ribbon Cutting held on July 12.
The Gundersen project is expected to be complete by November of this year. This multi-million-dollar, new facility will expand access to health care and will include expanded space for the emergency rooms, operating rooms, along with dedicated rooms for trauma cases. Additionally, there are solar panel installations in the plans, which have the potential to reduce energy costs by 50%.
"We have been building for tomorrow today, providing love + medicine here for more than 100 years. Our new hospital and renovated clinic are our ongoing investment in world-class care, right here at home in our communities served," stated Joni Olson, Administrator at Gundersen Tri-County. "We are especially grateful to the Wanek family and Ashley Furniture for their generosity and support of this project."
The areas being furnished by the product donation are the medical on-call rooms, employee break room, and various art pieces placed throughout the facility.
"We are honored to partner with Gundersen Tri-County Hospital and Clinic as they serve the communities our employees call home," said Todd Wanek, President and CEO, Ashley Furniture Industries. "We hope this product donation will accent the beautiful new facility they are preparing to move into as well as serve as a comfortable and inspiring environment for those coming and going each day."
--
Ashley Furniture Industries, LLC (Ashley) feels that every person deserves more value for their money. Established in 1945, Ashley is the largest manufacturer of home furnishings in the world, and was named one of America's Most Trustworthy Companies by Newsweek in 2023. From design through fulfillment, Ashley is committed to delivering the world's best home furnishing values, selection and service, and earning the loyalty and trust of its customers every day. Visit Ashley online at www.ashleyglobal.com and "like" Ashley Furniture Industries on Facebook.
About Gundersen
Gundersen is part of Bellin and Gundersen Health System. Formed in December 2022, Bellin and Gundersen is a not-for-profit, patient-centered, community-focused healthcare network with headquarters in Green Bay and La Crosse, Wisconsin. Bellin and Gundersen has nearly 15,000 employees, including more than 1,000 clinicians, in 11 hospitals and more than 100 clinic locations in Wisconsin, Minnesota, Upper Michigan, and Iowa. With community partners, Bellin and Gundersen strive to lead local, regional and national healthcare transformation to enrich individuals for their healthiest lives at every stage. Learn more at bellin.org and gundersenhealth.org.
# # #