Ashley Furniture and the Wanek Family Awards Over $320,000 in Scholarships to Students for the 2023-2024 School Year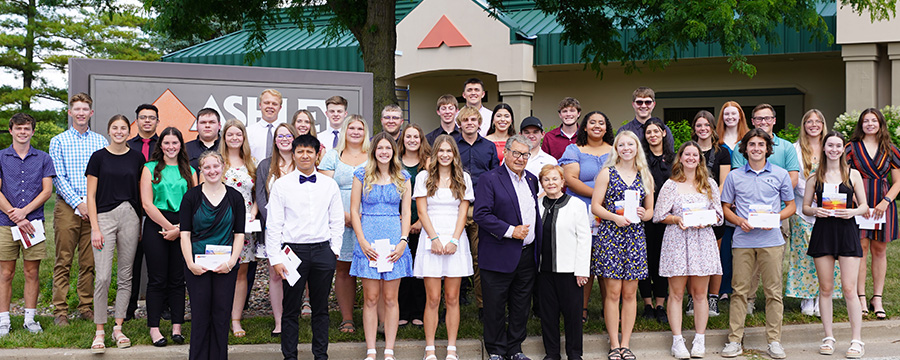 ARCADIA, Wis. – Ashley Furniture Industries, LLC (Ashley) and the Wanek family have announced the awarding of over $320,000 in scholarships to 120 students for the 2023-2024 academic year. These scholarships aim to support students pursuing various fields of education and are a testament to Ashley's commitment to investing in the future workforce.
"When it came time to apply for college, the reality of paying for it quickly came into my decision process. I am honored to be a part of such a diverse group of recipients from various schools, backgrounds and majors. Thank you to Ashley and the Wanek Family for awarding me the Grants in Aid scholarship as it will enable me to help fund my education." - Elizabeth Adams, Ashley Scholarship Recipient
The scholarship program consists of two opportunities offered annually to graduating high school students who are children of Ashley employees. The 'Ashley Grants-in-Aid Scholarship' offers a one-time scholarship of $2,000 to students enrolled in an accredited college or university for the following fall semester. The 'Wanek Engineering and Design Scholarship' offers $5,000 to students pursuing a secondary degree in Engineering or Design.
Recipients from eight states, namely Wisconsin, Pennsylvania, North Carolina, Mississippi, Florida, Texas, Washington, and California, were awarded scholarships. They were invited to attend a presentation and tour of Ashley facilities with their families to learn more about the company's career opportunities.
"I am grateful for Ashley for awarding my son this scholarship, apart from the financial relief, it also recognizes him for his efforts and accomplishments during his high-school years, which I feel is very encouraging for him as he pursues a degree in engineering." - Chandrasekhar Achanthodi, Ashley Employee

Ashley and the Wanek family have contributed over $3.5 million to over 2,000 student scholarships since 1997. This investment is due to the belief that supporting the education of future generations is crucial in building a sustainable and prosperous future. To learn more about Ashley's efforts in education, visit www.aficares.com.
Ashley Furniture Industries, LLC (Ashley) feels that every person deserves more value for their money. Established in 1945, Ashley is the largest manufacturer of home furnishings in the world, and was named one of America's Most Trustworthy Companies by Newsweek in 2023. From design through fulfillment, Ashley is committed to delivering the world's best home furnishing values, selection and service, and earning the loyalty and trust of its customers every day. Visit Ashley online at www.ashleyglobal.com and "like" Ashley Furniture Industries on Facebook.