Factory Direct Opens New Ashley Store in Brooklyn, NY

Grand Opening Celebration included a Donation from Hope to Dream to Children in Need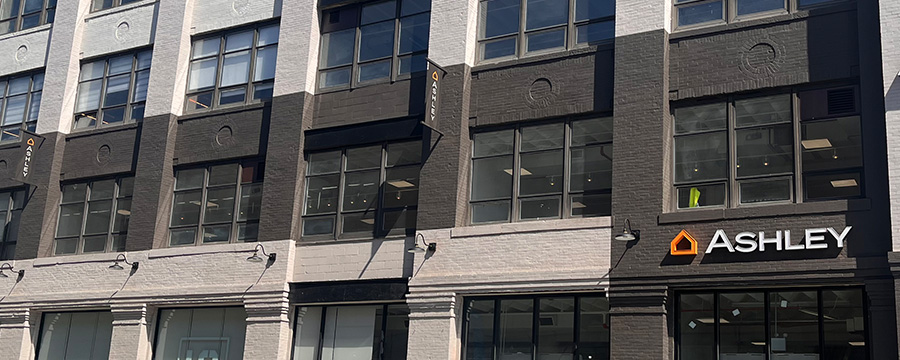 BROOKLYN, N.Y. – On May 20, 2023, Factory Direct Enterprises, LLC (Factory Direct) celebrated the Grand Opening of its new 14,391 sq. ft. Ashley showroom located at 241 37th Street, Brooklyn, NY. In partnership with Hope to Dream, the team provided 10 children with bed sets of their own through the help of Grandma's Love Inc., a local Brooklyn non-profit dedicated to fighting child hunger. Ashley and its independent licensees have supported Hope to Dream since 2010 on their mission to give every child a good night's sleep. Special guests from Grandma's Love Inc. along with community members and staff members attended the opening.
"We are thrilled to announce our new partnership with Grandma's Love Inc. to provide beds to the community. This meaningful initiative will ensure that the children of Brooklyn have a safe and comfortable bed to sleep in," stated Justin Chrinian, Chief Revenue Officer. "We are proud to be part of such a meaningful effort and look forward to seeing its positive impact on the community."
Eugene Chrinian of Factory Direct owns 25 additional Ashley retail locations in the surrounding region. This Brooklyn store will employ approximately 22 people.
This new location brings the best styles and selections, as they show off their luxurious bedding gallery with the best brands such as Tempur-Pedic, Stearns and Foster, Bedgear and more. The showroom features complete lifestyle vignettes, down to the final detail of lighting, rugs and wall art. Product categories include bedroom, dining room, upholstery, leather, occasional tables, home office, youth bedroom, recliners, mattresses and accessories. Technology enhances the environment, incorporating various elements to improve the customer shopping experience.
The new store's hours are Monday 10:00 a.m. - 10:00 p.m., Tuesday through Saturday 10:00 a.m. - 9:00 p.m. and Sunday 10:00 a.m. - 8:00 p.m. Follow @ashleyofficial on Facebook and Instagram to stay up to date with promotions and events.
---
Ashley is committed to being your trusted partner and style leader for the home. This commitment has made Ashley the #1 furniture and mattress store in North America and one of the world's best-selling home furnishing brands with more than 1,125 locations in 67 countries.
Start designing your dream home today. Visit Ashley online at www.ashley.com "Like" Ashley on Facebook, follow on Twitter, Instagram and TikTok, or see our design-focused boards on Pinterest.
Hope to Dream believes that every child deserves a good night's sleep. Founded in 2010 on that guiding principle, the Hope to Dream organization provides beds to children in need across the U.S. and Canada. Every mattress purchased from a participating Ashley retail location helps Hope to Dream fulfill its mission to provide every child with a good night's sleep. Since inception, more than 140,000 children have received a brand-new bed. Those wishing to nominate a child can visit www.Ahopetodream.com or visit a local Ashley store for more information.
###