Ashley Furniture Honors Memorial Day Across the Country with Annual Flag Raising Ceremony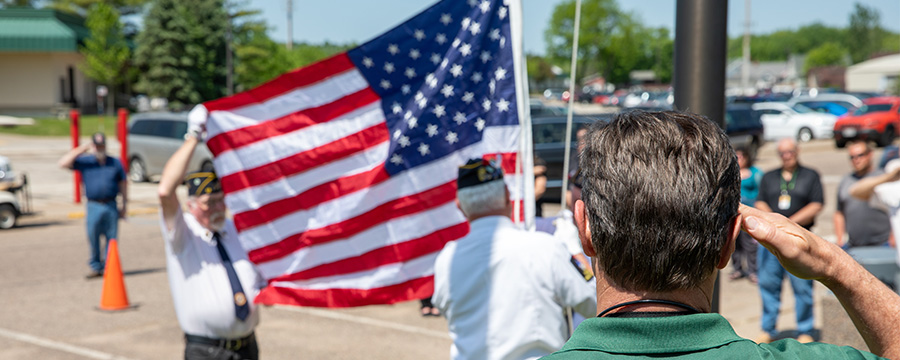 ARCADIA, Wis. — On Wednesday, May 24 and Thursday, May 25, Ashley Furniture Industries, LLC (Ashley) advanced manufacturing and distribution facilities held their seventh annual flag raising ceremonies in honor of the upcoming Memorial Day holiday. Ceremonies were led by Ashley executives at the California, Mississippi, North Carolina, Pennsylvania, Texas and Wisconsin facilities, along with members of their local military organizations. Employees gathered for a moment of silence and the raising of the flag to remember those who gave the ultimate sacrifice in service to our country and reflect on the true meaning of Memorial Day. Ashley employees who are current or past service members were also recognized during the ceremonies.
"Memorial Day for me is a day of reflection and remembrance and a time to honor all that have served. I honor SSG Jake, SPC Myers, SSG Gourley, SPC Kaufman, SSG Olson by never forgetting the freedoms I have because of their ultimate sacrifice," stated Oscar Barrientos, Ashley Furniture Industries [U.S. Army, 101st Airborne and Red Arrow – Infantry]. "Every morning I give the flag a nod in salutation, and I feel proud to live in the greatest nation on earth."
"It's fulfilling to have this ceremony as an annual tradition at our Ashley facilities with employees and local community members coming together to show their respect in honor of U.S. fallen military members," stated Todd Wanek, President and CEO, Ashley Furniture Industries. "It is an impactful reminder of all the things we have to be grateful for, especially the sacrifices made by so many heroes so that we can freely live in this beautiful country."
Additional Ashley facilities across the country recognized the holiday with a moment of silence during the workday.
Throughout the year, Ashley extends gratitude in honor of our heroes through the national Wreaths Across America by hosting ceremonies and delivering wreaths to cemeteries and memorials during the holiday season, and through Soldiers Walk Memorial Park, a premier war memorial located in Arcadia, WI. Ashley has also been recognized as a Military Friendly Employer® and Military Friendly Spouse Employer ® in 2023.
Ashley would like to wish everyone a safe Memorial Day weekend.
---
Ashley Furniture Industries, LLC (Ashley) feels that every person deserves more value for their money. Established in 1945, Ashley is the largest manufacturer of home furnishings in the world, and was named one of America's Most Trusted Companies by Newsweek in 2023. From design through fulfillment, Ashley is committed to delivering the world's best home furnishing values, selection and service, and earning the loyalty and trust of its customers every day. Visit Ashley online at www.ashleyglobal.com and "like" Ashley Furniture Industries on Facebook.
# # #