Western Wisconsin FIRST Robotics Teams Complete a Successful Season, Two Teams Test Their Skills at World Championship

Ashley and The Ronald & Joyce Wanek Foundation Donate $90,000 to FIRST Robotics Programs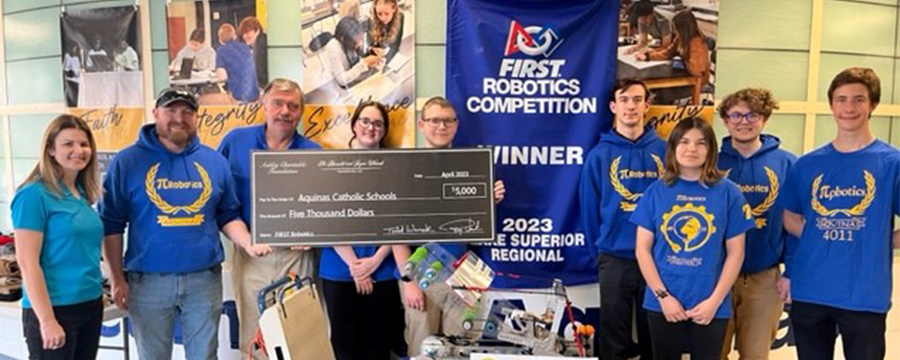 ARCADIA, Wis. – Ashley Furniture Industries, LLC (Ashley) and The Ronald & Joyce Wanek Foundation recently made a donation of $20,000 in addition to resources to the Trempealeau County Robotics (TC Robotics) and PiRhobotics teams to compete in the 2023 FIRST World Championships in Houston, Texas held April 19-22, 2023. The championships included over 600 high school teams from over 19 countries. FIRST (For Inspiration and Recognition of Science and Technology) encourages students to become innovators in science, technology, and robotics education within a positive, competitive, and alliance-based environment.
With an abundance of talent on the roster, the TC Robotics' alliance competed in the semi-finals but were defeated after two matches. This was the first time TC Robotics had advanced to the playoff division at the World Championship. PiRhobotics, from La Crosse Aquinas Schools, was called upon to be the alliance captains for their division, winning their first semi-finals match.
"The kids did an amazing job this year and while they were eliminated from the competition, they are already looking forward to returning," stated Ben Gerling, PiRhobotics Coach. "We are thankful for Ashley and the Ronald & Joyce Wanek Foundation for their continued support towards robotics."
The TC Robotics team, comprised of high school students from Arcadia, Cochrane-Fountain City and Gale-Ettrick-Trempealeau schools, has been mentored and coached for the past six years by Ashley engineers. The team practices in Ashley's state-of-the-art automation facility where they get firsthand experience using tools and learning industry ready skills, preparing them for internships and career opportunities during and after high school.
"Being a coach for a FIRST robotics team is a very fulfilling experience. I can share my engineering background with the students and show them firsthand the different STEM career fields that are available and how they all tie together," stated Betty Baker, TC Robotics Coach. "It's amazing to see the students getting firsthand experience in the field and learning real life skills while still in high school."
In addition to the World Championship sponsorships, Ashley and The Ronald & Joyce Wanek Foundation awarded $70,000 in support of the 2022-2023 FIRST Robotics Program. Included was a donation to the Seven Rivers Robotics Coalition, made up of collaborating schools located in Wisconsin and Minnesota, to support the growth of their 11 competitive FIRST Robotics teams, made up of students from: Arcadia, Blair-Taylor, Caledonia, Cochrane-Fountain City, Gale-Ettrick-Trempealeau, Holmen, Houston, Independence, La Crescent-Hokah, Onalaska Luther, Sparta, West Salem, Westby, and Whitehall. Ashley also sponsored the North Star Regional and the Seven Rivers Regional competitions at the La Crosse Center, in which many of the schools participated in.
Ashley and The Ronald & Joyce Wanek Foundation are proud to continuously support education efforts that strengthen the knowledge of the current and next generation of leaders. In addition to the support of STEM (Science, Technology, Engineering, and Math) initiatives, millions of dollars have been distributed to assist local K-12 schools, technical colleges, and universities, as well as grant over 100 scholarships to students each year.
---
Ashley Furniture Industries, LLC (Ashley) feels that every person deserves more value for their money. Established in 1945, Ashley is the largest manufacturer of home furnishings in the world, and was named one of America's Most Trusted Companies by Newsweek in 2023. From design through fulfillment, Ashley is committed to delivering the world's best home furnishing values, selection and service, and earning the loyalty and trust of its customers every day. Visit Ashley online at www.ashleyglobal.com and "like" Ashley Furniture Industries on Facebook.
FIRST® is a robotics community that prepares young people for the future through a suite of inclusive, team-based robotics programs for ages 4-18 (PreK-12) that can be facilitated in school or in structured afterschool programs. Boosted by a global support system of volunteers, educators, and sponsors that include over 200 of the Fortune 500 companies, teams operate under a signature set of FIRST Core Values to conduct research, fundraise, design, build, and showcase their achievements during annual challenges. An international not-for-profit organization founded by accomplished inventor Dean Kamen in 1989, FIRST has a proven impact on STEM learning, interest, and skill-building well beyond high school. Alumni of FIRST programs gain access to exclusive scholarships, internships, and other opportunities that create connections and open pathways to a wide variety of careers. Learn more at firstinspires.org.