Local North Carolina School Art Festival Supported with $10,000 Donation from Ashley Furniture Industries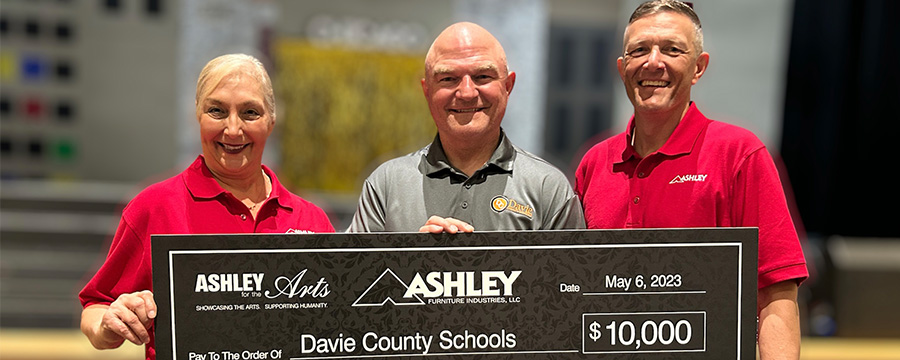 MOCKSVILLE, N.C. – Ashley Furniture Industries, LLC (Ashley) partnered with Davie County Schools in support of their annual Arts Smart Festival held on Saturday, May 6 at Davie High School, which included a $10,000 donation towards the event. Ashley has been a proud supporter and partner of Davie County Schools Arts Smart since 2014.
The Arts Smart Festival is comprised of students from the Davie County Schools Arts and Education Departments which includes artists, singers, dancers, musicians, and actors. The event features visual art galleries, make-and-take stations, food vendors, performances by the theater, music, and dance departments, and more.
"We extend our gratitude to Ashley for recognizing the vital role that the arts play in fostering creativity and critical thinking skills among students. By investing in our schools, Ashley enables students K-12 to explore their creativity and pursue their passions through various artistic opportunities," stated Jeff Wallace, Davie County Schools Superintendent. "With an ongoing collaboration among community organizations and businesses, Davie County Schools can create a more comprehensive and dynamic learning environment that promotes academic success, personal growth, and civic engagement."
In addition to the donation, Ashley awarded three students $500 scholarships for their artistic work throughout the year and at the event. This year's recipients include Sophia Aguayo-Bermudez (Visual Arts), Caroline Landy (Music), and Lizzie Rappaport (Band).
The company also presented their annual "Humanitarian Award", which honors an individual who goes above and beyond, helping make their school and community a better place. They are recognized for being true role models who inspire others to become better human beings. This year, David Gledhill, a Davie County High School volunteer, was recognized with the 2023 Humanitarian Award. The Selection Committee's write-up for David included the following:
"David has been involved with the Davie High Band Boosters for nearly 10 years. He has spent tireless hours serving as the president and vice president. He volunteers at every event and is a dedicated supporter of the arts."
---
Ashley Furniture Industries, LLC (Ashley) feels that every person deserves more value for their money. Established in 1945, Ashley is the largest manufacturer of home furnishings in the world, and was named one of America's Most Trusted Companies by Newsweek in 2023. From design through fulfillment, Ashley is committed to delivering the world's best home furnishing values, selection and service, and earning the loyalty and trust of its customers every day. Visit Ashley online at www.ashleyglobal.com and "like" Ashley Furniture Industries on Facebook.