Ashley Furniture Industries and the Ronald & Joyce Wanek Foundation Partners with Legacy-Trees to plant more than 760 trees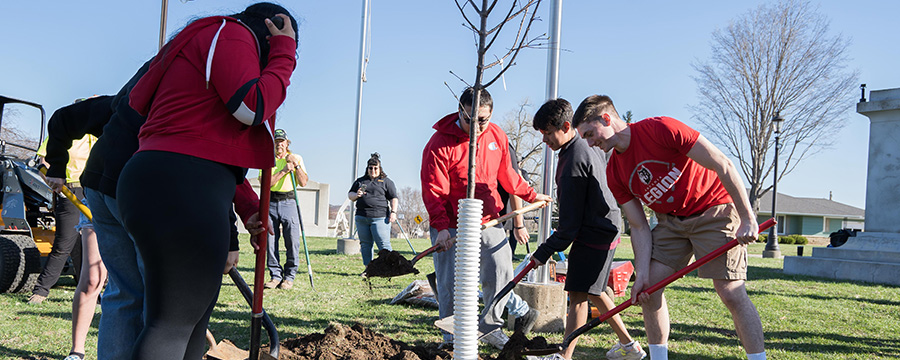 ARCADIA, Wis. – As a donation to beautify the communities of Arcadia, Whitehall and Independence, the Ronald & Joyce Wanek Foundation, along with Legacy-Trees, LLC and Ashley Furniture Industries, LLC (Ashley), has planted over 760 trees through a multi-phased planting project. This is a total donation of nearly $390,000 towards the planting of a variety of trees, including shade trees, ornamental trees, and various evergreens. The project started in October of 2022, and was recently completed.
The tree donation consisted of several locations including: more than 650 trees to Arcadia's Memorial Park, El Dorado Hills, Blaschko Ave., Villas Hanson Park, and Schank Park; 50 trees each to the neighboring cities of Independence and Whitehall, plus 13 trees at Altura Memorial Park (Altura, Minn.).
The purpose of the initiative was to beautify these communities and plant new trees that will last for generations to come. Additionally, numerous factors were evaluated and addressed throughout the project, including identifying deep planted trees that has led to premature tree mortality in Memorial Park. Through the El Dorado Hills donation, this housing development has a newly established urban forest that was designed to provide diversity in tree species while also reducing energy costs, reducing storm water runoff, preserving streets with shaded canopies, and many more added benefits.
"Legacy-Trees has been such an essential partner in a project of this scale; not only is the planting process the most advanced and efficient we have witnessed, the size, health, and initial trimming of the trees has been remarkable," said Mike Moran, Project Representative, Ashley Furniture Industries, LLC.
Ashley and Legacy-Trees utilized the planting project as a learning opportunity for future generations. Classes from the Arcadia, Independence and Whitehall School Districts were invited to participate in tree planting workshops as well as to help personally plant many of the donated trees. Students were taught the importance of trees in the community and how they add value to property, not only monetary value but also beautification, and the benefits provided to the environment. Representatives from Ashley and Legacy-Trees explained how to properly match a tree species to a planting site, understand proper planting techniques, and how to correctly follow a step-by-step process to ensure proper root orientation and planting depth in the soil at planting time.
"By enhancing the habitat today, we ensure our future generations will be able to appreciate it tomorrow," said Ron Wanek, Founder & Chairman, Ashley Furniture Industries. "I enjoy providing young people with the tools to build a better environment and to teach them about the importance of planting trees – they clean our air, protect our drinking water, create healthy communities, and feed the human soul."
Additionally, as part of Ashley's environmental stewardship efforts, employees at the Arcadia manufacturing and distribution facilities were distributed trees in honor of Arbor Day to plant. In 2021, Ashley received the Wisconsin Manufacturers & Commerce Business Friend of the Environment Award as a Large Company for Environmental Innovation for their efforts in environmental stewardship. Over the past 30 years, Ashley and the Wanek Family have made over $750,000 in tree donations.
---
Ashley Furniture Industries, LLC (Ashley) feels that every person deserves more value for their money. Established in 1945, Ashley is the largest manufacturer of home furnishings in the world, and was named one of America's Best Employers by Forbes in 2021. From design through fulfillment, Ashley is committed to delivering the world's best home furnishing values, selection and service, and earning the loyalty and trust of its customers every day. Visit Ashley online at www.ashleyfurnitureindustriesllc.com and "like" Ashley Furniture Industries on Facebook.
Legacy-Trees is a one-of-a-kind method for producing trees that works in concert with tree root systems to mimic how they grow in a forest. This method encourages natural root development and delivers an undamaged root system that is ready to immediately colonize a property. This method of tree production and transplant was created to bring a superior tree that will provide beauty for generations – a true legacy. Legacy-Trees partners with five different tree care companies across Wisconsin and one in Minnesota to provide customers, properties, and communities the trees they deserve. For more information about Legacy-Trees mission visit www.legacy-trees.com.