Ashley Employees Volunteer for Build A Bed Event with Sleep in Heavenly Peace and Hope to Dream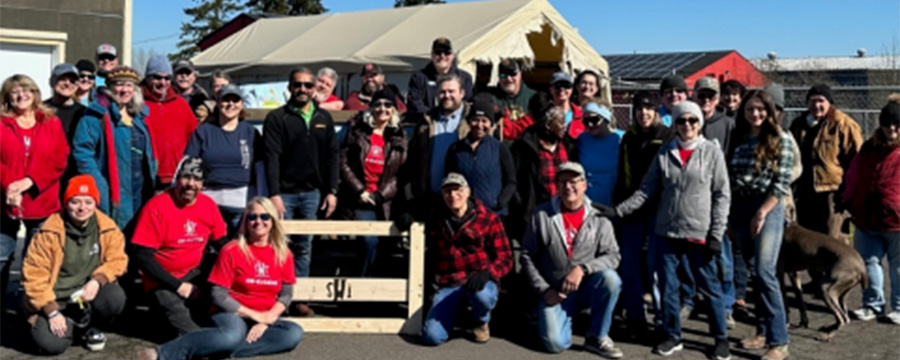 Eugene, OR – On Saturday, February 25, Sleep in Heavenly Peace (SHP) and Hope to Dream, two nonprofit organizations dedicated to giving children a good night's sleep, teamed up for a public Bed Building event.
Over 50 volunteers attended the event, ten of them are also employees at Ashley, the #1 furniture and mattress store in North America, and one of the world's best-selling home furnishing brands. Within two hours, over 20 bunk beds were built, doubling the event's initial goal of 10 beds. After the event, some volunteers stayed back to deliver beds to children in the Eugene area. The remaining beds will be delivered to children in the community who do not have a bed of their own.
"We exist because of our communities. It is our duty and responsibility to be a key part of the communities we are involved in at Ashley." Regional Director of Sales, Jagath Daswatta said. "Providing a good night sleep to kids creates stronger communities and a better future for all."
This is the third year in a row that Sleep in Heavenly Peace and Hope to Dream have teamed up for this event. Each year, volunteers are equipped with the tools and supplies to build bunk beds complete with a mattress provided by Hope to Dream. Hope to Dream receives many of its mattress donations from Ashley. Mattress purchases from Ashley stores help Hope to Dream fulfill its mission of providing every child with a good night's sleep. Since 2010, Hope to Dream has donated more than 140,000 bed sets to children in need.
To get involved with Sleep in Heavenly Peace or participate in a bed building event, follow their Facebook page where most of the Eugene-area events are listed. To request a bed or find more information on other chapter events, go to www.shpbeds.org.
If you would like to nominate a deserving child in need of a bed through Hope to Dream, please visit www.Ahopetodream.com or email Admin@Ahopetodream.com to request an electronic application.
---
About Hope to Dream
Hope to Dream believes that every child deserves a good night's sleep. Founded in 2010 on that guiding principle, the Hope to Dream organization provides beds to children in need across the U.S. and Canada. A portion of the proceeds for every mattress purchased at participating Ashley locations help pay for a bed for a child in need. Since its inception, more than 140,000 children have received a brand-new bed. Those wishing to nominate a child can visit www.Ahopetodream.com, request an electronic application by emailing Admin@Ahopetodream.com, or visit a local Ashley store for more information.
About Sleep in Heavenly Peace
At Sleep in Heavenly Peace, we fully believe that a bed is a basic need for the proper physical, emotional, and mental support that a child needs. When it was brought to our attention that the need for beds went far beyond our own neighborhoods, we stepped up and took initiative. We're a national organization answering the call to a national problem. If a child needs a bed, we want to make sure they get one. No kid sleeps on the floor in our town!® Find us on Facebook, visit our website, or contact Connie Jonas for more information and to get involved in chapter events. To request a bed of your own visit our website and click on Apply for a Bed.