Ashley Furniture Industries' Employees Honored with Patriot Award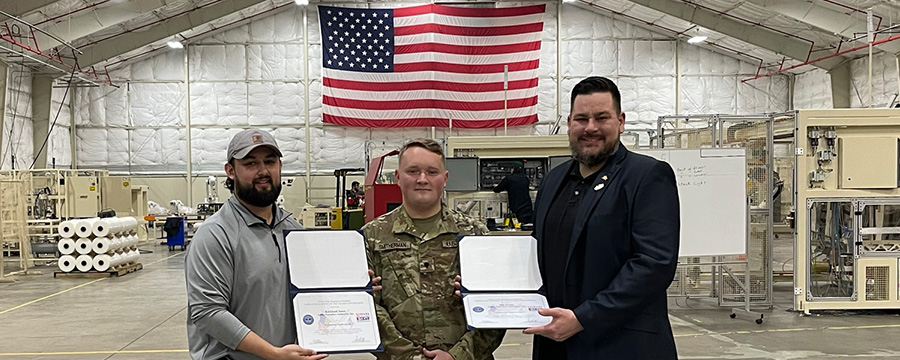 ADVANCE, N.C. – On January 19, 2023, Bill Webb, Automation Engineering Manager, and Kirkland Jones, Automation Shop Manager, for Ashley Furniture Industries (Ashley) were each presented with a Patriot Award from the Office of the Secretary of Defense. Automation Intern and current U.S. Army National Guard service member, Cameron Smitherman, nominated the two individuals for the honor.
The Patriot Award is awarded by the Employer Support of the Guard and Reserve (ESGR) program through the Office of the Secretary of Defense. This award highlights the efforts made to support citizen warriors. An employee serving in the National Guard or Reserve may nominate individual(s). Those nominations are then reviewed by national-level ESGR personnel for approval.
Cameron has worked as an Automation Intern with Ashley since March of 2022 at Ashley's Advance, North Carolina advanced manufacturing facility under the supervision of Bill and Kirkland.
"Bill holds me in high regard because of the diversity, skills and experience that I offer. He values me not only as an employee but as a soldier. He shows the qualities of a great leader who recognizes the good that I can bring to the company as a North Carolina National Guardsman," Cameron explained when reading through his nominations. "Kirkland also values the skills that I bring as a Guardsman and holds me to higher standard because of this and through great leadership and respect for North Carolina National Guard soldiers, I believe he deserves the award."
"I'm very honored and proud to have that view of the team and as an employer, it reconciles all the hard work that we have put in as a group to grow this internship program," Bill said. "We just continue to support our individuals in the service and being able to provide an employment path for those individuals."
"We are very proud of Bill and Kirkland for receiving the prestigious Patriot Award from ESGR. These gentlemen have shown great leadership and pride in their roles, and they couldn't be more deserving of this," said Todd Wanek, President and CEO, Ashley Furniture Industries. "Ashley Furniture proudly supports our service men and women; we are committed to being a great employer where they can utilize and build their skills in the workforce."
---
Ashley Furniture Industries, LLC (Ashley) feels that every person deserves more value for their money. Established in 1945, Ashley is the largest manufacturer of home furnishings in the world, and was named one of America's Best Employers by Forbes in 2021. From design through fulfillment, Ashley is committed to delivering the world's best home furnishing values, selection and service, and earning the loyalty and trust of its customers every day. Visit Ashley online at www.ashleyfurnitureindustriesllc.com and "like" Ashley Furniture Industries on Facebook.
###