Furniture Mart USA and Ashley Donate More Than $40,000 of Product to Furnish New Transitional Healing Center in the Twin Cities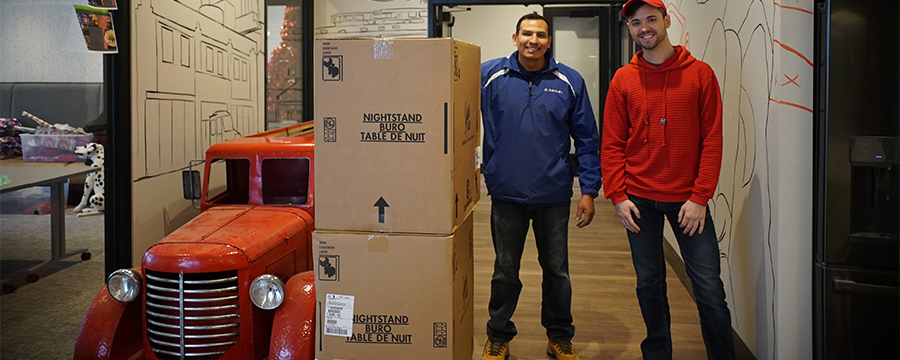 MINNEAPOLIS, Minn. – Earlier this week, Ashley Retail and Furniture Mart USA partnered on a product donation to furnish a brand-new first-of-its-kind Transitional Healing Center for Firefighters for Healing. The donation, more than $40,000, included various living room and bedroom furnishings and mattresses for 12 one-bedroom suites for families of burn center patients. The new facility is scheduled to open after the first of the year.
Firefighters for Healing has constructed a one of a kind $6M, 15,000 sq. ft. Transitional Healing Center, located at 650 Portland Avenue South in downtown Minneapolis. The Healing Center consists of 12 fully furnished home-away-from-home suites that will be available at no cost to families of burn survivors, firefighters and first responders when they travel to the Twin Cities for care. The calm and therapeutic environment will provide the needed space for families to gather and recharge, and patients to transition to, before heading home.
"When a first responder has a medical diagnosis or a child or adult has sustained burn trauma, the family is forced into weeks or months of unique challenges. Our Transitional Healing Center will provide 24/7 relief for families by providing emergency housing and a wide range of support," said Firefighters for Healing Founder & Executive Director, Jake LaFerriere. "I know firsthand the power of having family close by when you're recovering in the hospital. Thanks to our friends at Furniture Mart and Ashley, these families will directly experience the positive impacts of feeling comfortable and cozy while staying in one of our home-away-from-home suites."
"At the heart of our mission is a strong sense of service and giving back to our communities. With three generations actively working in our family-owned business, we are honored to help turn this new Healing Center into a home for Firefighters for Healing and the first responders, burn survivors and families that they will support," stated Bill Hinks, Founder & Chairman, Furniture Mart USA.
"This is an incredible project, and we are honored to be involved in helping bring the feeling of Home to the individuals who will utilize this facility," stated Todd Wanek, President & CEO, Ashley Furniture Industries, LLC. "These first responders and firefighters put their own health and safety on the line to keep our communities across the country safe and this is just a small token of support for all that they do."
There is still time for individuals and businesses to support this first of its kind support for burn survivors and first responders. Visit firefightersforhealing.org to learn more.
---
Furniture Mart USA is a Top 35 furniture retailer based in Sioux Falls, SD, currently operating 58 stores in 38 communities across six states – Iowa, Minnesota, South Dakota, North Dakota, Wisconsin, and Illinois. With a focus on customer service and community philanthropy, Furniture Mart USA was honored with the Furniture Industry Leadership Award by Furniture Today magazine.
Ashley is committed to being your trusted partner and style leader for the home. This commitment has made Ashley the largest retail furniture store brand in North America and one of the world's best-selling furniture store brands with more than 1,100 locations in 65 countries. Start designing your dream home today. Visit Ashley online at www.ashley.com "Like" rel="noopener noreferrer" Ashley on Facebook, follow on Twitter, Instagram and TikTok, or see our design-focused boards on Pinterest.
Firefighters For Healing supports burn survivors and helps firefighters and first responders pivot after a line of duty injury by providing their families with meals, no cost emergency housing, support and resources while they are receiving medical care in the Twin Cities. We meet and serve families 24/7 and 365 days a year from Minnesota, North Dakota, South Dakota and Wisconsin. This non-profit 501(C)(3) charitable organization thrives on community partnerships, volunteer support and fundraising events. Visit firefightersforhealing.org to learn more.
# # #