Ashley for the Arts and Ashley Furniture Industries Donate $10,000 to Davie County Schools' Arts Smart Festival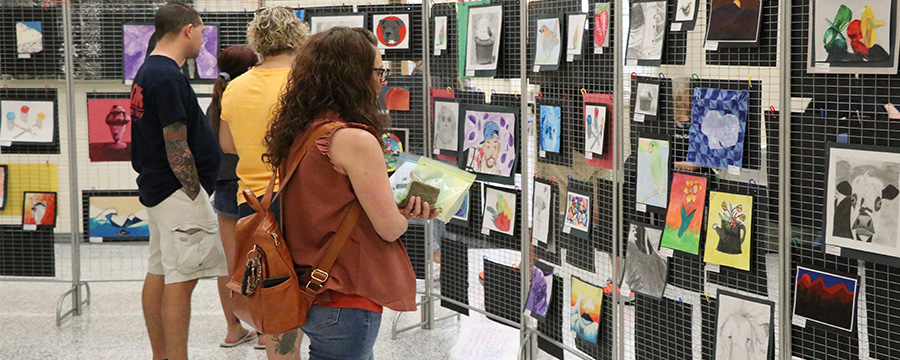 MOCKSVILLE, N.C. – Ashley for the Arts and Ashley Furniture Industries (Ashley) proudly partnered with Davie County Schools again in support of their annual Arts Smart Festival held on Saturday, May 7th, at Davie High School. Julie Davis, from Ashley's Advance facility, presented Davie County Schools Superintendent, Jeff Wallace and Digital Teaching and Learning Specialist, John Marshall, with a $10,000 donation for the School District.
"We are so excited to partner with Ashley for the Arts for the Davie County Arts Smart Festival which showcases student artwork from Kindergarten to high school," said John Marshall. "Ashley for the Arts provides us with much needed supplies and materials to enhance the visual and performing arts programs and allowing teachers to expose their students to many forms of art. Thank you, Ashley Furniture."
The Arts Smart Festival featured student artists, singers, dancers, musicians, and actors from all of the Davie County Schools' Arts Education Departments. Ashley has partnered with the Davie County Schools Arts Smart festival since 2014.
In addition to the donation, each year Ashley for the Arts awards three students with a $500 scholarship for their artistic work throughout the school year and at the event. A special congratulations to this year's scholarship recipients: Lillie Rollins (band), Elizabeth Cruz (theatre) and Emma McCullar (chorus).
Following the check presentation, Ashley presented the annual Ashley for the Arts 'Humanitarian Award' which was conceptualized to honor the individuals who go above and beyond, helping to make their school and community a better place. These individuals are true role models who inspire others to become better human beings. This year, Edwin Owens was presented with this prestigious award. Below is the Selection Committee's write-up for Edwin's Humanitarian Award.
"Edwin has volunteered with our band for years, and he has been critical to its success. He attends all performances, sporting events, and other school functions. He's become a true friend of our program, working with students, and helping them to become artistic, happy, and healthy adults. He is a mentor, role model, and friend to everyone in our band program. Outside of school, Edwin has done charity work in support of causes related to blindness and the burn hospital in Durham. He goes above and beyond with everything and finds answers to all of our questions."
---
Ashley for the Arts is a nonprofit initiative that provides the entire family with world class entertainment, art, exercise, and family fun for a remarkably low cost. The organization is one of Wisconsin's largest charity events, donating over $3 Million since its inception to more than 65 nonprofit organizations, including participating schools, children's charities, and medical research. This music and arts festival was conceptualized and established by Ashley Furniture Industries in 2009 and takes place in Arcadia, Wisconsin's Memorial Park.
For more information on Ashley for the Arts, visit www.AshleyfortheArts.com. Follow Ashley for the Arts on Facebook and @AshleyfortheArts on Instagram.
Ashley Furniture Industries, LLC (Ashley) feels that every person deserves more value for their money. Established in 1945, Ashley is the largest manufacturer of home furnishings in the world and was named one of America's Best Employers by Forbes in 2021. From design through fulfillment, Ashley is committed to delivering the world's best home furnishing values, selection and service, and earning the loyalty and trust of its customers every day. Visit Ashley online at www.ashleyfurnitureindustriesllc.com and "like" Ashley Furniture Industries on Facebook.
# # #