Ashley Furniture Emphasizes Importance of Supporting Our Communities; Makes Donations to Two Davie County Organizations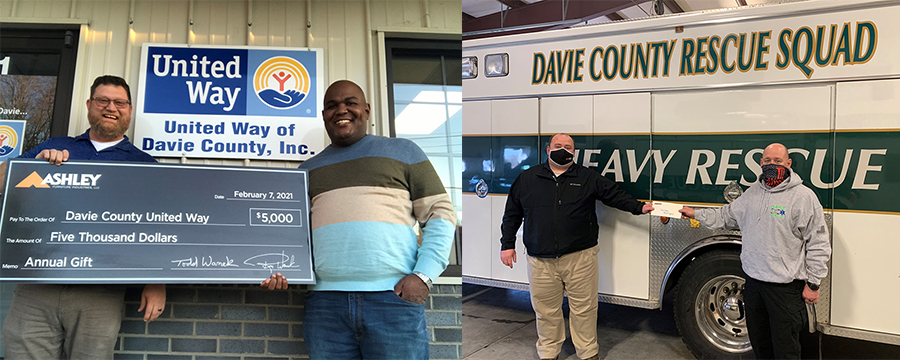 ADVANCE, N.C. – Two local organizations recently received donations from Ashley Furniture Industries (Ashley) to support their ongoing efforts in the surrounding area; the Davie County Rescue Squad and United Way of Davie County. As an established business in Davie County, Ashley places importance on supporting and enhancing the communities in which they live and serve. The company's corporate social responsibility efforts focus on medical research, children in need, education, disaster relief, military, community recreation and the environment.
The Davie County Rescue Squad received a donation of $10,000 from Ashley in December to support their ongoing daily operations. The non-profit organization is 100% volunteer-based and provides heavy and technical rescue, basic life support, dive and swift water rescue, search, and more.
The second donation made by Ashley included a contribution of $5,000 to United Way of Davie County for their annual campaign. Since 2013, Ashley has donated over $35,000 to United Way of Davie County. The organization's mission is to advance the common good of Davie County by uniting the resources of the community to identify and address the most pressing human needs.
"We've had incredible support from Davie County since we started operations here. We are proud to do business in the state of North Carolina and we are honored to have the ability to help others in need," said Todd Wanek, President and CEO, Ashley Furniture Industries. "Supporting our local organizations and communities is vital right now; many people are in need whether it be food, housing, money or other assistance. The Davie County Rescue Squad and United Way of Davie County are two of many great resources in the triad area."
"We are grateful that Ashley Furniture continues to support the efforts of the United Way of Davie County and our partner agencies. Their generous gift of $5,000 means we can open the doors of mobility for those who have fallen deeper in financial distress this year," Chuck Taylor, Executive Director stated, "It means we can connect the elderly and sick trapped in isolation to safe resources and people who desire to serve them. It helps to forge a connection to our special needs community who do not fully understand the changes implemented to keep them safe. In short, Ashley has gone beyond building furniture. They are building bridges that solidify a brighter future for Davie County."
Ashley's Mid-Atlantic Regional Manufacturing & Distribution Center in Advance, NC, was established in 2013 and produces upholstery and casegoods home furnishings. The facility has undergone two substantial expansions and is 3,461,450 sq. ft in size with 79 acres under roof. The company also has a recently established manufacturing facility in Statesville, NC that produces Ready-to-Assemble furniture.
---
Ashley Furniture Industries feels that every person deserves more value for their money. Established in 1945, Ashley is the largest manufacturer of home furnishings in the world, and was named one of America's Best Employers by Forbes in 2021. From design through fulfillment, Ashley is committed to delivering the world's best home furnishing values, selection and service, and earning the loyalty and trust of its customers every day. Visit Ashley online at www.ashleyfurnitureindustriesllc.com and "like" Ashley Furniture Industries on Facebook.
Ashley HomeStore is committed to being your trusted partner and style leader for the home. This commitment has made Ashley HomeStore the largest retail furniture store brand in North America and one of the world's best-selling furniture store brands with more than 1,050 locations in 60 countries.
Start designing your dream home today. Visit Ashley HomeStore online at www.ashleyhomestore.com. "Like" Ashley HomeStore on Facebook, follow us on Twitter and Instagram , or see our design-focused boards on Pinterest.
# # #