Ashley Furniture Honors Veterans with Celebration of National Wreaths Across America Day

Company hosted a Wreath Laying Ceremony at Soldier's Walk and delivered wreaths to Arlington National Cemetery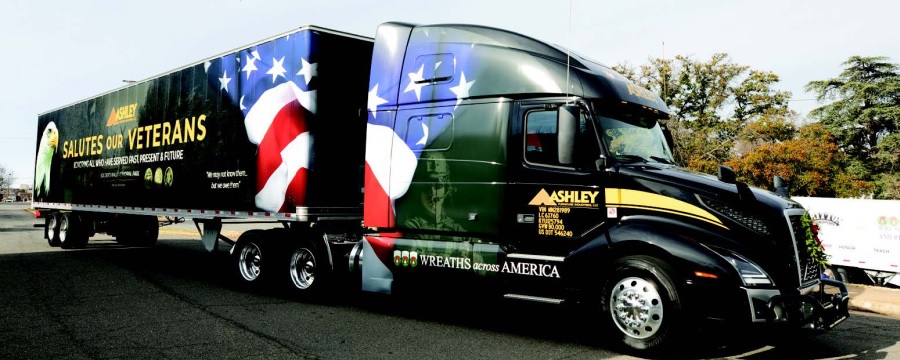 ARCADIA, Wis. – On Saturday, December 18, our nation's heroes were remembered and honored while more than two million volunteers helped place over 2.4 million veterans' wreaths on headstones of our fallen service men and women across the country. Included in the annual event, Ashley Furniture Industries (Ashley) hosted a Wreaths Across America ceremony to honor and remember our veterans and active military men and women for their service. What's become an annual holiday season event, took place at Soldiers Walk in Arcadia's Memorial Park, one of the premier war memorials in the United States outside of Washington, D.C. This is the sixth year Ashley has sponsored this event to commemorate National Wreaths Across America Day.
Prior to the ceremony, volunteers from Ashley helped prep the wreaths with bright red ribbons and tags that share the mission of Wreaths Across America: REMEMBER the fallen, HONOR those that serve and their families, and TEACH the next generation about the value of freedom. This mission and message shined true at the Arcadia event; volunteers of all ages joined together to lay wreaths at each of the war memorials along Soldiers Walk. Included in the ceremony were members of the Arcadia American Legion Post 17, community members, Arcadia Boy Scout Troop 264 and Ashley volunteers.
Leading up to this day, beginning in Maine, a parade of trucks traveled down the East Coast on a mission to lay remembrance wreaths at the grave sites of veterans at Arlington National Cemetery in Arlington, Virginia, and other Veterans' cemeteries along the way. As part of the "Honor Fleet," Ashley Distribution Services proudly sent ten Ashley trucks and trailers to deliver wreaths across thirteen states: Alabama, Florida, North Carolina, Virginia, New Jersey, Pennsylvania, Texas, Ohio, Michigan, Indiana, Illinois, Washington, and California. Ashley was also honored to be selected to participate as one of 66 tractor trailers in the Arlington National Cemetery ceremony. The prestigious convoy delivered over 250,000 veterans' wreaths to be laid by volunteers in Arlington.
"It's such an honor to be involved with Wreaths Across America and to be able to recognize our fallen heroes and their families," stated Ron Wanek, Founder & Chairman, Ashley Furniture Industries. "These events provide a great opportunity for all generations to come together and learn about and reflect on our country's freedom and the men and women who have helped make that possible."
Each live, balsam veteran's wreath was a gift of respect and appreciation, sponsored by an individual or organization and placed on a headstone by volunteers as a small gesture of gratitude for the freedoms Americans enjoy. For centuries, fresh evergreens have been used as a symbol of honor and have served as a living tribute renewed annually. Wreaths Across America believes the tradition represents a living memorial that honors veterans, active-duty military, and their families. When each wreath is placed the service member's name is said out loud, ensuring their memory lives on.
For more information, visit www.wreathsacrossamerica.org. Next year's National Wreaths Across America Day will be held on Saturday, Dec. 17, 2022.
---
About Wreaths Across America
Wreaths Across America is a 501(c)(3) nonprofit organization founded to continue and expand the annual wreath-laying ceremony at Arlington National Cemetery begun by Maine businessman Morrill Worcester in 1992. The organization's mission – Remember, Honor, Teach – is carried out in part each year by coordinating wreath-laying ceremonies in December at Arlington, as well as at thousands of veterans' cemeteries and other locations in all 50 states and beyond.
Ashley Furniture Industries, LLC (Ashley) feels that every person deserves more value for their money. Established in 1945, Ashley is the largest manufacturer of home furnishings in the world, and was named one of America's Best Employers by Forbes in 2021. From design through fulfillment, Ashley is committed to delivering the world's best home furnishing values, selection and service, and earning the loyalty and trust of its customers every day. Visit Ashley online at www.ashleyfurnitureindustriesllc.com or www.Ashley.Biz and "like" Ashley Furniture Industries on Facebook.
Ashley Distribution Services, LTD was established in 1974 by Ashley Furniture Industries, Inc. and today is one of the industry's largest private fleets. Ashley Distribution Services delivers Ashley Furniture to Ashley HomeStores and customers throughout the U.S. With a growing fleet, Ashley Distribution Services continues to expand beyond delivering furniture. Visit Ashley Distribution Services online at www.ashleydistributionservices.com.
# # #