Ashley for the Arts Awards Independence School District with $10,000 Community Cares Grant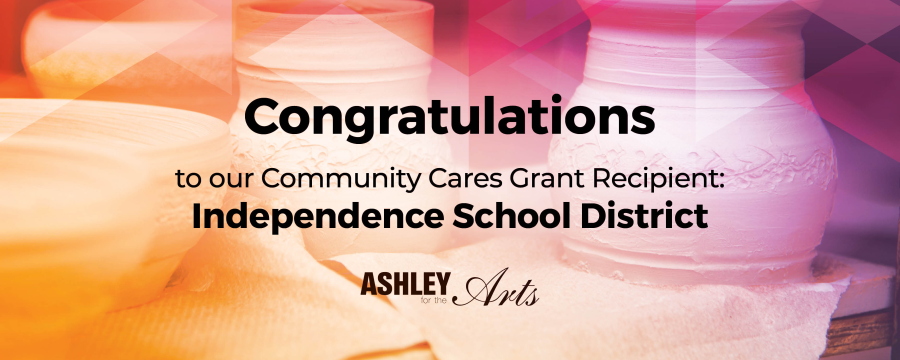 ARCADIA, Wis. – With the circumstances of the global pandemic, Ashley for the Arts, one of Wisconsin's largest charity events, cancelled their 2020 event. The art and music festival, which has become an annual get-together for a number of area students, parents and volunteers, is a primary fundraiser for the more than 60 participating non-profit organizations. After reviewing various nominations for a $10,000 grant, Ashley for the Arts has awarded the Independence School District the 2020 Ashley for the Arts Community Cares Grant.
"In light of not having an event, we still wanted to make an impact in the community," stated Cole Bawek, Event Director. "Ashley for the Arts is focused on supporting educational, civic and non-profit organizations that promote the arts, music, and broadening cultural horizons within our community."
The Ashley for the Arts Community Cares Grant was open to eligible non-profit organizations, within a 60-mile radius of Arcadia, WI, looking for assistance with a project that was community focused in art, music and/or cultural activities.
"This grant caught my attention right away as a chance to bring meaningful art into our community for Independence residents to enjoy, and as a reason for others to visit and enjoy our small town," stated Dawn Woychik, Counselor/Curriculum Director, Independence School District. "I think this year especially we need to focus on bringing light and positivity into our world and what could be better than doing that by combining service and art while engaging our students and community?"
The awarded project entails a variety of artistic elements throughout downtown Independence, WI. Students of Independence School District (grades 4-12) will be working with local non-profit organizations on planning and constructing the project. The Independence Lions Club and Rainbow Community Club will assist with the creation of artwork that may include a series of murals that incorporate the history of the city and the region's tradition of agriculture as well as a series of a sculptures, student artwork and/or benches. The project has a tentative completion of summer 2021 and will be showcased at Ashley for the Arts in Arcadia's Memorial Park, August 12-14th.
"Service is love made visible and I hope that through this service work our students will feel a refreshed love for their community and be empowered to continue to do what they can to make our world a better place," said Woychik.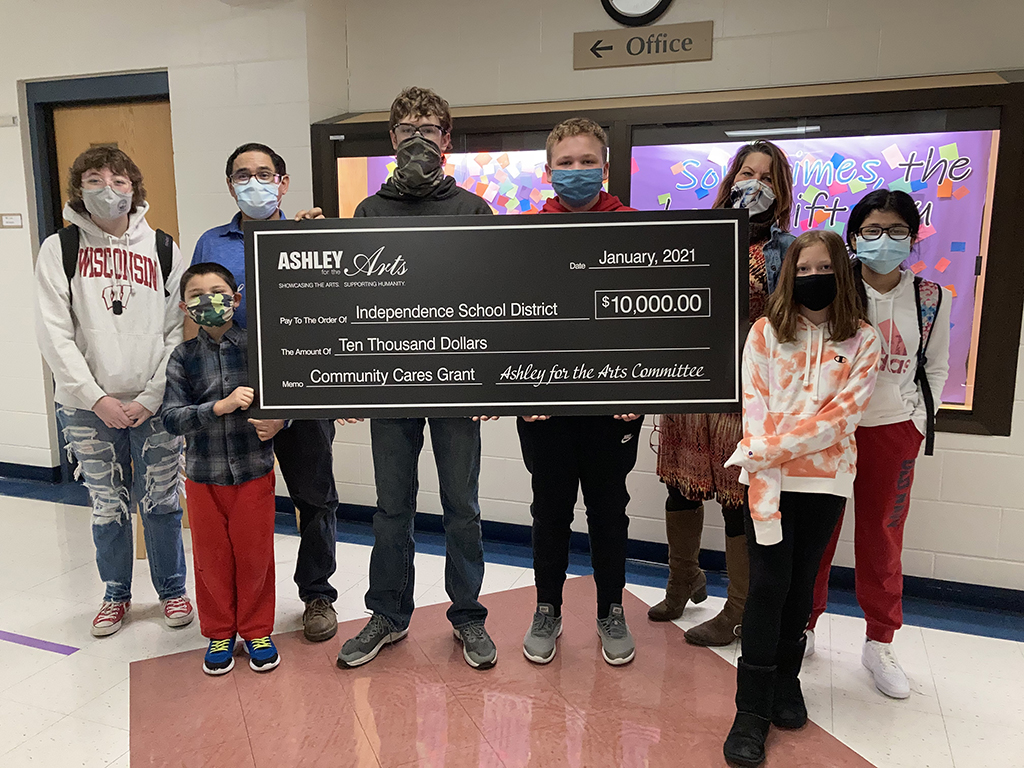 Photo (enclosed): Independence School District Accepts Ashley for the Arts Community Cares Grant. Pictured: Sydney Dejno, Jonah Rombalski, Jake Rombalski (Technical Instructor), Max Marsolek, Nathan Pyka, Julie Jeske (Art Instructor), Audrianna Knisely and Naydi Morales Cervantes. Not pictured but included in the project: Kelli Brandenburg Brave and Mark Brave (Independence Lions Club), Sue Wozney (Rainbow Community Club), Ottie Baecker (Mayor of Independence) and Jason Hovell, Barry Schmitt, Rob Vanderloop, Dawn Woychik and Jessica Gruber (Independence School District)
---
Ashley for the Arts is a non-profit initiative that provides the entire family with world class entertainment, art, exercise and family fun for a remarkably low cost. It is also one of Wisconsin's largest charity events, donating over $590,000 in 2019 for more than 60 non-profit organizations, including participating schools, children's charities and medical research. This music and arts festival was conceptualized and established by Ashley Furniture Industries. (Ashley) in 2009 and takes place in Arcadia, Wisconsin's Memorial Park.
For more information on Ashley for the Arts, visit www.AshleyfortheArts.com. "Like" Ashley for the Arts on Facebook and follow us on Twitter @AshleyfortheArt and Instagram @AshleyfortheArts.
###